Hello and welcome to my Yotta Savings review!
I can mention upfront that the Yotta app is an interesting one. Why? It has the ability to add a good amount of excitement to personal finance in very rewarding ways!
According to a report by CNBC, saving is a real struggle for working Americans and even with those that do save, only a small percentage ends up in the savings account.
That said, anyone or anything that encourages Americans to save more would be a great service, don't you agree?
Could a savings app be it? This Yotta savings review will outline everything you need to know about a super fun way to save and make some extra cash while at it.
In the post, we will get into what Yotta saving is and the features that make it so exciting.
The post further explores how the Yotta bank account works and where the extra cash prize comes from. To round it off, we will look into reviews and pros & cons before giving you the final verdict.
First of all, let's check out an overview of Yotta Savings Features
Let's dive in!
YOTTA SAVINGS REVIEW [KEY FEATURES]
| CRITERIA | FEATURES |
| --- | --- |
| Year Established | 2019 |
| Purpose | Saving and Earning in Prizes and interest |
| Available Countries | USA |
| Applicable | 18 and above, sponsored minors 13-17 years |
| Subscriptions Plans | Free |
| Average Earnings | $0.01- $10M weekly prizes, 0.2% base interest |
| Cuts and Commissions | None |
| Minimum Payout | None |
| Payment Method | Yotta Account |
| Bonus Program | 1 recurring weekly ticket for every $25 deposit |
| Google Play | 100k+ downloads, 4.3-star Rating |
| App Store | 4.8-star Rating |
| Ratings and Accreditations | Not BBB accredited, 4.8-star rated on Trust Pilot |
| Yotta Savings Review: Final Verdict | The site is legit and can earn you extra cash in interest and weekly prizes |
Yotta Savings Review Overview
What is Yotta Savings?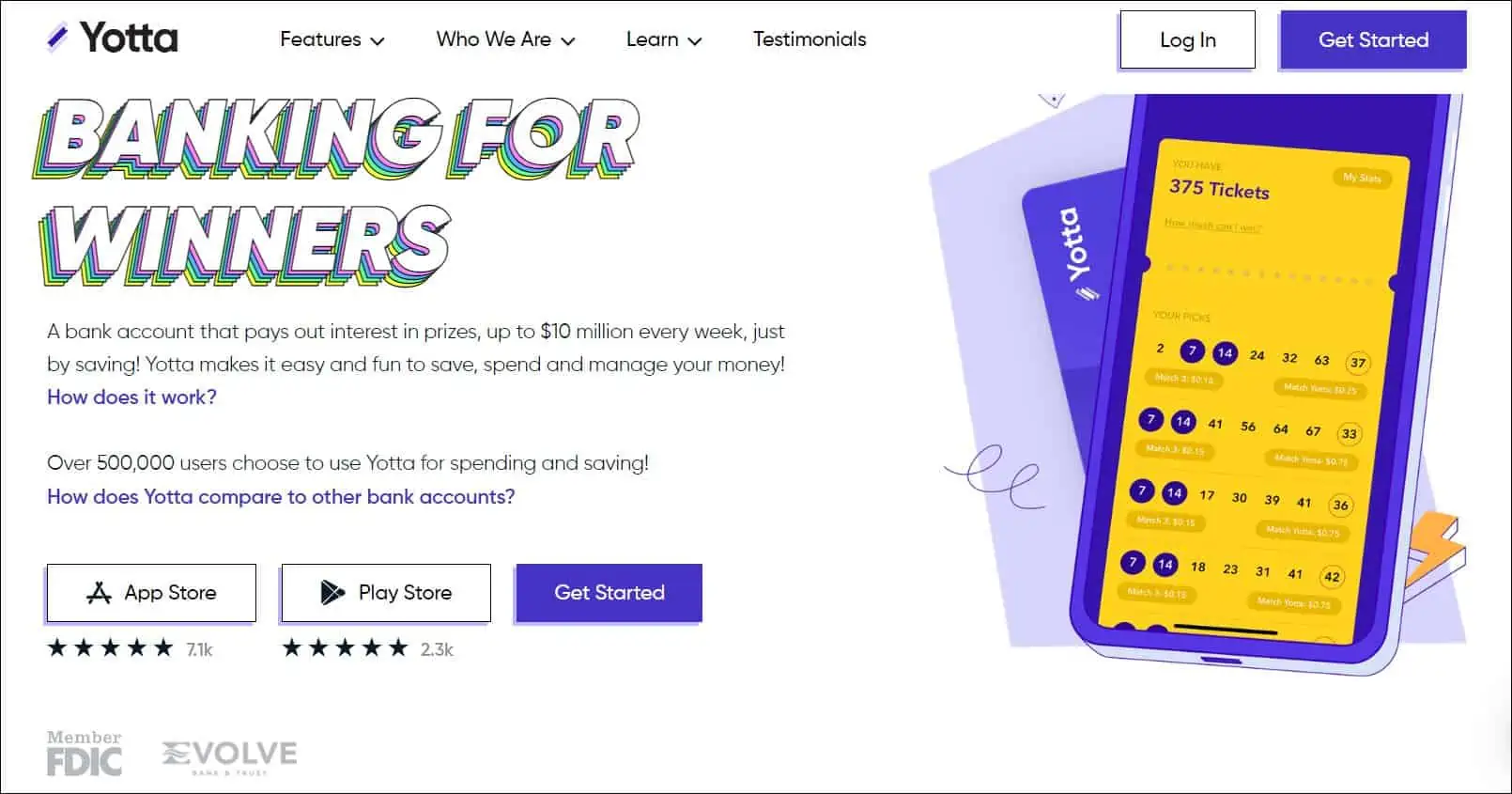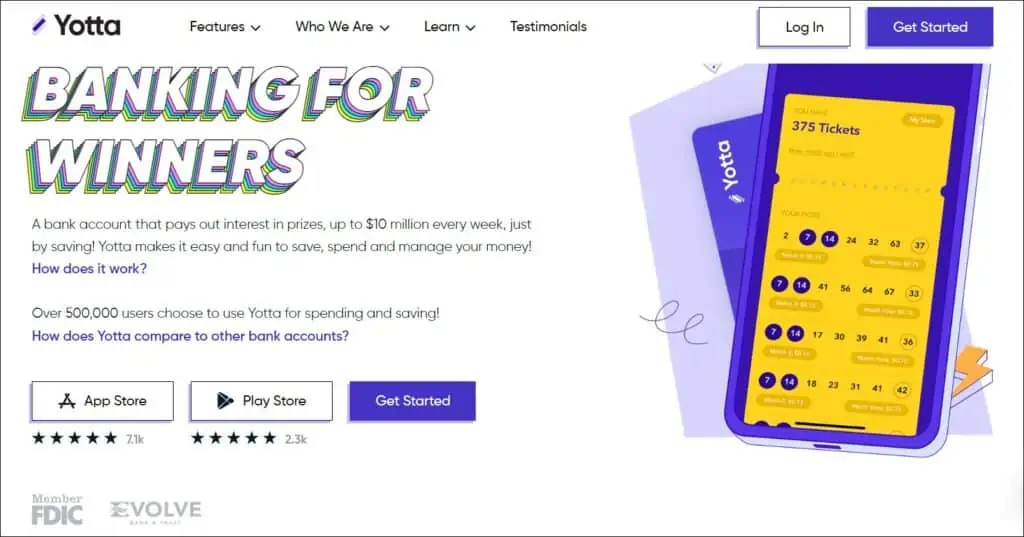 Yotta Savings is a savings app founded by Adam Moelis and Ben Doyle in 2019 to make saving easy, appealing, and rewarding for Americans.
The app is available for both Android and iOS users. With Yotta, users earn a base interest rate of 0.2% and up to a total of 0.4% in annual percentage yield (APY).
Here's the exciting part; on top of the generous Yotta savings interest rate of 0.20%, users also stand to win prizes ranging between $0.01 and $10 million each week.
The image below compares Yotta's high-yield savings account to other popular savings accounts.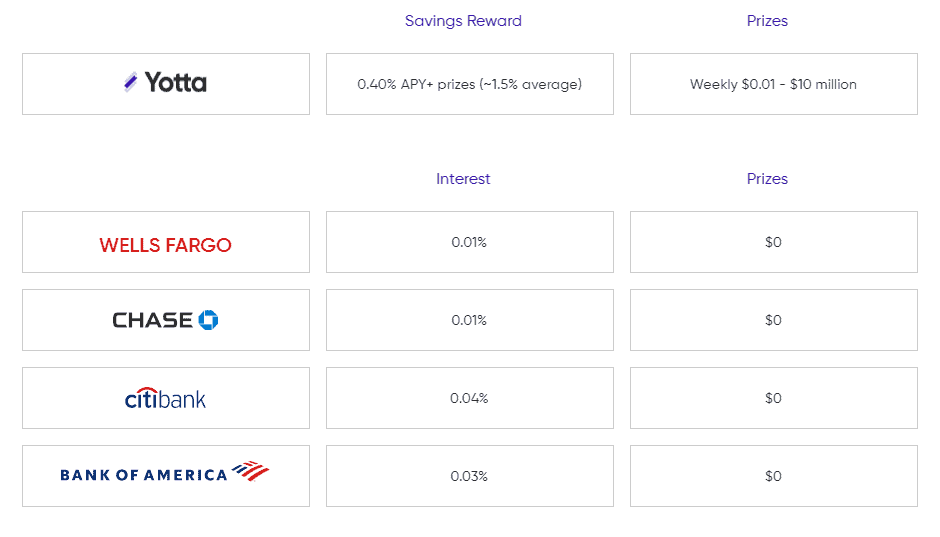 With the combination of the interest and the added prizes each week, this savings account is one of the highest paying on the market.
The idea of Yotta savings was borrowed from the UK premium bonds that allow people to save and win prizes in the process.
While the app does not charge regulator monthly fees, users with a minimum balances of $5.00 or below pay a monthly service charge of $0.50.
Also, you pay a processing fee of $4.95 when you deposit using Greendot and an instant withdrawal fee of 1.5% for instant withdrawals.
Yotta Features
The Yotta app possesses amazing features that pitch it above other savings accounts and for good reasons. These features include:
1. Cash Prizes for Saving
Just by saving and doing direct deposits, you get into a sweepstake and stand to win up to $10 million in weekly prizes.
Even better, whether you lose or win, you get to keep your FDIC-insured funds, unlike typical lotteries where you stand to lose your investment if you lose.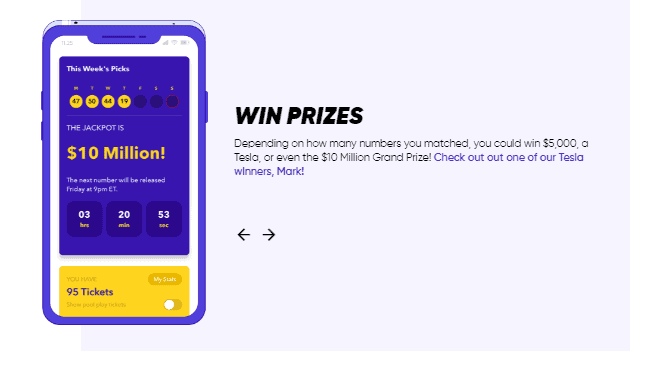 2. A Paycheck with Benefits
The direct deposit of your paycheck into your Yotta account means more tickets, 20% bonus tickets for the first deposit, and 5% bonus tickets for others, and increases your chance of landing lucky deals by 25%.
What's more, you can receive your payment 2 days earlier.

3. The Yotta Debit Card


The Yotta debit card is your ticket, or lucky swipe, with a 1 in 150 odds of winning. You can use this debit card to earn tickets worth 10% of your purchase as well as access to over 55000 free ATMs. The debit card is zero-liability protected.
For an exclusive metal card that comes with no foreign transaction fee, refer 10 people to Yotta swipe away abroad.
4. Shared Efforts and Winnings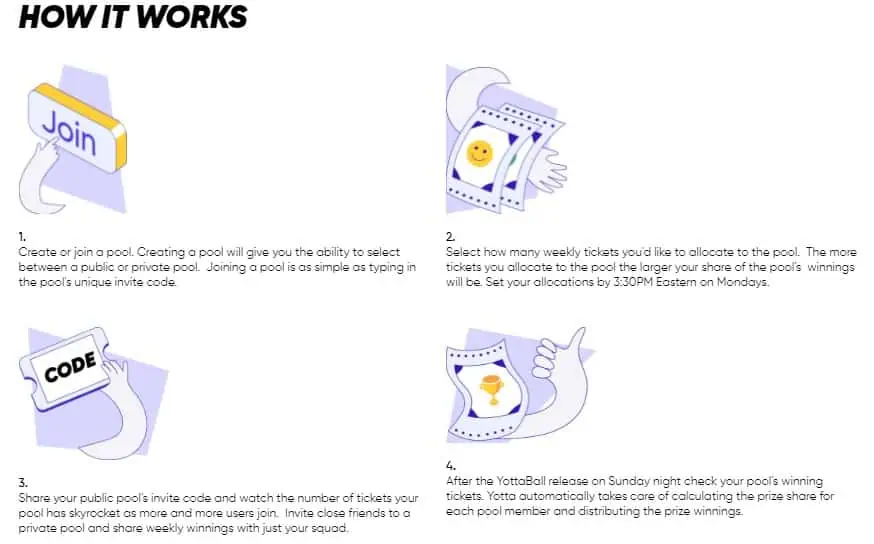 Yotta's Pool Play feature enables you to combine effort with other Yotta users to increase your chances of winning in the weekly draws.
The pools can be public where you share the invite code publicly for various people to join up with you or private where you use an invite-only code.
An individual's winnings are based on the number of tickets they assign to the pool and are calculated by Yotta.
5. Savings Buckets

These are like the digital version of cash envelopes, except you get a chance to win with the Yotta buckets.
The buckets help you to segment your savings into various categories, making it easier to set targets, monitor your progress, move funds from between buckets, and lock certain buckets to prevent withdrawal.
6. I-Bonds Bucket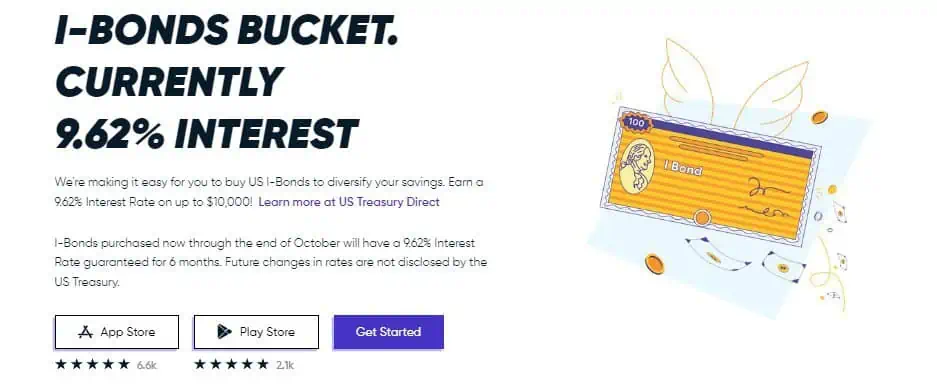 This is probably the latest feature of Yotta and a very appealing one. For a limited time, you get an opportunity to earn 9.62% interest by buying US I-bonds worth up to $10,000 without the hassle.
All you need to do is to deposit money into your I-bonds bucket and voila!
7. Crypto Yield Bucket

The crypto bucket feature kicks everything a notch higher; it earns you a 2% average APY and 1.25 times the normal number of tickets. Instead of a ticket for a $25 deposit, you get one for every $20.
When you put funds into the Crypto Bucket, 20% of it automatically converts to digital dollars or USDC and is put to work to start earning you rewards while the rest stays as FDIC-insured USD.
8. Peer-to-Peer Payment

With this feature, sending money to other people is easy, fast, and free. Other Yotter users will receive the money momentarily while non-users get up to 7 days to create an account and receive funds.
How Does Yotta Savings Work?
For every $25 you deposit into your Yotta savings account up to $10,000, you will be awarded one recurring ticket that allows you to win prizes each week.
These tickets are recurring to ensure that you always have tickets while you save. For example, if you maintain a balance of $100 in your savings account, you will be awarded 4 recurring tickets each week.
For marginal balances of over $10,000, you get a lottery ticket for every $150 you save. These tickets never expire. So, the more you save, the more recurring tickets you will get.
Notably, the tickets are only valid if you don't touch the savings. If you withdraw your savings, you lose a ticket equivalent to the amount you withdraw.
Further, direct deposit of pay into your Yotta account will earn you bonus tickets which increase your chances of winning.
How Yotta Contests are Done?
When you receive a ticket, you will have the opportunity to choose a set of your lucky numbers.
If you don't select numbers, you are assigned random numbers so that you don't miss the contest. Each day, starting on Monday at 9 pm ET to Sunday at 9 pm ET, they will hold a drawing that picks one, randomly generated number.
Check your numbers– you will be notified each day when the daily number is drawn so that you can check to see if your numbers match.
After the 7th and final number (every Sunday), the week's drawing is done. You will then win prizes each week based on how many numbers you match. The more numbers you match, the more you will win. Prizes are then credited to your account after the draw and you can earn saving bonuses and accrue more tickets.
They say you can't lose with a Yotta account, and here's why; whether you win for the week or not, you still get a monthly savings bonus every month based on your deposits and at a rate unmatched by other popular savings accounts.
Also, unlike the lottery where you stand to lose the money you invested, you still retain your savings with Yotta.
The image below shows the odds of winning each prize: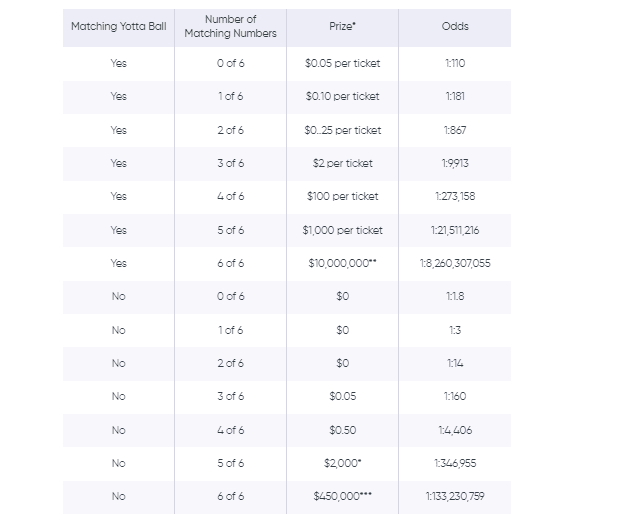 Yotta Eligibility and Sign Up
To open a Yotta savings account, you need to be 18 years of age and a legal resident of the United States-minors between 13-17 can open a Yotta account as long as they are sponsored by an eligible adult.
You may need to provide proof of residency and age. Further, you must not be affiliated with Yotta Technologies in any way.

Here are the steps for Yotta Savings login
Download the app from App Store for iOS or Google Play for Android
Fill in your name and email address and the app is ready!
To earn tickets and saving bonuses, you need to connect to a bank account and deposit money into your account.
Add your address, date of birth, and social security number- Yotta assures the secure transmission of your data.
Start saving, earning, and winning!
The entire process takes about 10 minutes to set up and you can start earning interest on your savings once you make a deposit.
Yotta Referral Program
The referral programs encourage you to invite others for the Yotta experience and also help you to up your goods for winning. When someone signs up through your referral code, they get 100 tickets to use for the next week's content.
It is only after their first deposit that you get to earn your 100 free tickets or more if you have risen through the Referral Tier System of bronze, silver, gold, and platinum tiers.
You also get a Hot Pot Referral Bonus when your qualified referrals win the hot pot!
This amounts to 25% of the hot pot in cash prize. For referrals to qualify, they must have signed up using your referral code and deposited at least $25 in the course of the promotion period.
Unlike regular tickets, bonus tickets are only valid for the next week's draw.
Is Yotta FDIC Insured?
Non-crypto Yotta funds up to $250,000 are held at an FDIC-insured bank, Evolve Bank & Trust. FDIC insurance means that funds are safe and protected no matter what happens.
80% of funds in Yotta's Crypto bucket are FDIC-insured. That said, the 20% crypto bucket funds are in the reputable stablecoin called the US Dollar Coin. The USDC maintains its stable price of 1:1 with USD, which protects it from price volatility.
The I-Bond bonds are as well not FDIC-insured, but they are held with Treasury Direct and are fully backed by the United States Government.
Yotta Savings Reviews Reddit
Yotta has great reviews on Reddit. Users love the user-friendliness of the app, the generous interest rate, the exciting saving experience, and rewarding features like the play pool, peer-to-peer payments, and lucky swipe.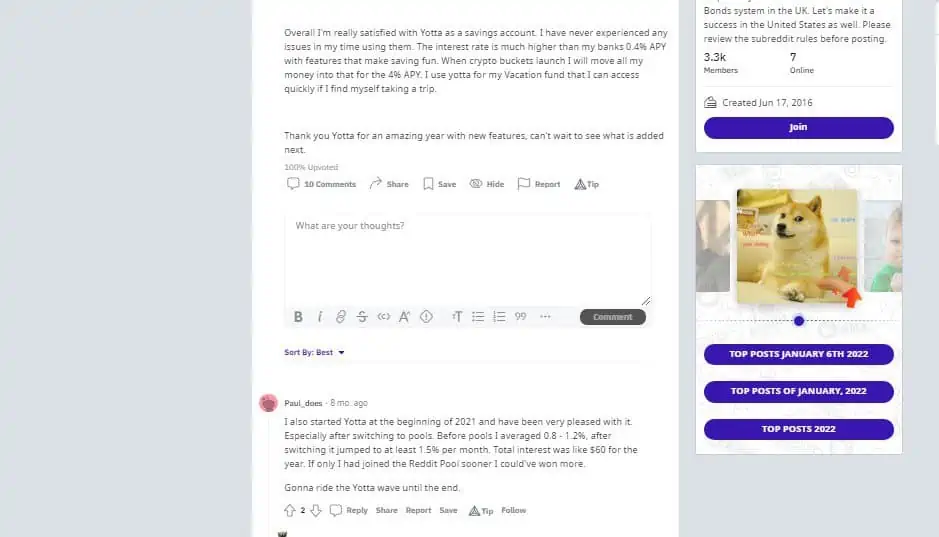 Nevertheless, a few users complain about the app's lack of growth, not getting tickets as promised, and lack of winnings.
Yotta Savings Pros & Cons
| PROS | CONS |
| --- | --- |
| Weekly cash Prizes | Winning the lottery is not guaranteed |
| Outstanding APY compared to traditional saving accounts | Bonuses in form of tickets, not cash |
| No fixed fees | Withdrawals are limited to $10,000 per day and take 2-3 business days to process |
| Rewarding features | Can get better APY with other online accounts |
| An exciting yet effective way of saving | |
Yotta Savings Pros & Cons
Is Yotta Bank App Legit?
Yes, the Yotta Savings app is 100% legit.
As stated above, Yotta is completely free with no monthly fees and no hidden costs. They are also upfront about certain necessary fees so you know what you are getting into.
To ensure the game isn't rigged or manipulated in any way, the prizes are picked and paid out by a third-party insurance company. This insurance company has no affiliation with Yotta and therefore cannot see what numbers Yotta members have chosen.
Yotta is also featured and recommended by Bloomberg, Yahoo Finance, and Forbes, which are highly rated and trusted companies.
The app also has very high ratings on Google Play Store, App Store, and TrustPilot at 4.3, 4.8, and 4.8 respectively.
FAQs
1. What type of prizes can I win with Yotta Savings?
The weekly prizes you can earn from Yotta each week range between $0.01 and $10 million (on top of the base rate of 0.20%).
The more numbers you match on your ticket each week, the more you can win. Then your winnings from all of your tickets are added up and deposited into your account.
You can then withdraw your savings or let it accrue in your account to receive more tickets. You also stand to win a TeslaModel 3, two users have already won!
2. How Does Yotta Make Money?
Yotta partners with banks that possess fewer expenses and lower budgets to enable them to pay better rates on your savings than most other banks. They use a portion of the interest to pay for cash prizes in weekly draws.
3. Is Yotta Savings Safe?
YES, Yotta Savings is safe! They have made sure that:
Your money is FDIC-insured for up to $250,000 through Evolve Bank & Trust
Your account is protected with bank-grade encryption and authentication
You can email them at [email protected] anytime for help or if you have any questions
4. Can You Lose Money With Yotta?
It is unlikely to lose money with Yotta. For starters, you don't enter the money you deposit into any lottery so your savings remain intact. Secondly, your funds are FDIC-insured to protect them against loss.
Is Yotta Savings Worth It? Final Thoughts!
Yotta savings is totally worth it! If you are planning to save anyway, there's nothing wrong with getting a good base interest and some cash prizes while at it.
Saving is boring, let's face it. This app adds the kind of excitement that comes with the anticipation of winning the lottery. Only this time, you keep your savings whether you lose or win in the sweepstakes, and still earn some interest. You also get to try some of the app's amazing features to not only save more but also take advantage of the generous offers
What are your current saving goals? Why not try the Yotta app and tell us all about the experience?
If, on the other hand, you have tried Yotta savings or a similar app, what do think about the app? Let us know in a comment below!
Hey there, welcome to my blog!
I'm Swati, a mom, a personal finance enthusiast, and the owner of TheBlissfulBudget.  My work has been featured in major publications including Fox 10, Credit Cards, Cheapism, How to Fire, Databox & Referral Rock.
I help busy budgeters like you save and make money by utilizing simple yet effective methods that can create wonders.
My Mantra: You are entitled to live the life you desire, and financial bliss should be simple to obtain–check out my blog for helpful tips on acquiring wealth easily.