*This post contains affiliate links which means that if you make a purchase via one of the links, I will receive a small commission, at no additional cost to you. Thank you for reading and supporting my blog! Please see my disclaimer page for more information*
Hello and welcome to my Yotta Savings review!
This post will outline everything you need to know about this new, exciting savings app, plus the opportunity to receive 100 free tickets when you start saving (more on this below).
The app is full of prizes and is a super fun way to start saving your money.
Let's dive in.
What is Yotta Savings?
Yotta Savings is an FDIC insured savings account where users earn a base interest rate of 0.2% with their savings. On top of the base rate, users will also earn prizes each week ranging between $0.01 and $10 million (yes, per week.)
The image below compares Yotta to other popular savings accounts.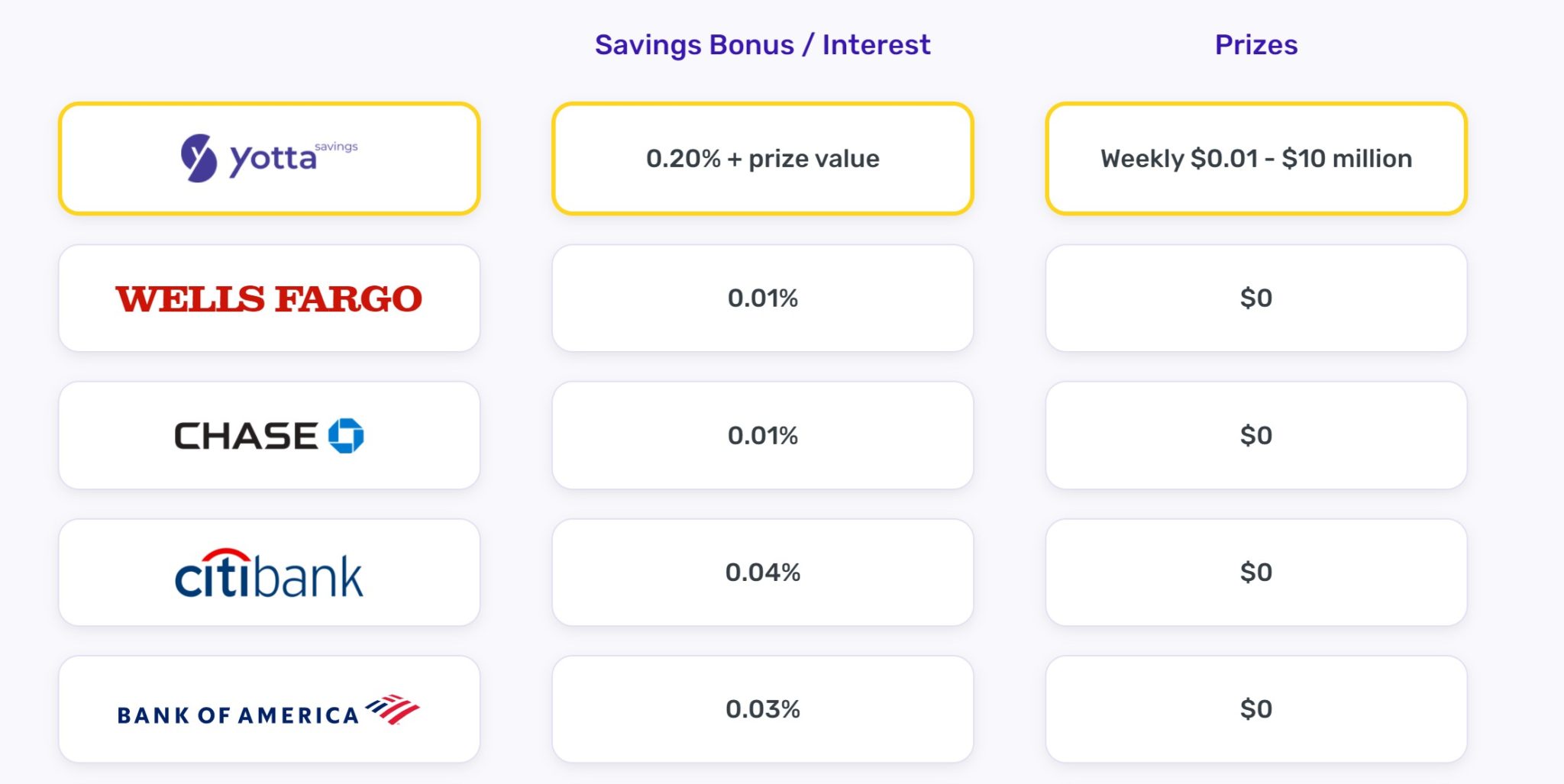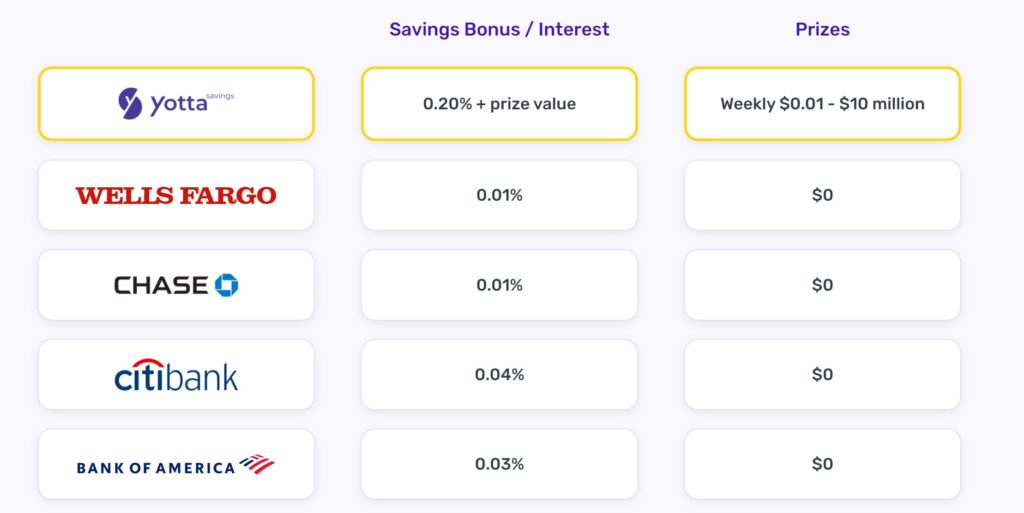 As you can see, at a base rate of 0.20%, Yotta is extremely competitive with standard savings accounts that are out there. With the combination of the base rate and the added prizes each week, this savings account is one of the highest paying on the market.
This app is also 100% free with no minimums, no monthly fees and no hidden costs.
How does Yotta Savings work?
For every $25 you deposit into your Yotta savings account, you will be awarded with one recurring, lottery-type ticket that allows you to win prizes each week. These tickets never expire. So, the more you save, the more recurring tickets you will get.
This app brings a lot of fun around saving. When you receive a ticket, you will have the opportunity to choose a set of numbers. Each day at 6 PM EST, they will hold a drawing that will pick one, randomly generated number.
You will then win prizes each week based on how many numbers you match. The more numbers you match, the more you will win.
One thing to note is that the chances of winning the Tesla or the $10 million are slim to none. However, it is fairly easy to win the other prizes that are available depending on how many tickets you have.
The image below shows the odds of winning each prize: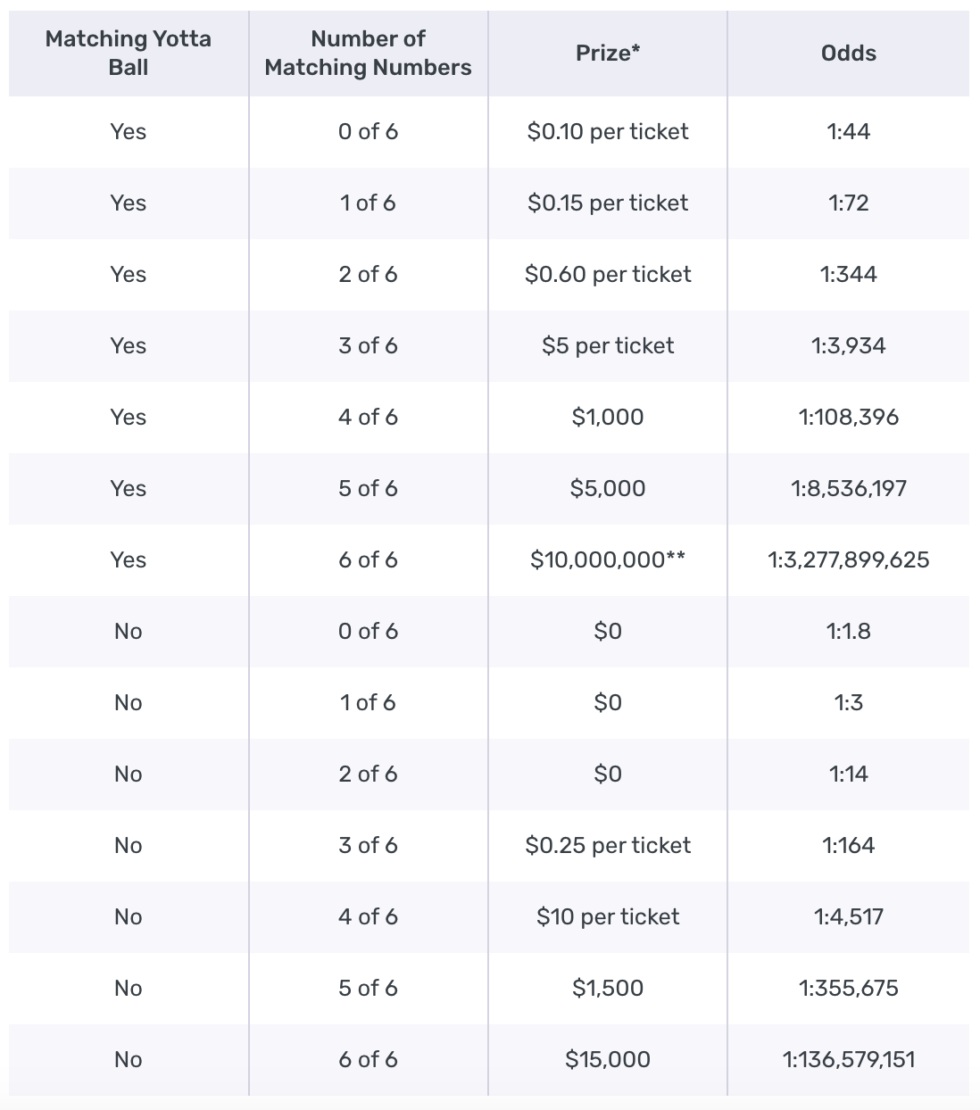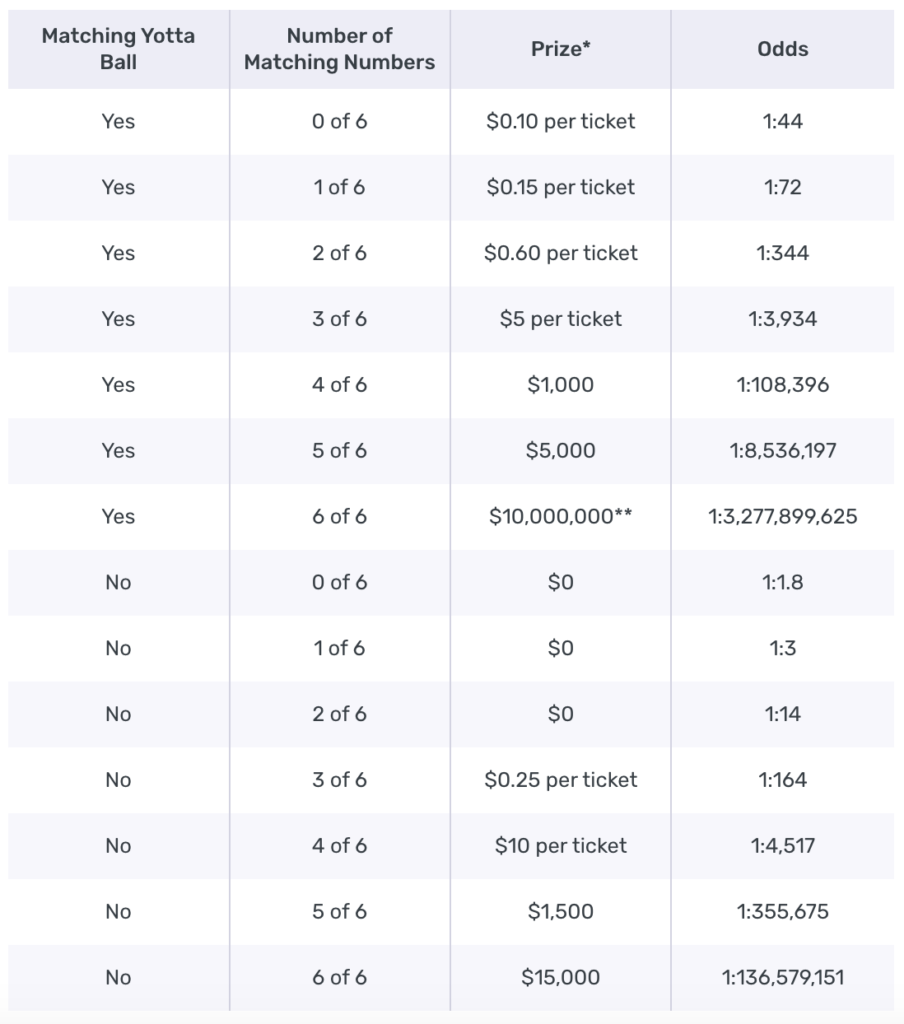 These tickets are recurring to ensure that you always have tickets while you save. For example, if you maintain a balance of $100 in your savings account, you will be awarded with 4 recurring tickets each week.
Plus, if you sign up with Yotta and use my referral code TEGAN1, you will receive 100 free tickets for next week's drawing.
Is the Yotta Savings app legit?
Yes. The Yotta Savings app is 100% legit.
As stated above, Yotta is completely free with no minimums, no monthly fees and no hidden costs so there is no risk involved with signing up.
They also make sure that:
Your money is FDIC insured up to $250,000 through Evolve Bank & Trust
Your account is protected with bank-grade encryption and authentication
You can email them at support@withyotta.com anytime for help or if you have any questions
To ensure the game isn't rigged or manipulated in any way, the prizes are picked and paid out by a third-party insurance company. This insurance company has no affiliation with Yotta and therefore cannot see what numbers Yotta members have chosen.
Yotta is also featured and recommended by Bloomberg, Yahoo Finance, and Forbes, which are highly rated and trusted companies.
I personally use Yotta and have been recommending it to my friends and family. I feel that my money is safe and in good hands with the Yotta Savings app.
The app also has very high ratings in both the Google Play store and the App store.
What type of prizes can I win with Yotta Savings?
The weekly prizes you can earn from Yotta each week range between $0.01 and $10 million (on top of the base rate of 0.20%).
Here are the potential prizes you could win each week: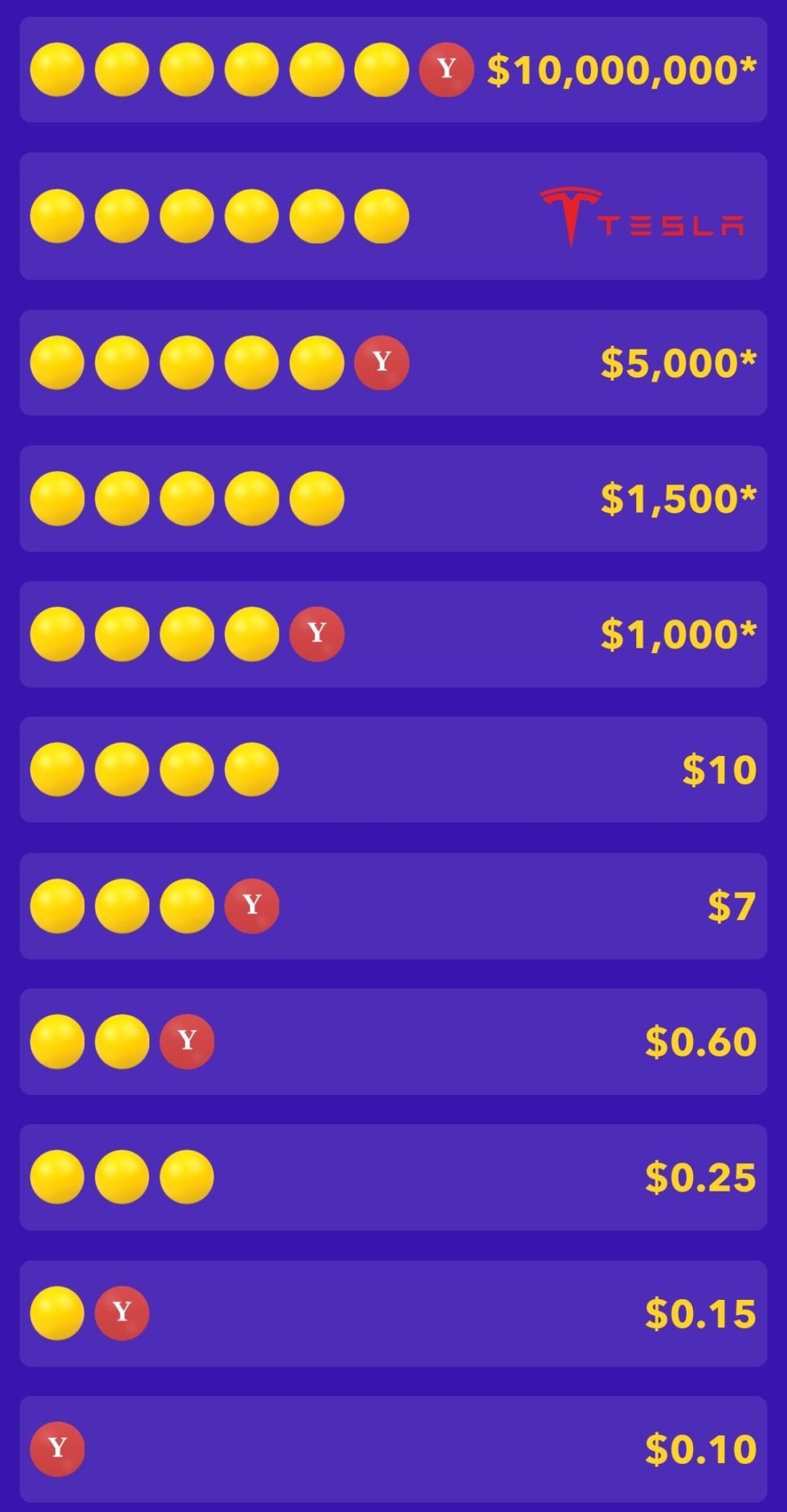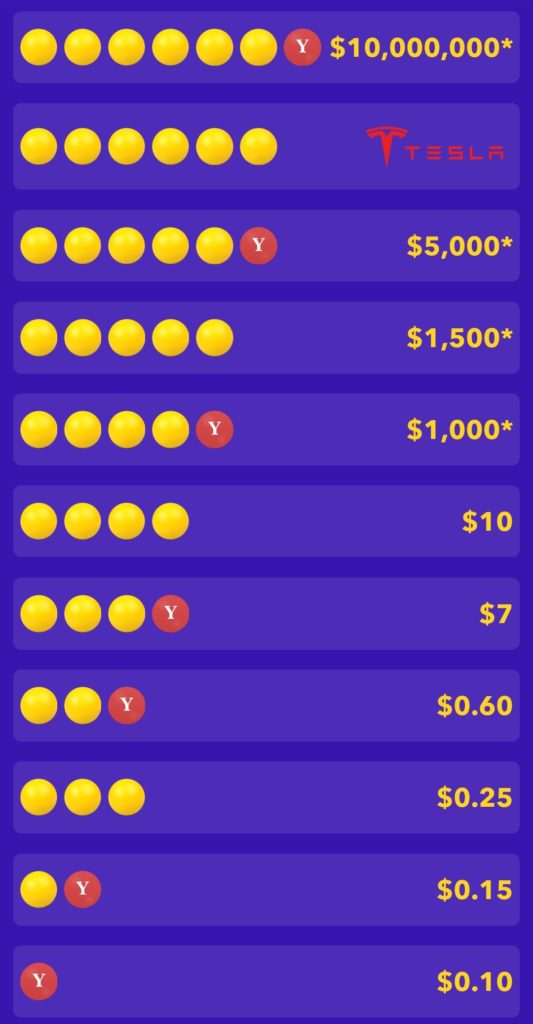 The more numbers you match on your ticket each week, the more you can win.
The drawings start Monday and go through to Sunday when the last ball (aka the red Yotta ball) is drawn. Then your winnings from all of your tickets are added up and deposited into your account.
You can then withdraw your savings or let it accrue in your account to receive more tickets.
What I don't like about the Yotta savings app
There aren't a ton of downsides to the Yotta Savings app, but there are a few things that could be changed.
For example:
You are limited to making 6 withdraws out of the account per month (which is actually standard for most banks anyways).   
You can only deposit/withdraw $10,000 per day.
Your 100 free referral tickets only last for one week and then disappear (but the ones you receive for your own personal savings last forever).
There is a potential for the app the raise the number of lottery ball numbers to choose from, which would decrease the chances of winning prizes. I haven't seen them increase it yet, however, it is a possibility.
These disadvantages are very insignificant compared to the amount of money you can win and save over time, but I wanted to bring awareness to the areas I think could be fixed over time.
How do I sign up for Yotta Savings?
Signing up with Yotta is extremely easy.
Here is how you get started:
Download the app. Start by downloading the app here. During the sign-up process, the app will ask you for a referral code. Don't forget to use referral code TEGAN1 to get your free 100 tickets.
Create an account. The app will walk you through filling in your personal information to create an account.
Make a deposit. Link your bank and deposit your savings. As stated above, the more money you deposit, the more tickets you will be able to use to win prizes each week. Every $25 you deposit is equal to 1 ticket.
Pick your numbers. At the beginning of each week, you will pick a new set of numbers for your tickets. If you don't pick your own numbers in time, they will automatically be chosen for you.
Check your numbers. You will be notified each day when the daily number is drawn so that you can check to see if your numbers match. Then at the end of the week, you can collect your prizes.
The entire process takes about 10 minutes to set up and you can start earning interest on your savings once you make a deposit.
Yotta Savings referral code
As previously stated, if you use my referral code TEGAN1 when you sign up, you will receive an extra 100 free tickets for next week's drawing. You can deposit any amount into your account to collect your free tickets.
This is practically free money and the bonus tickets can really help you to win a few more prizes in the following week.
The bottom line
The Yotta savings app is a fun and interactive way to help you save more money.
As un-sexy as budgeting and saving money is, I think using the Yotta app will help a lot of people save more with the feeling of playing the lottery each week.
To wrap up, here are some of the amazing benefits of using Yotta:
Your winnings, savings, and bonuses can be withdrawn at any time with no fees, minimums, or hidden costs.
The app is extremely user-friendly and it takes very little time to set up an account.
With the base rate of 0.20%, plus the added winnings each week, the payout is much higher than the average high-yield savings account.
It is fun to pick your own numbers and then check in every day to see if any of them matched up. It's also nice that if you are not available to choose your numbers one week, they will be randomly chosen for you.
Your tickets for your personal savings are recurring and you can use them over and over each week.
It is fairly easy to earn lower end prizes (based on how many tickets you have).
You can refer as many friends as you would like and you both will receive 100 free tickets for one week.
Overall, I think Yotta is an amazing savings app and I am very excited to share it with more people.

I would love to hear from you, have you tried Yotta savings yet? If so, what do think about the app? Let me know in a comment below!
Related posts:
How to Save Money Fast on a Low Income
How to Start Investing with Very Little Money
Hey there! My name is Swati and I am the author and creator of The Blissful Budget.
My goal with this blog is to help you save more money, earn more money, and start to live the life you want by obtaining financial freedom.