This is post is a thorough Coin Pop review. In it, you will find answers to questions like is Coin Pop safe? Is Coin Pop legit? And, Does Coin Pop really pay?
This will, of course, be supported by detailed information on what Coin Pop is, how it works, if it really pays, its pros and cons, and how much it pays. Also, be on the lookout for our highlight of other similar apps.
Why Coin Pop? In a world where the use of technology has become the norm rather than the exception, there's no limitation to what you can do on your mobile devices on the go, and this includes playing games.
Did you know that you can earn rewards in extra cash and gift cards by downloading apps and playing games on your phone or tablet? Except, the apps are so numerous that it is hard to tell which ones are legit and which ones aren't.
This brings us to Coin Pop: Where does the game app lie? Below is everything you need to know about Coin Pop and if the app is really worth it.
Coin Pop Review
To start you off though check out an overview of Coin Pop's Main Features
| CRITERIA | FEATURES |
| --- | --- |
| Year Established | 2018 |
| Purpose | Playing Paid Games |
| Available Countries | World Wide |
| Applicable | Everyone |
| Subscriptions Plans | Free |
| Average Earnings | $10+ |
| Cuts and Commissions | None |
| Minimum Payout | $10 |
| Payment Method | PayPal |
| Bonus Program | 4444 coins after sign-up |
| Google Play | 10M+ downloads, 4.3-star rating |
| App Store | Not Available |
| Ratings and Accreditations | Not BBB accredited, not rated on Trust Pilot |
| Coin Pop Review: Final Verdict | The site is legit and can earn you a little extra cash |
Coin Pop Review Overview
What is Coin Pop?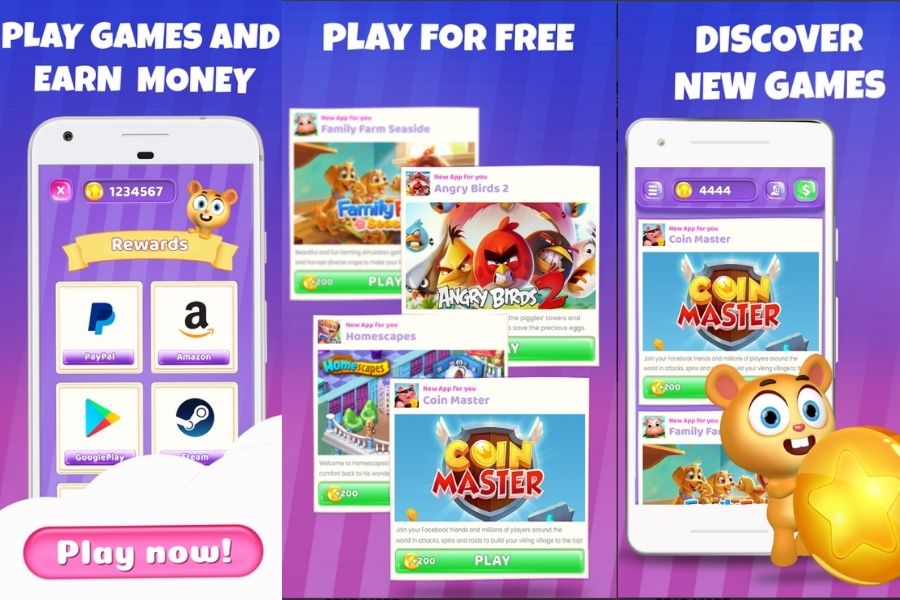 Coin Pop is a mobile gaming app that pays you to download and play a variety of different games.
The Coin Pop app is a product of the Coin Pop company and has been active since 2018. The app is available worldwide although the availability and variety of games may differ from one location to another.
The video game app is 100% free to download and comes with no hidden costs like in-app purchases or fees.
The coin Pop app is only available to download on Android and is not available for iOS devices. So, there's no Coin Pop for iPhone.
The goal of this android app is to download the games that are offered through the Coin Pop app and then play them over time to get rewarded.
With over 10 million downloads worldwide and a 4.3-star rating on the Google Play store, the Coin Pop game app has become one of the most popular apps for earning money online while playing mobile games.
How Does Coin Pop Work?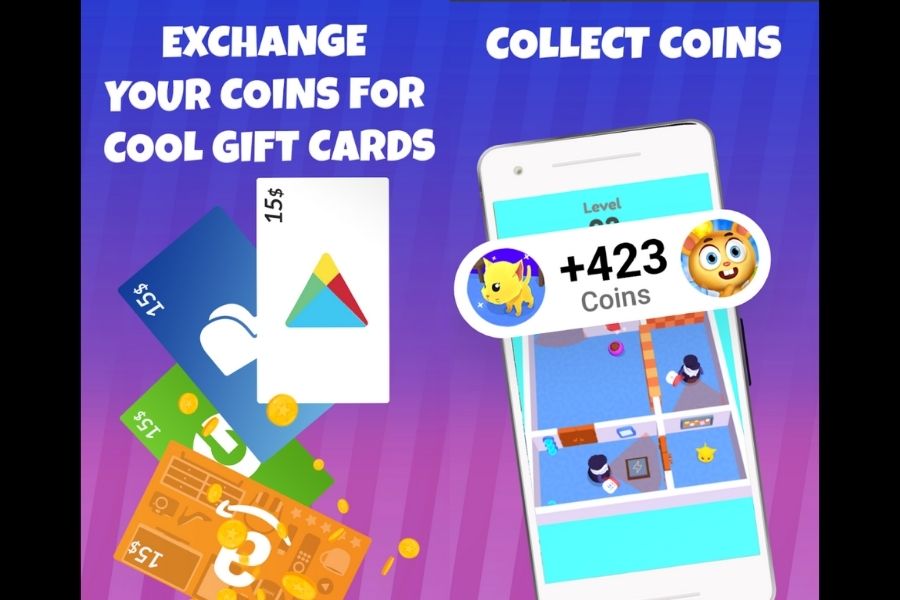 To put it briefly, the Coin Pop game app pays you to download and play mobile games.
After Coin Pop login, there are two ways to earn money with Coin Pop:
1. Play games to Earn Rewards
Once you choose and download a game, you will earn coins for the amount of time you play.
All you need to do is to download the app and choose any of the games they offer inside the app to download.
You will receive coins for downloading the game itself, and then you will earn additional coins as you play the game over time.
Sometimes you can earn additional coins for unlocking levels, continuing a winning streak, or completing in-game achievements.
CoinPop app will run in the background as you play the game and you will be rewarded for leveling up and for the amount of time you play.
2. Refer Friends to Download the App
You will earn 250 coins for every friend that signs up for Coin Pop with your referral link and you will keep getting 25% of their earnings for life. In addition, your referrals will also earn 25% of all the coins you earn.
You can then redeem your coins for gift cards or a cash reward via your Paypal account.
What Types of Games Can You Play?
Coin Pop is one of the most popular paid gaming apps available, so they offer a wide variety of different games for you to play.
For example, they offer genres such as:
Arcade
Adventure
Casual
Action
Strategy
Puzzle Games
Simulation
Card Games
Mobile Board Games
There are options for almost anyone and the Coin Pop app makes it easy to find one that may interest you.
Keep in mind that Coin Pop asks for your age and gender at Coin Pop registration for a reason. They use this information to recommend games to you that other people your age and gender typically choose to play.
There are also some age restrictions on certain games so make sure your correct age is updated in your account.
How to Get Started with Coin Pop app?
The Coin Pop sign-up process is simple.
Here are the steps you need to take to sign up:
Head over to the Google Play store on your Android device.
Search for the 'Coin Pop app' in the search bar and click "Install".
Create an account using Facebook, your Google account, or your email.
Provide your age and gender (for game recommendations) and give Coin Pop permission to track your app usage (so they can track your gameplay so you can get paid).
Collect your free 4,444 bonus coins, the sign-up bonus can change from one location to another.
Once you are logged in to Coin Pop, you can scroll through the list of sponsored games to start playing.
The more time you spend playing games, the more coins you earn. However, the longer you play a particular game, the fewer coins you will earn per minute!
While at it, it helps to keep checking that Coin Pop is actually rewarding you for the game you are playing since the app does not guarantee winnings.
How Much Does Coin Pop Pay?
Coin Pop payout time is dependent on when you reach the minimum payout threshold. Different sources indicate that the minimum Coin pop payout was $0.50 but has since increased to $10.
However, as you will learn from an avid player on the YouTube video above, how much you can cash out from the Coinpop app can change from one location to another.
For example, playing from Australia, Vinsane was able to cash out $1.34 for 9900 coins.
Additionally, factors such as your total playtime, the games available in your location, gender, age, and the rate of pay for each game affect how much you make from the app.
In another instance, the same player, while playing 3 different games for 3 hours constantly, was able to accumulate about 24000 coins which was enough for a cash out of $3.33.
That said, how much you can make all comes down to your individual experience.
Here is a list of some of the most popular Coin Pop payout options:
PayPal cash
Amazon gift cards
Playstation gift cards
Xbox gift cards
Starbucks gift cards
Google Play credits
Walmart gift cards
Free Steam codes
And so many more
So as you spend more time playing different games, you will receive a larger Coin Pop payout to earn cash and gift cards!
Coin Pop Reviews
Coin Pop is not BBB accredited, or Trust Pilot Rated.
The two Coin Pop Reddit reviews don't have so much to offer but at least, they both confirm that the app works, and one of them has successfully cashed out $5 that they received within 1-2 days.
However, the mobile game app is reviewed by over 290k people on Google Play and boasts over 10 million downloads with a rating of 4.3 out of 5.
Top reviewers have commended the app for possessing a variety of enjoyable games, an easy redeeming process, fast payouts, and various cash-out options.
The game app also comes with its share of negative reviews including slow loading time, crashing from time to time, delayed payment, playing without being rewarded, and frustration with chatbots.
When all is said and done, there are more positive reviews about this app than negative ones.
Here is a sample of positive and negative comments on Google Play.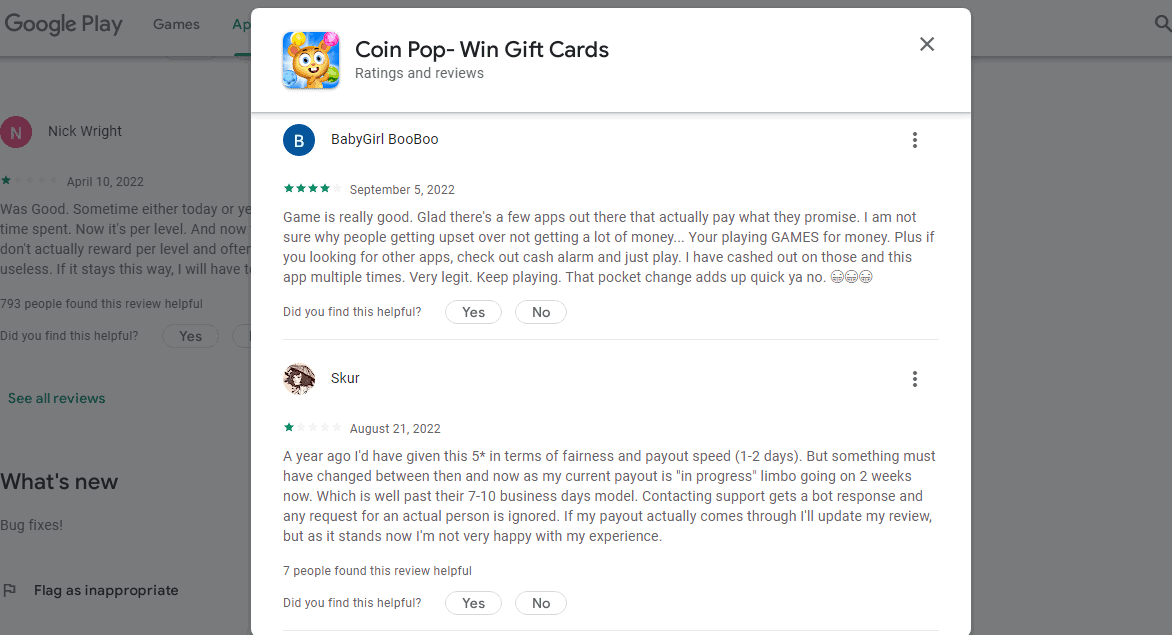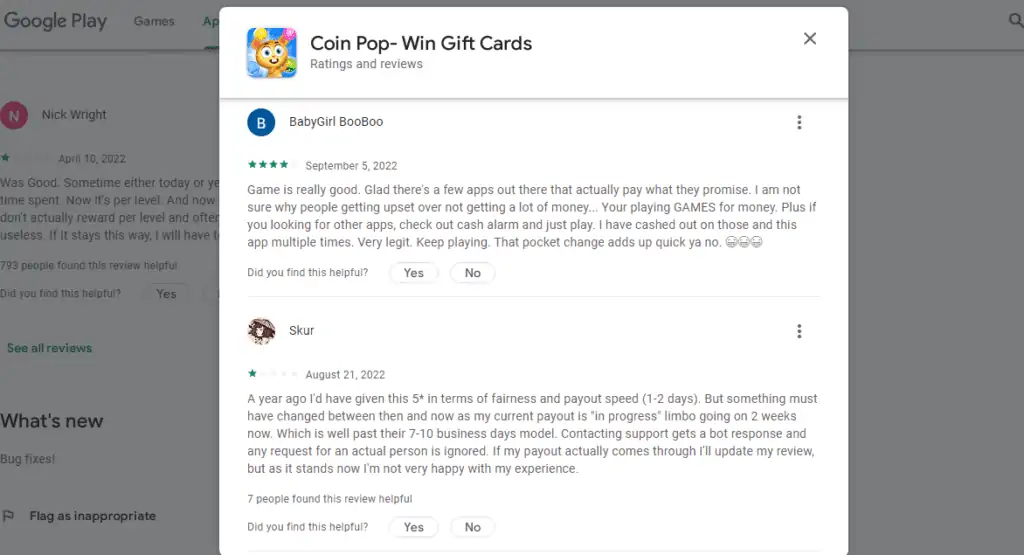 Pros and Cons of Coin Pop
| PROS | CONS |
| --- | --- |
| The app is very user-friendly | Requires a decent amount of storage for games |
| It is completely free to download | Each game has a different earning limit |
| It offers a fast payout | Games are limited by age, gender, and location |
| Lots of games to choose from | Only available on Android devices |
| A fun way to earn money on your phone | Not every game earns you rewards |
There are many pros to Coin Pop, but there are some cons to consider as well. It's important to weigh the pros and cons to determine if using Coin Pop to earn money is right for you.
Is Coin Pop Safe?
The app is considered safe. The developers have guaranteed the safety of the data that they access on your device by ensuring that no data is shared with third parties and that data transmission is done over a secure connection.
Personal information collected includes name, email address, and access to app activity. That said, you are not required to share any sensitive financial or personal information and finally, you can also request for your data to be deleted at any one given time.
Is Coin Pop Legit or a Scam?
Coin Pop is a legit app and is not a scam. This is based on the Google Play reviews of people who have used the app and cashed out their rewards.
However, the app is not without flaws as we have also seen from the reviews and it is important to keep in mind that playing doesn't always guarantee cash prizes.
Also, it is apparent that you might need to play for long periods of time before you can actually make much in real cash.
Coin Pop App Alternatives
If you think Coin Pop sounds like fun, here are some other money-making apps to download and try as well.
1. Mistplay
Mistplay is another free mobile app that pays you to download and play games. It boasts over 10 million downloads on Google Play and a rating of 4.0 out of 5.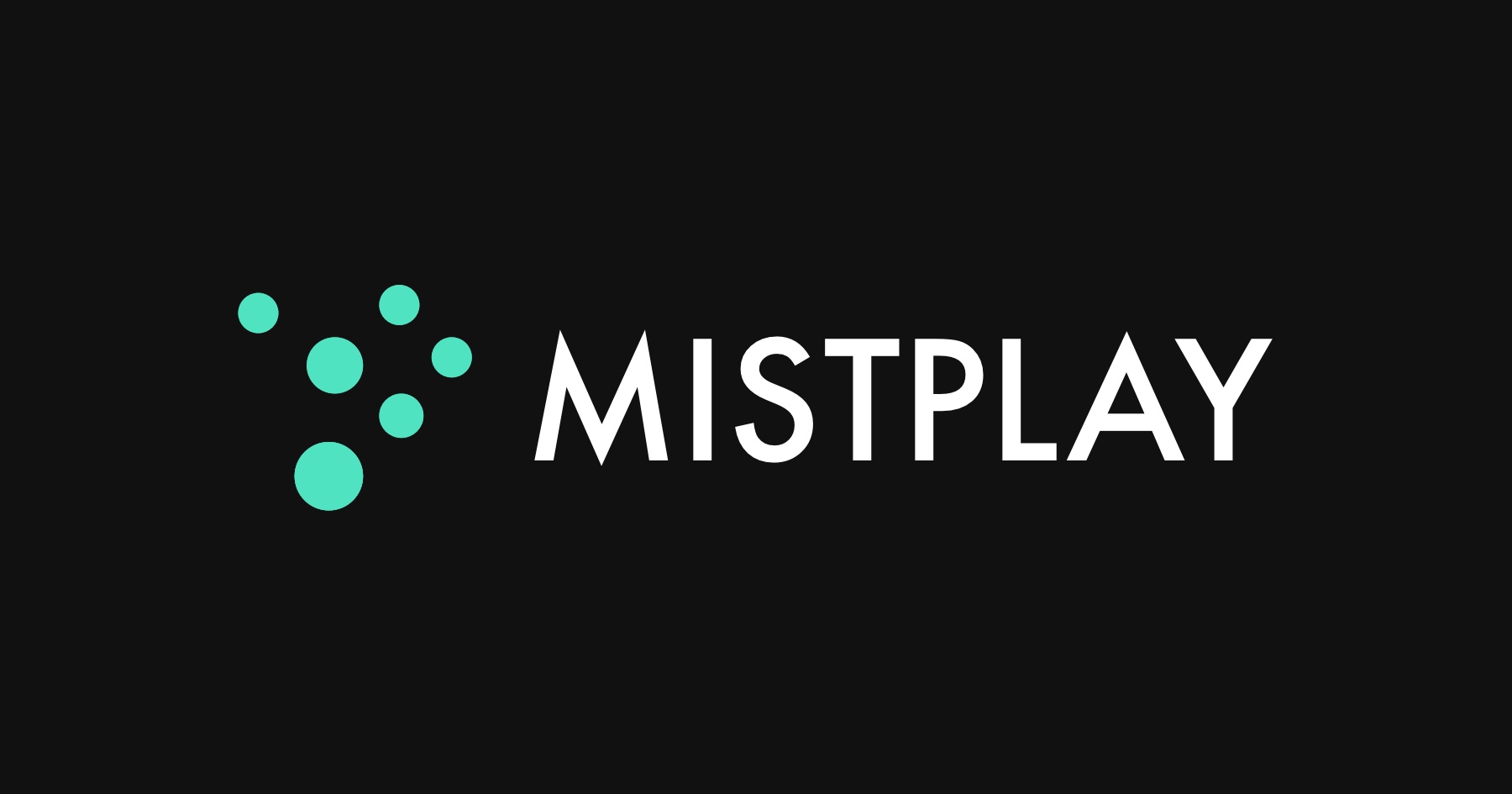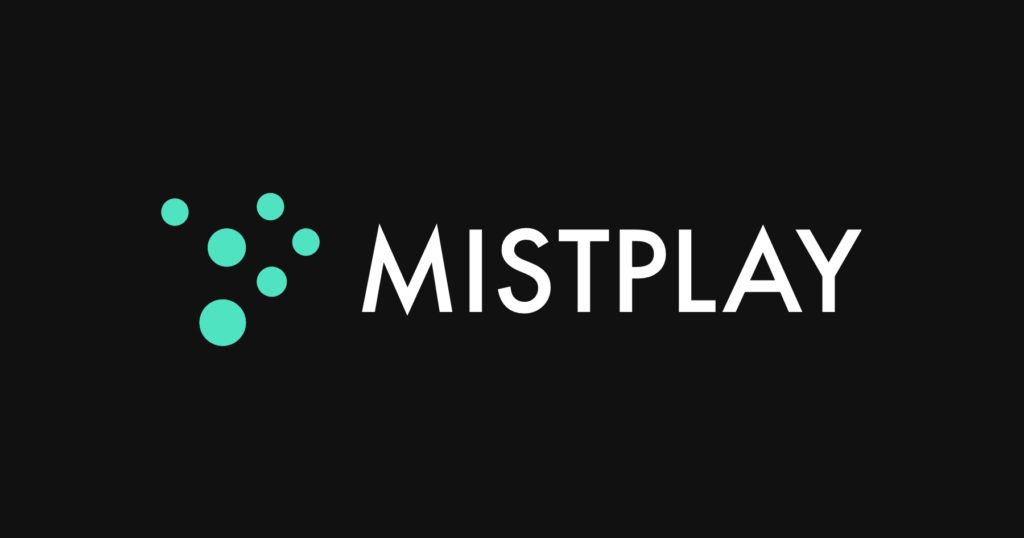 To get started, simply download the app and start playing! The longer you play, the more you can earn.
Just like with Coin Pop, Mistplay recommends games to you that you might want to play.
Mistplay is also only available for Android users.
2. Swagbucks
Swagbucks is a free online survey site that pays users to shop online, watch videos, take surveys, search the web, and play games.

You can earn gift cards, cash, rewards, and free stuff for completing these tasks.
Swagbucks offers you a $10 new shopper bonus when you make the first purchase and you can cash out your bonus earnings immediately.
Swagbucks has been downloaded 5M+ times and is rated at 4.3 on Google Play.
3. Lucktastic
With over 10 million downloads and a rating of 3.9 on Google Play, Lucktastic is a free gaming app that pays you to play games and earn points by scratching off virtual scratcher tickets.


Once you have enough points, you can redeem them for cash or gift cards. You will also have a daily shot to win $5,000 or $10,000 in cash or a $500 Amazon gift card.
All you need to do is download the app, sign up, and start earning! The app is rated at 3.9 on Google Play with over 10 million downloads.
4. Bananatic
Bananatic is a website where you will get paid to play and test games.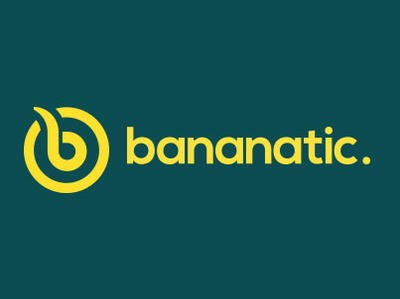 You will be able to collect bananas for completing in-game quests and reviewing individual games.
Then you can cash out your bananas for real prizes such as gift cards, steam codes, and other games.
The app has been downloaded over 100k times and has a 308 out of 5 rating on Google Play.
5. Slidejoy
Slidejoy is a lock screen app that pays you to place ads on your home screen.
Every time you unlock your phone, you will be able to swipe left to learn more about the ad, swipe up to see another ad, or swipe right to skip the ad and go straight to your home screen.
After a certain amount is earned, you will be able to cash out with PayPal.
Keep in mind that Slidejoy is also only offered on Android devices. The app boasts over 1 million downloads and has a 3.2 out of 5 star rating.
Also Read:
Coin Pop App Review: Final Thoughts
Coin Pop is great for earning side cash from your phone in your spare time. However, it is not something that will replace a full-time income or even become a lucrative side hustle.
You may be able to earn a few dollars over a period of time playing games casually and possibly a little more if your game often.
That said, if you already enjoy gaming, you are probably already playing other games without getting anything in return, right?
Playing on Coin Pop, therefore, comes with additional perks even if that means a few extra dollars for your pocket.
Have you tried Coin Pop or other money-making apps? We would love to hear all about your experience in the comments section below!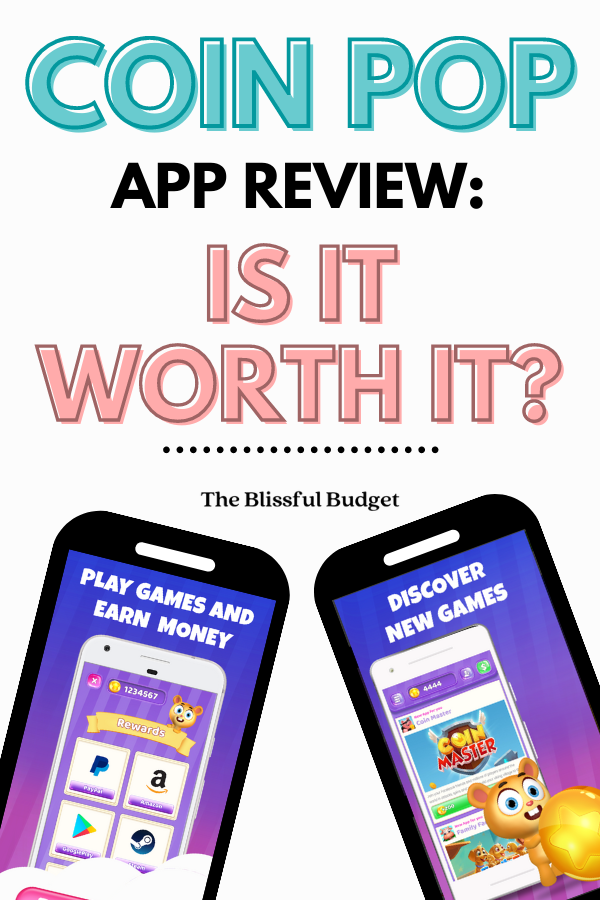 Hey there, welcome to my blog!
I'm Swati, a mom, a personal finance enthusiast, and the owner of TheBlissfulBudget.  My work has been featured in major publications including Fox 10, Credit Cards, Cheapism, How to Fire, Databox & Referral Rock.
I help busy budgeters like you save and make money by utilizing simple yet effective methods that can create wonders.
My Mantra: You are entitled to live the life you desire, and financial bliss should be simple to obtain–check out my blog for helpful tips on acquiring wealth easily.