*This post contains affiliate links which means that if you make a purchase via one of the links, I will receive a small commission, at no additional cost to you. Thank you for reading and supporting my blog! Please see my disclaimer page for more information*
While searching for ways to make money online, you may have come across the option to get paid to take surveys online. 
While this is a great option to earn some extra cash from your phone, it's important to do your research on these survey sites to make sure you aren't getting scammed.
This post is all about the online rewards website Kashkick. 
In this Kashkick review, you will learn everything you need to know about this site and if it is really worth your time and effort. Specifically: 
What Kashkick is
How it works
Step-by-step on how to get started 
How to earn money with Kashkick 
Pros and Cons of the website 
A list of similar websites like Kashkick
And if the site is safe or not
So if you are interested in making money with this website, keep reading to find out more in this Kashkick review.
Kashkick Review: What is Kashkick? 
Kashkick is a newer get-paid-to (GPT) website that has gained popularity within the past few years. 
GPT sites pay users for completing small tasks, which is a great way to make some extra money in your spare time.
Kashkick offers several different tasks to choose from. They pay users to complete surveys, shop online, watch videos, surf the web, play games, and more. 
Their website has a very sleek and minimal design, which makes it extremely easy to use and navigate through. In addition, they offer fast and simple payouts.
Although there are some great benefits to this site, there are also some questionable factors to keep in mind.
For example, you won't find much information on who owns their site or when it was created. Most other trusted GPT websites provide this information.
Also, per their Terms of Service, you must be 18 years old and be a US citizen to use their site to get paid. You can also use the site if you reside in Canada, UK, or Australia.
But before making any conclusions on the website, make sure to read the full Kashkick review below. 
How Does Kashkick Work?
As stated above, Kashkick allows its users to earn some extra money in their spare time by completing tasks that are offered through the site. 
This is because some companies are looking to advertise their deals and discounts or gather feedback on their products or services. 
In this case, they offer to pay users of Kashkick to complete tasks that interact with their brand.
There are many different tasks available on Kaskick, however, completing online surveys will typically earn you the most money.
How to Get Started
Getting started with Kashkick is simple.
Here are the steps you need to take to sign up:
Go to the Kashkick homepage. 
Sign up using your email and create a password. 
Check your email to confirm your account sign-up. 
Once your account is confirmed, head back to the website to complete surveys and paid offers!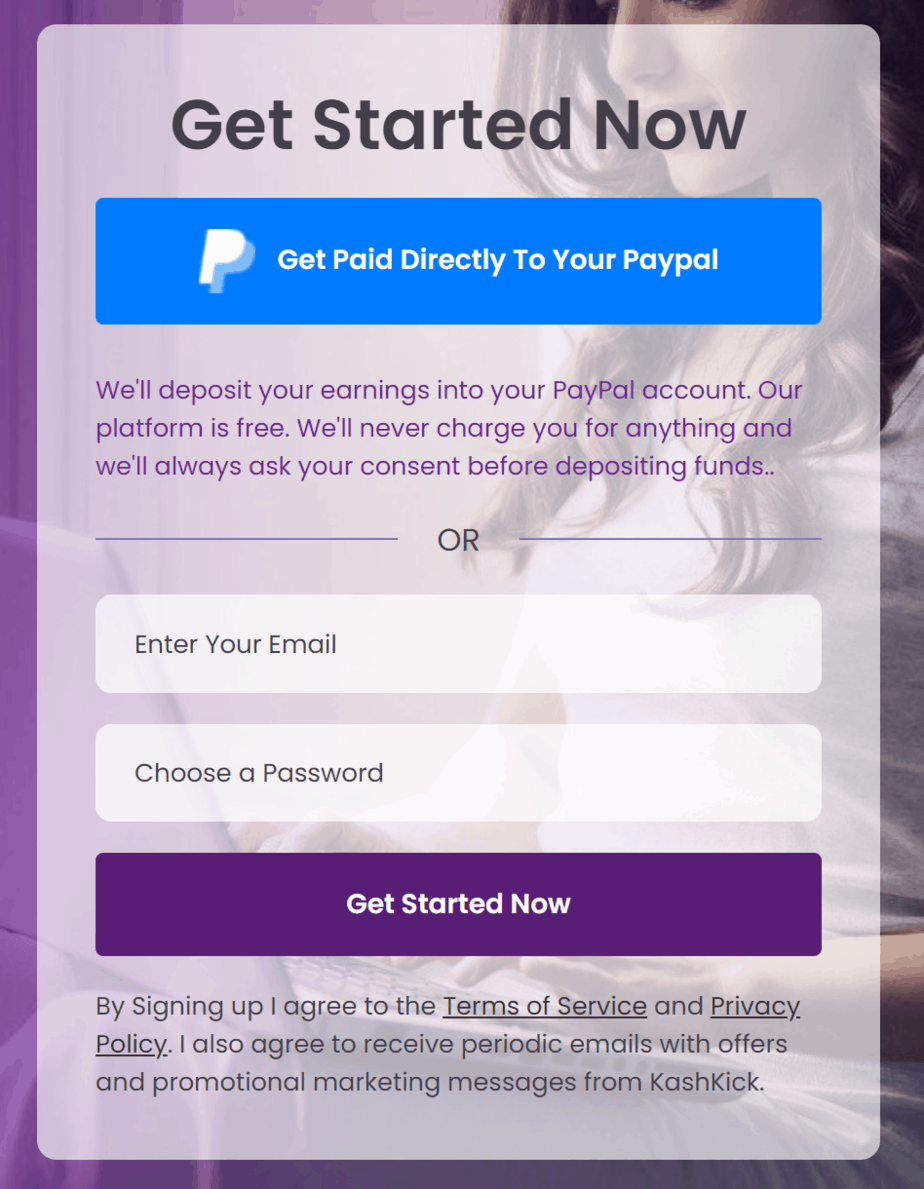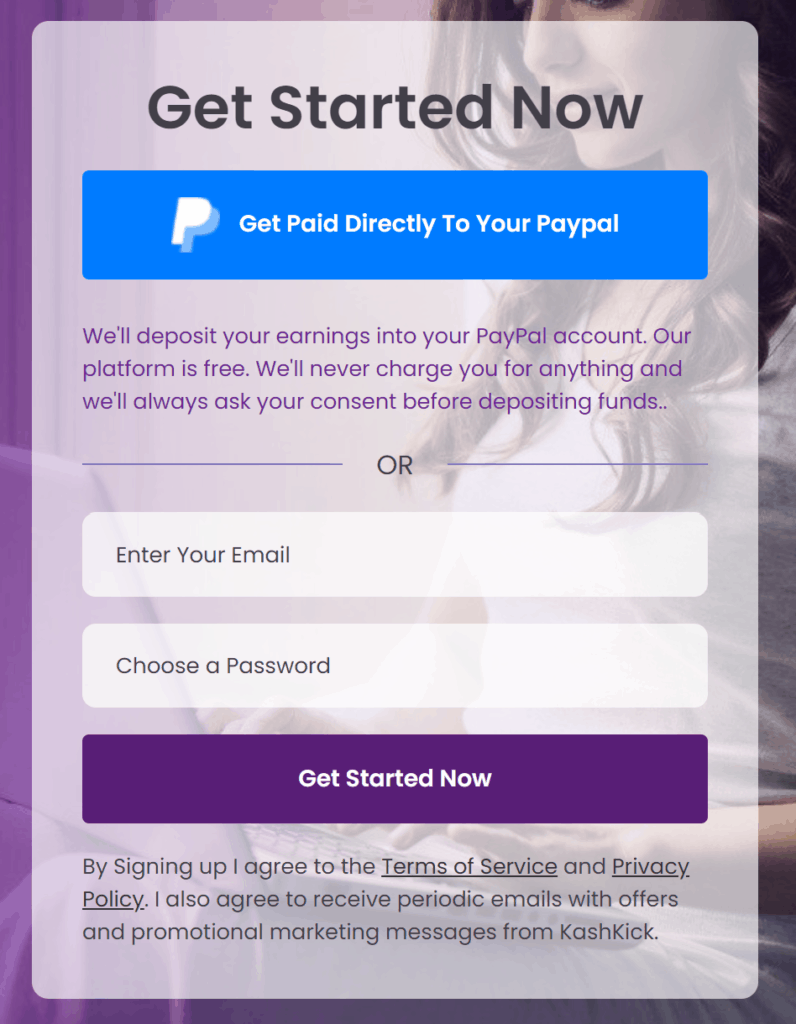 It's as simple as that!
After you complete the sign-up process, you will be able to search through the featured offers and surveys to pick the ones that interest you.
In addition, under the "Surveys" tab on the website, you can "complete your profile" to earn a $1 bonus! 
The information in your profile helps them find surveys and offers that might suit you best. They will also notify you when a survey becomes available that matches your profile.
And the more offers and surveys you complete, the more you will earn!
How Do You Get Paid on KashKick
Unlike other survey sites, Kashkick rewards you with an actual dollar amount (opposed to in credits or points). 
This is great because you will know exactly how much you are getting when you go to cash out. 
After you complete a task, the money you earned will be deposited into your Kashkick account. Once your account reaches the minimum amount of $10, you will be able to cash out via PayPal.
Payments are issued bi-weekly, which means if you cash out at the beginning of the third week of the month, you will not get paid until the end of that month.
But because the minimum threshold to cash out is so low, you can typically cash out pretty quick. 
How Much Money Can You Make?
It's important to do your research on a get-paid-to site to determine if it is worth your time or effort.
The amount of money you make with Kashkick strongly depends on how much time and effort you put into it. 
It also depends on the surveys and activities you choose to complete.
For example, surveys take anywhere from a few minutes up to an hour and will pay you between $0.05 to $10 or more. 
So, if you are consistent with taking surveys and pick ones that have a higher payout, you will earn some side cash each month in your spare time. 
Ways to Earn Money With KashKick
There are three different ways to earn money with Kashkick.
Let's take a look at each one individually:
Complete Surveys
When you complete your profile, Kashkick recommends paid surveys that may fit your interests.
You can find the recommended surveys under the "Surveys" tab on the homepage.
Whenever you complete a survey, you will receive compensation for your time and opinion.
Keep in mind that you may not be eligible for every survey that shows up on your screen.
You will need to take a short screener before each survey to see if you are eligible to complete it. If you are eligible, you will get paid to complete it.
The website will also show you how long the survey is and how much you will get paid before you take the screener for it. 
Paid Offers
Paid offers are another way to earn money with Kashkick.
You can find these paid offers under the "Offers" tab on the Kashkick homepage. 
These offers consist of very quick, minor tasks such as creating an account with a company, downloading an app, watching a video, browsing through a website, and more.
Paid offers are great for those of you who dislike taking online surveys or simply don't have much time during the day.
Doing this is a great way to earn some extra cash, however, taking surveys typically pays a little bit more. 
Referrals 
The last way to earn money with Kashkick is to refer your friends and family to sign up.
After you sign up for Kashkick, you will receive a referral link which you can find under the "Referrals" tab on the website. 
For every friend that signs up with your link, you'll earn 25% of all of their earnings. This means for every $1 they earn, you will receive $0.25. 
So, as your friends and family sign up and earn, you will earn a portion of their winnings!
Is KashKick Mobile-Friendly?
Yes! Kashkick has an app that you can download on your smartphone or tablet.
This makes it easy to complete tasks while you are out and about or on the go. 
On the other hand, if you don't want to crowd your phone with more apps, you can still use the website from your phone in a website browser. The website works well on a smartphone too and is 100% mobile-friendly.
Does KashKick Have Customer Support?
Having great customer service is extremely important with GPT websites.
This is because users often need help with account info, payouts, and overall questions regarding the site.
Unfortunately, Kashkick does not have an FAQ page to answer important questions.
Additionally, the only way to contact them with questions is via email. 
But although this is not the ideal way to get in contact with them, their customer support team does get back to you promptly and professionally.
Is Kashkick Legit or a Scam?
After reading through the information above, you may wonder, "Is Kashkick legit? Or is it a scam?" 
The short answer is: Kashkick is a legit survey site and is not a scam. 
Although this is a newer website, Kashkick is known for paying the full amount and on time. Payments are also processed through PayPal and they never ask for any of your banking information.
Overall, I believe that Kashkick is a reliable website that allows you to earn some extra money completing simple tasks in your free time.
Is Kashkick Safe?
Kashkick is a safe website that you can use to earn extra money.
They do not require you to provide any debit card or banking information.
The app does not ask for any personal information besides filling out your profile, which is used to recommend surveys that you would be eligible to take. 
They also pay your earnings in full and bi-weekly. You can cash out when your account reaches $10 or more.
Pros & Cons of Kashkick
Pros
There is a low minimum payout limit
You will be paid via PayPal
The website is very easy to use and navigate
There are a bunch of different surveys to take
Cons
Not everyone can use the site – only available in the US, UK, Canada, and Australia
There is no sign-up bonus
The website lacks basic information about the company and FAQs
There are many pros to Kashkick, but there are some cons to consider as well. 
It's important to weigh the pros and cons to determine if using Kashkick to earn money is right for you.
Similar Apps like Kashkick
If you enjoy this Kashkick review and think this is something you would enjoy, here is a list of other reputable survey sites to try out to maximize your earnings.
Swagbucks
Swagbucks is one of the most popular survey sites that allows you to earn rewards, cash, gift cards, and free stuff for completing tasks. 

Some of these tasks include watching videos, taking surveys, shopping, searching the web, and playing games.
You will receive a $10 bonus that you can cash out immediately after you sign up for Swagbucks. 
Survey Junkie
Survey Junkie is one of the highest paying survey sites that pay users to complete online surveys. 

You can cash out with PayPal after reaching the minimum amount of $10 in your account. Or you can cash out with gift cards.
Then you can continue taking surveys to earn more rewards!  
Inbox Dollars
Inbox Dollars is another popular survey site that allows users to earn money online.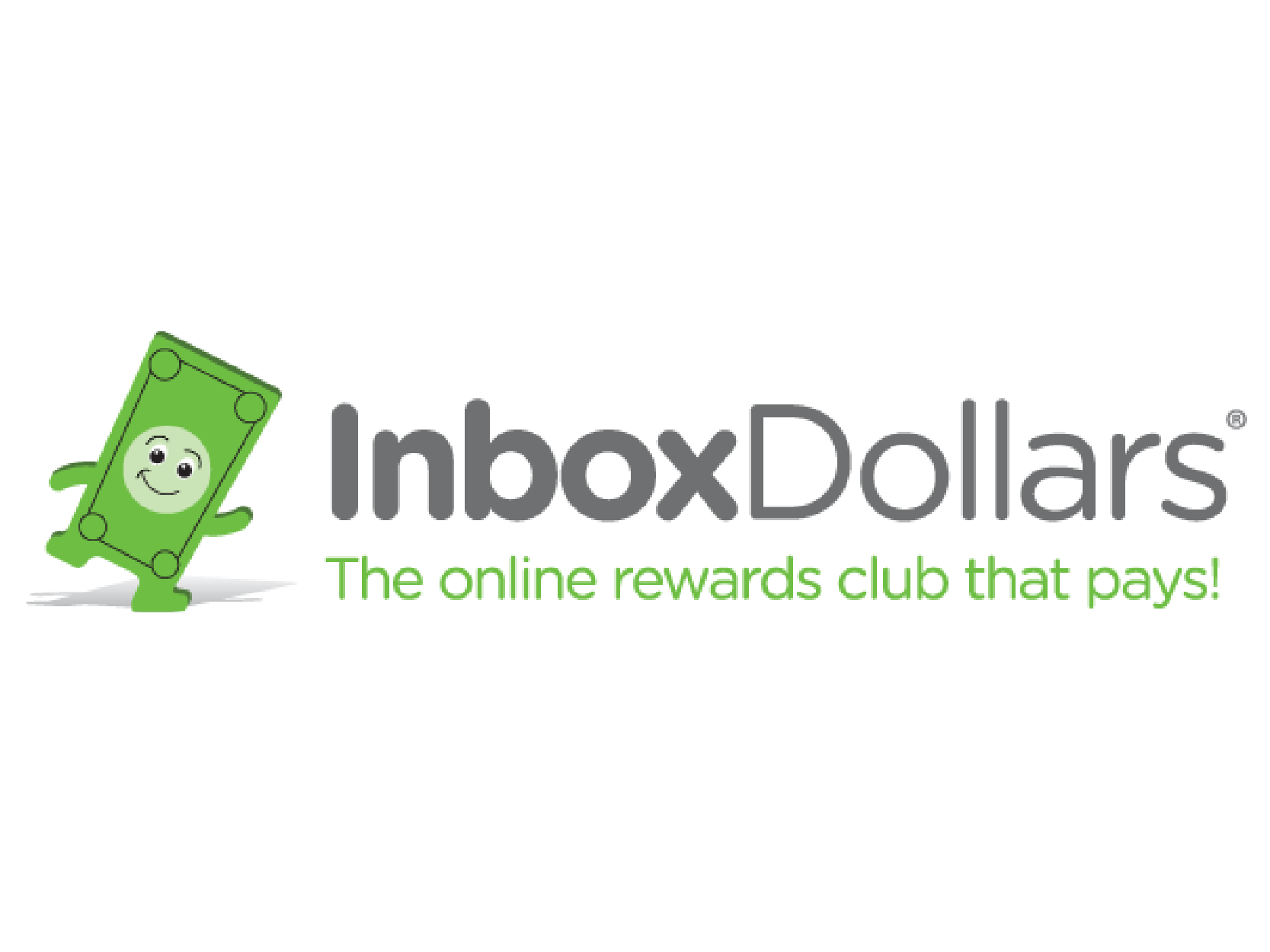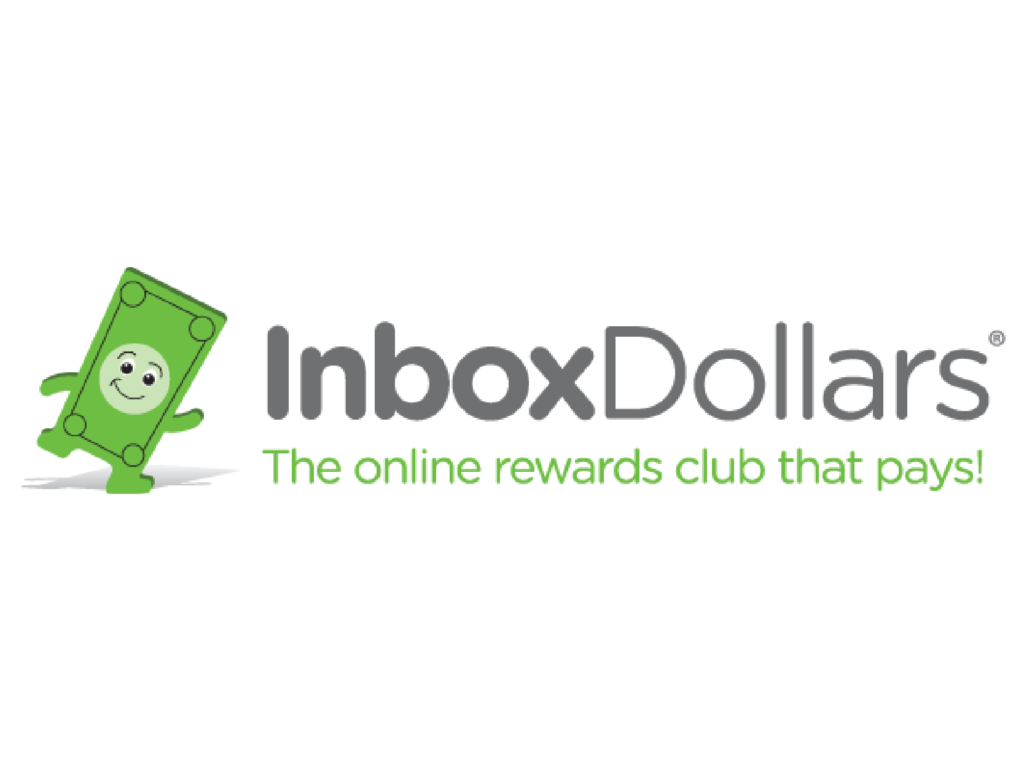 With InboxDollars, you earn rewards by completing surveys, shopping, watching videos, and completing other simple tasks.
You will also receive a $5 signup bonus when you sign up.
MyPoints
MyPoints is another free survey site that pays you to take online polls, complete surveys and review different products.


You will receive a $5 signup bonus after you create an account and take 5 short surveys.
Then you can complete other tasks to continue earning more rewards.
The Bottom Line: Kashkick Review
GPT and online survey sites are a fun and easy side hustle for those looking to make money in their spare time.
Kashkick is a great option to help you do this.
Although completing surveys online won't make you rich, this is a simple way to earn some extra cash right from your smartphone or tablet.
Hopefully this Kashkick review gave you enough information to decide if this site is right for you.
And if you have tried Kashkick or other survey sites in the past, let me know in the comments, I would love to hear from you! 
Related Reviews:
Coin Pop Review: Is It Worth It?
Yotta Savings Review: Everything You Need to Know + 100 Free Tickets
Create and Go Course Review: Launch Your Blog Biz
Related Articles:
30+ High Paying Side Hustles for Single Moms
Get Paid to Read Emails: 12 Proven Ways
How to Make $50 a Day: 22+ Proven Ways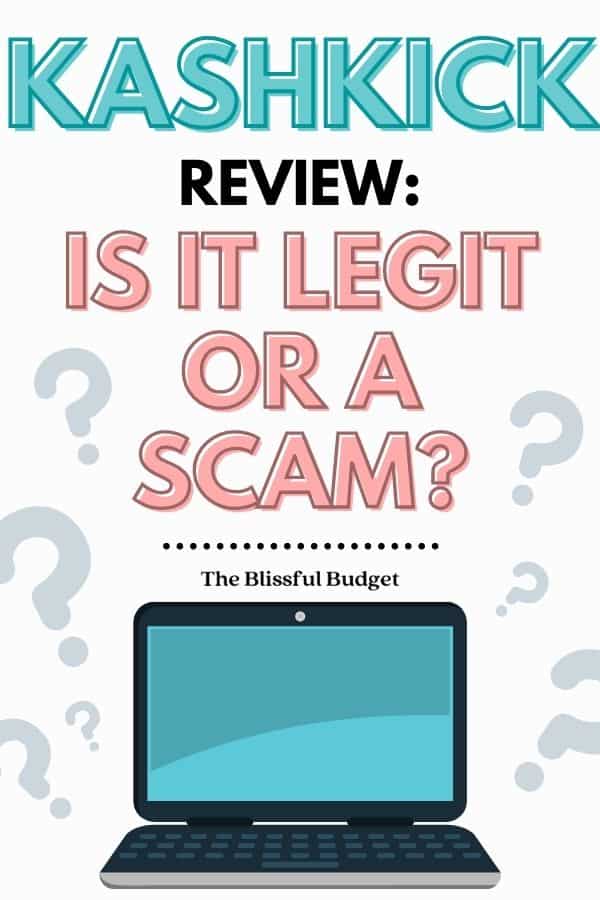 Hey there! My name is Tegan and I am the author and creator of The Blissful Budget.
My goal with this blog is to help you save more money, earn more money, and start to live the life you want by obtaining financial freedom.