In this Kashkick review, we will shed light on everything you need to know to ascertain whether the platform is legit or a scam and if it is worth your time.
If you are like me and are always on the lookout for opportunities to make extra cash, chances are that you have come across the option to engage in a paid survey.
While this is a great opportunity to earn cash rewards on your phone, it's also essential to ensure that you do thorough research on these survey sites to ensure that you don't get scammed.
So, what is Kashkick, and how does it work? Further, how do you get started in order to start earning real money and how much do you stand to earn?
You will get answers to all these questions and more in this Kashkick review. Also, we will highlight other similar sites to help you maximize such opportunities.
First of all though, here is an overview of Kashkick's Main Features:
KashKick Review [Key Takeaways]
| CRITERIA | FEATURES |
| --- | --- |
| Year Established | Info not Available |
| Purpose | Paid surveys |
| Available Countries | United States |
| Applicable | 18 years and above |
| Subscriptions Plans | Free |
| Average Earnings | $5+ |
| Cuts and Commissions | None |
| Minimum Payout | $10 |
| Payment Method | PayPal |
| Bonus Program | $1 for completed Profile |
| Google Play | Currently not active |
| App Store | Not Available |
| Ratings and Accreditations | Not BBB accredited, 2.7 rating of Trust Pilot |
| Kashkick Review: Final Verdict | The site is legit and you can earn a little pocket money |
| Kashkick Login | https://kashkick.com/login |
Kashkick Review Overview
Kashkick Review: What is Kashkick?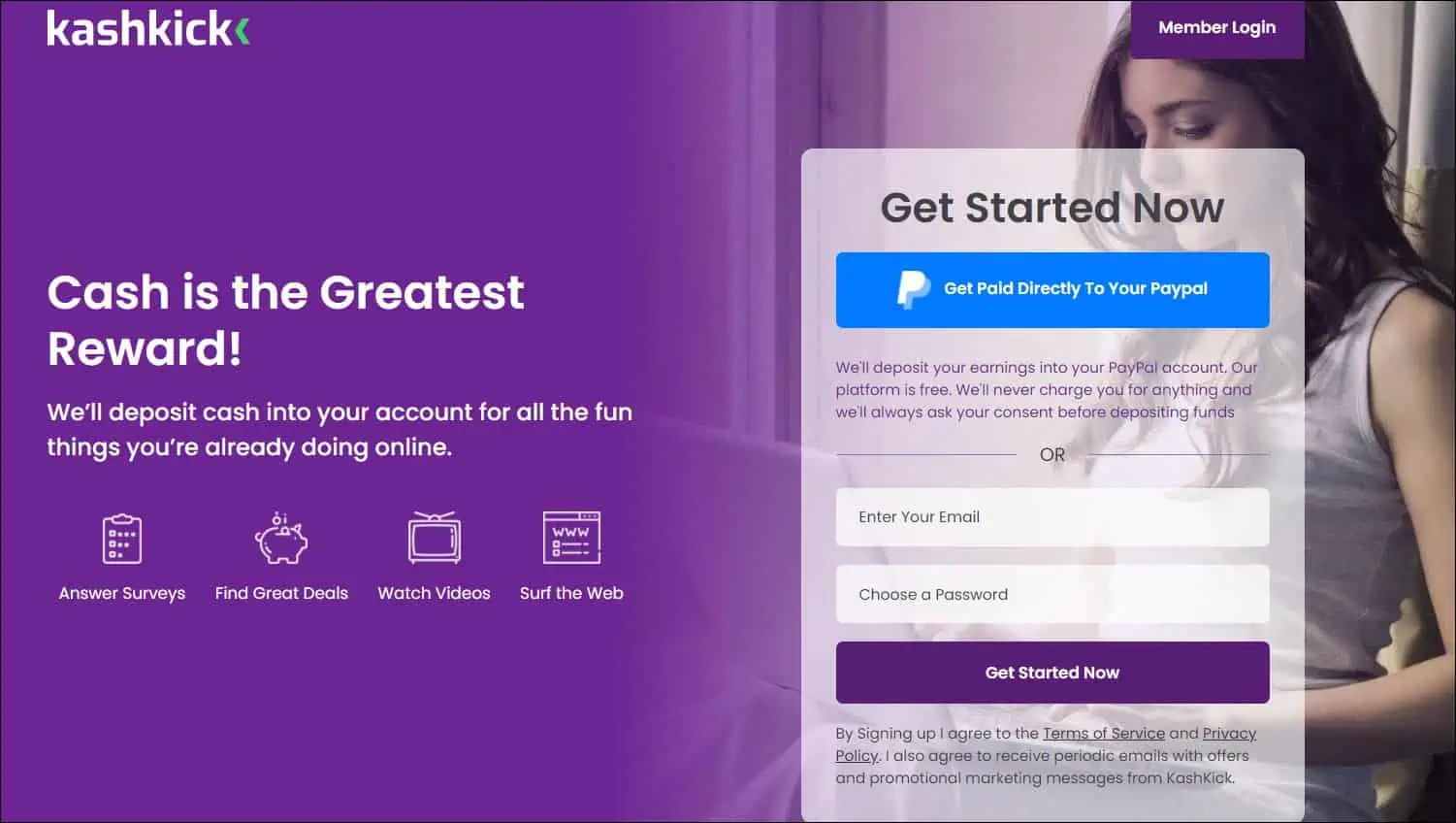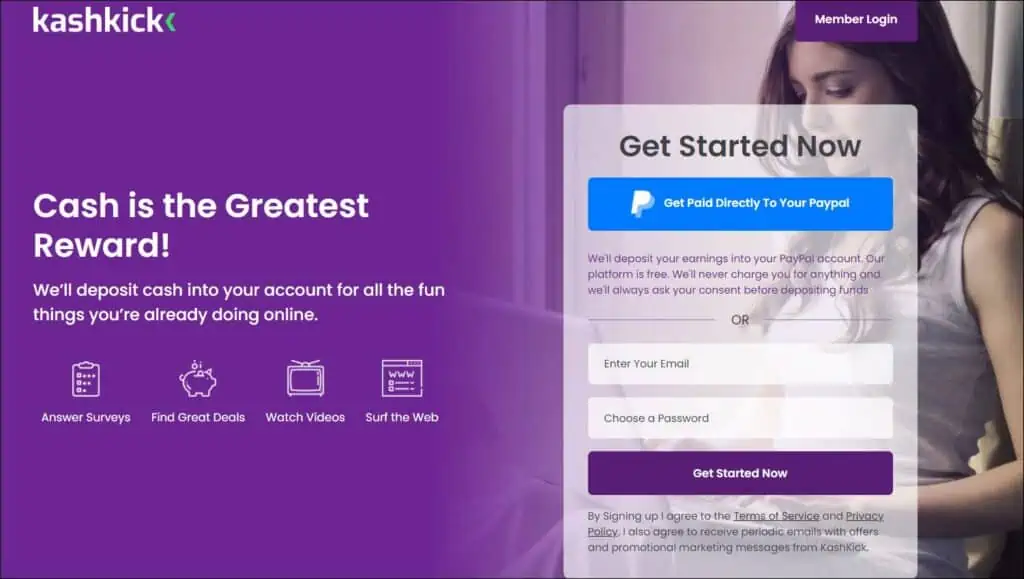 Kashkick is a newer get-paid-to or simply GTP site that has gained popularity in the recent past.
As the description suggests, a GPT site pays users for completing small tasks, which is a great way to make money online in your spare time.
Kashkick offers several different tasks to choose from. They pay users to complete surveys, shop online, watch videos, surf the web, play games, and more.
Their website has a sleek and minimal design, making it extremely easy to use and navigate through. In addition, they offer fast and simple payouts.
Although there are some appealing Kashkick pros, there are also some questionable factors to keep in mind.
For example, you won't find much information on who owns their site or when it was created. Most other trusted GPT reward sites provide this information.
Also, per their Terms of Service, you must be 18 years old and be a US citizen to use enjoy this reward program.
Kashkick BBB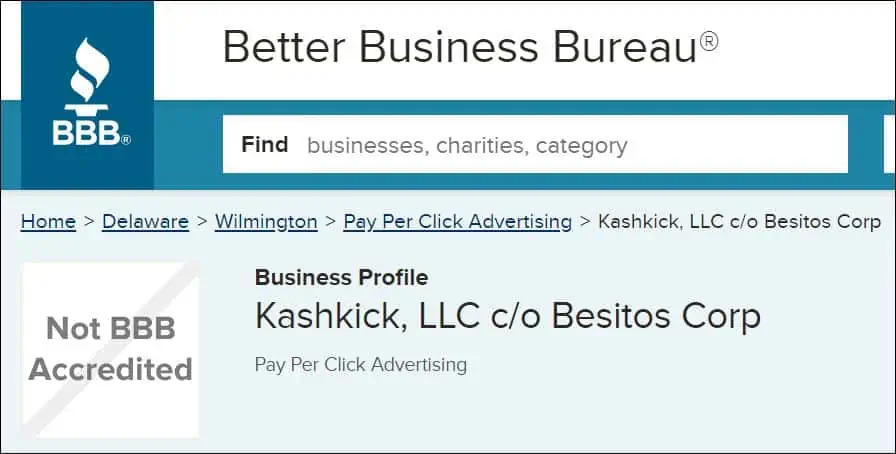 Kashkick is not BBB Accredited.
How Does Kashkick Work?
Like other reward sites, Kashkick allows its users to earn some extra money in their spare time by completing tasks that are offered through the site.
This is because some companies are looking to advertise their deals and discounts or gather feedback on their products or services.
In this case, they offer to pay users of Kashkick to complete various tasks that interact with their brand.
Typically, completing relevant surveys will earn you the most money but there are many different tasks available on the platform.
Steps to Sign up on Kashkick
Visit the Kashkick homepage.
Fill in your email and create a password.
Check your email to confirm your account sign-up.
Once your account is confirmed, you can start using the website.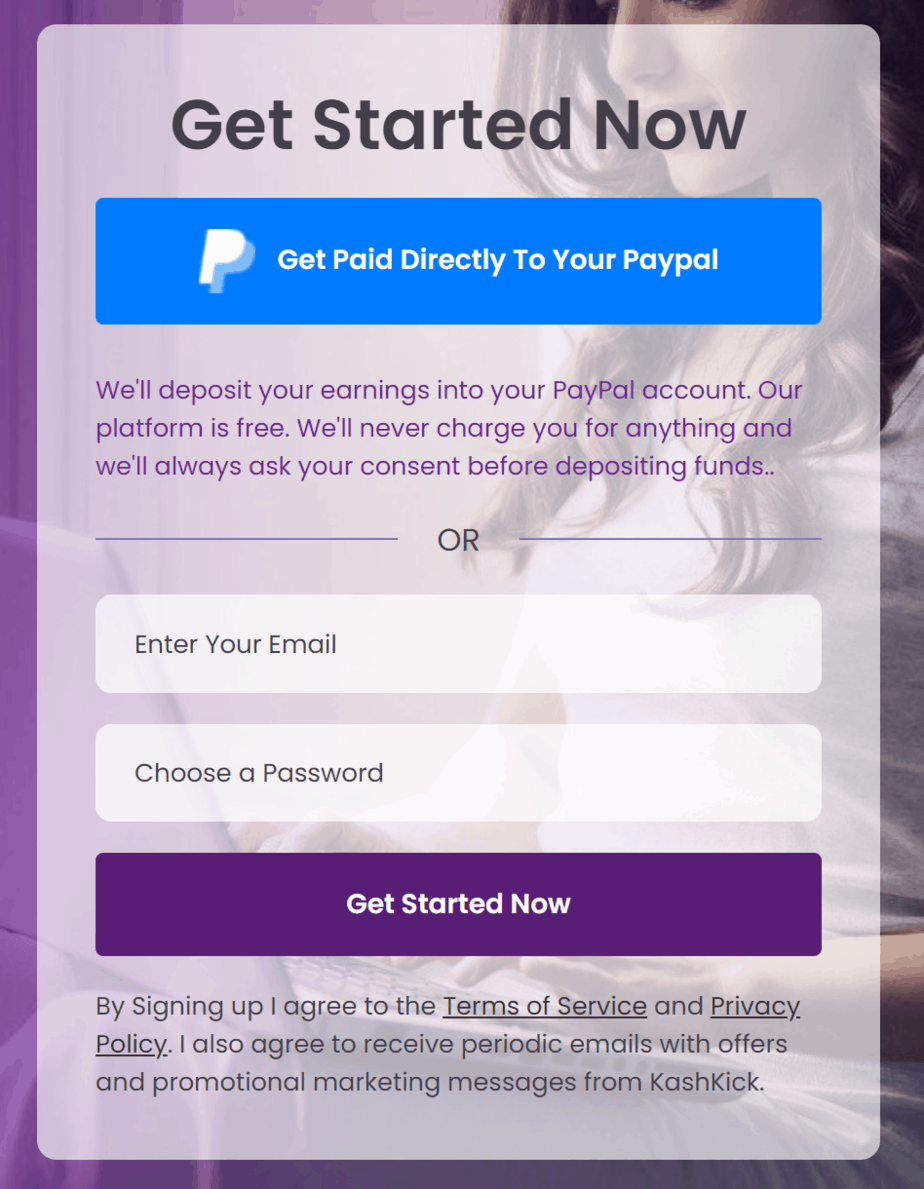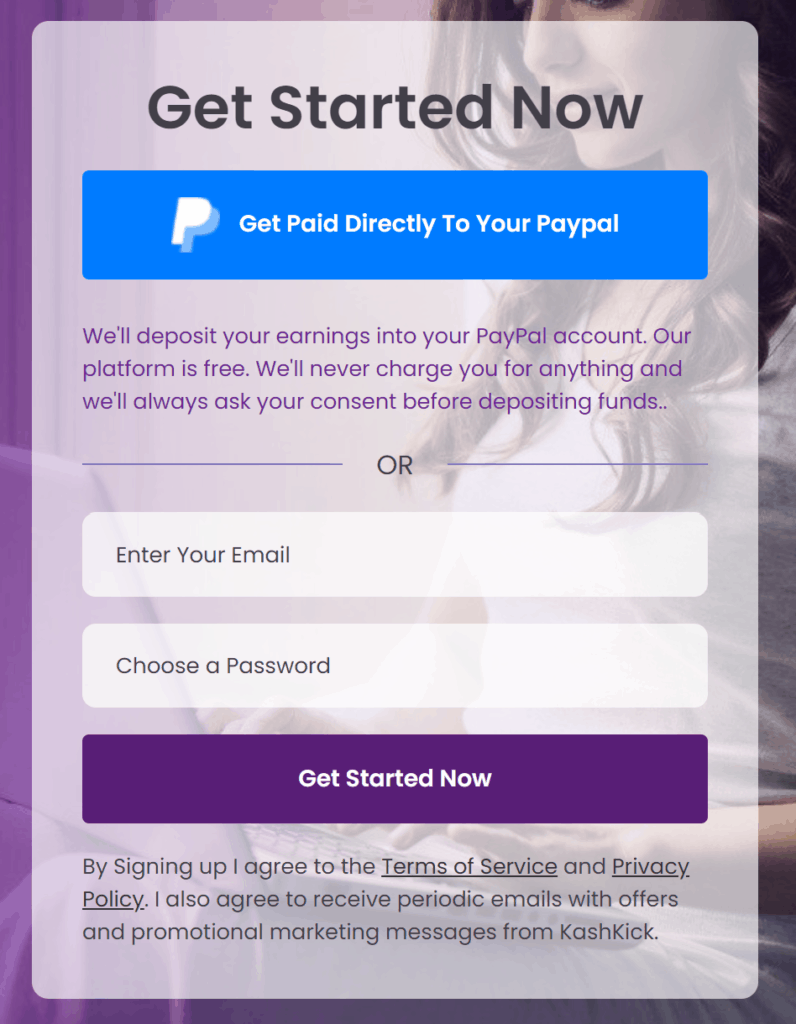 You will be able to search through the featured offers to pick the ones that interest you and no, there's no sign-up bonus. However, another reward takes the place of the Kashkick sign-up bonus.
To do online surveys on the Kashkick survey panel, you have to complete your profile. This will earn you a $1 bonus!
You can do this by going to the "Surveys" tab on the website and choosing "complete your profile"
The information in your profile helps them find surveys and offers that might suit them best. They will also notify you when a survey that matches your profile becomes available.
And the more offers and surveys you complete, the more you will earn!
How Much Does Kashkick Pay?
The amount of money you make with Kashkick strongly depends on how much time and effort you put into it.
It also depends on your eligibility for available surveys as well as the number of surveys and activities you choose to complete.
Surveys take several minutes to complete and can pay anywhere between $0.5 and $2.
The cash reward can also depend on how long the survey takes, the type of survey, and how unique it is you can earn more. Some special surveys can earn you up to $10 within several minutes from time to time.
So, if you are consistent with taking Kashkick surveys, getting ones that have a higher payout, as well as engaging in other reward activities, you will earn some steady side cash each month without disrupting your schedule.
KashKick Rewards
There are three different ways to earn rewards with Kashkick. Let's take a look at each one individually:
1. Complete Surveys
When you complete your profile, Kashkick recommends paid surveys that may fit your interests.
You can find the recommended surveys under the "Surveys" tab on the homepage.
Whenever you complete a survey, you will receive compensation for your time and opinion. Keep in mind that you may not be eligible for every survey that shows up on your screen.
You will need to take a short screener before each survey to see if you are eligible to complete it. If you are eligible, you will get paid to complete it.
The website will also show you approximately how long the survey will take and how much you will get paid before you take the screener for it.
2. Paid Offers
Engaging in a paid offer is another way to earn money with Kashkick.
You can find these paid offers under the "Offers" tab on the Kashkick homepage.
These offers consist of very quick, minor tasks such as creating an account with a company, downloading an app, watching a video ad, browsing through a website, and more.
Paid offers are great for those of you who dislike taking online surveys or simply don't have much time during the day.
Doing this is a great way to earn some extra cash, however, taking surveys typically pays a little bit more.
3. Referrals
The last way to earn money with Kashkick is to refer your friends and family to sign up.
After you sign up for Kashkick, you will receive a referral link which you can find under the "Referrals" tab on the website.
For every friend that signs up with your link, you'll earn 25% of all of their earnings. This means for every $1 they earn, you will receive $0.25.
So, as your friends and family sign up and earn, you will earn a portion of their winnings!
KashKick Payout
Unlike other survey sites, Kashkick rewards you with an actual dollar amount (as opposed to gift cards or points).
This is great because you will know exactly how much you are getting when you go to cash out.
After you complete a task, the money you earned will be deposited into your Kashkick account. Once your account reaches the minimum amount of $10, you will be able to cash out via PayPal account.
Payments typically take 1-3 business days to process. However, since the minimum threshold to cash out is so low, you can cash out pretty quickly.
Kashkick Reviews on Reddit
There are no Kashkick reviews on Reddit.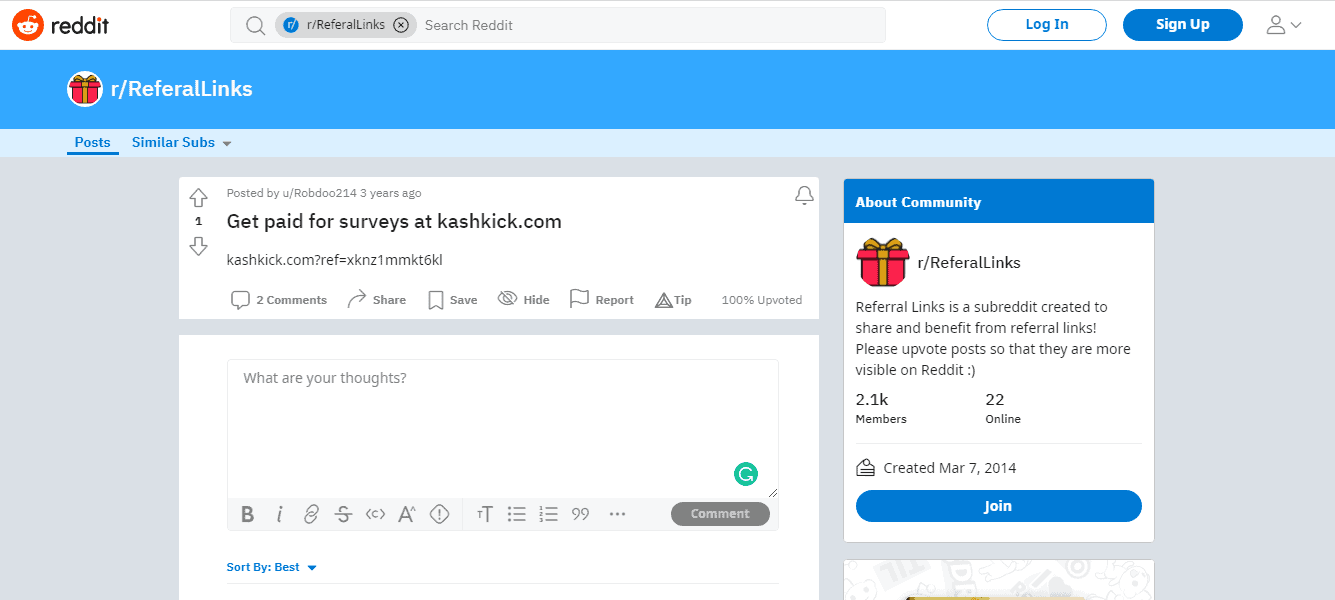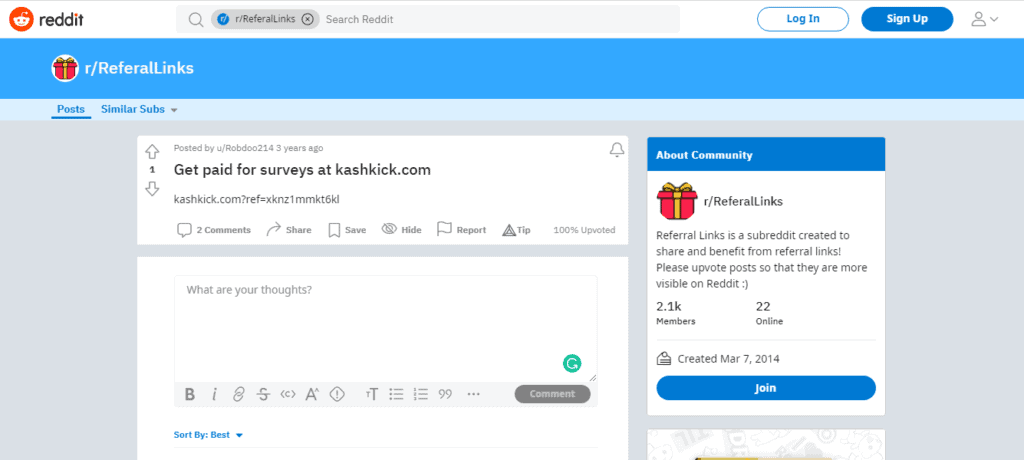 However, there are many reviews on Trust Pilot that can give us a pretty good idea of people's hands-on experience on the platform.
For starters, the site has a rating of 2.7 out of 5 which is considered poor.


The platform has gotten high ratings and low ratings in equal measure, hence the poor score.
Those that have loved Kashkick commend excellent customer care, user-friendliness of the site, the great opportunity to earn, and the legitimacy of the whole process.
Someone even cited Kashkick payment proof by asserting to have been paid more than 15 times and to withdraw over $150 within a month.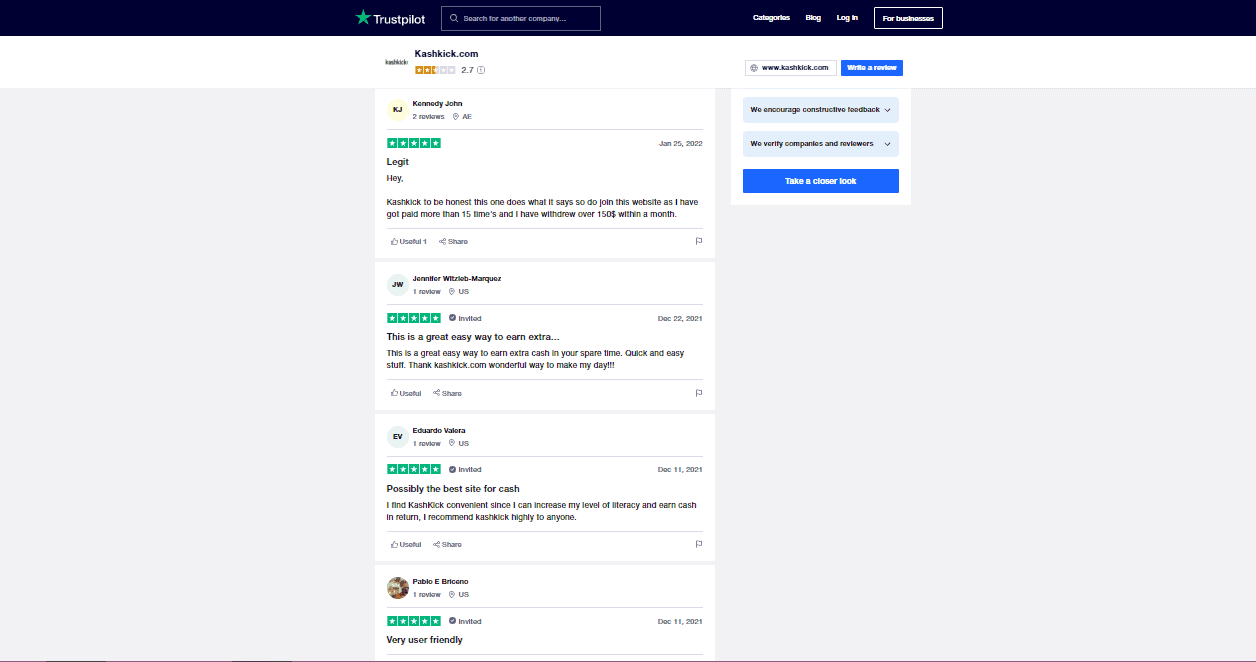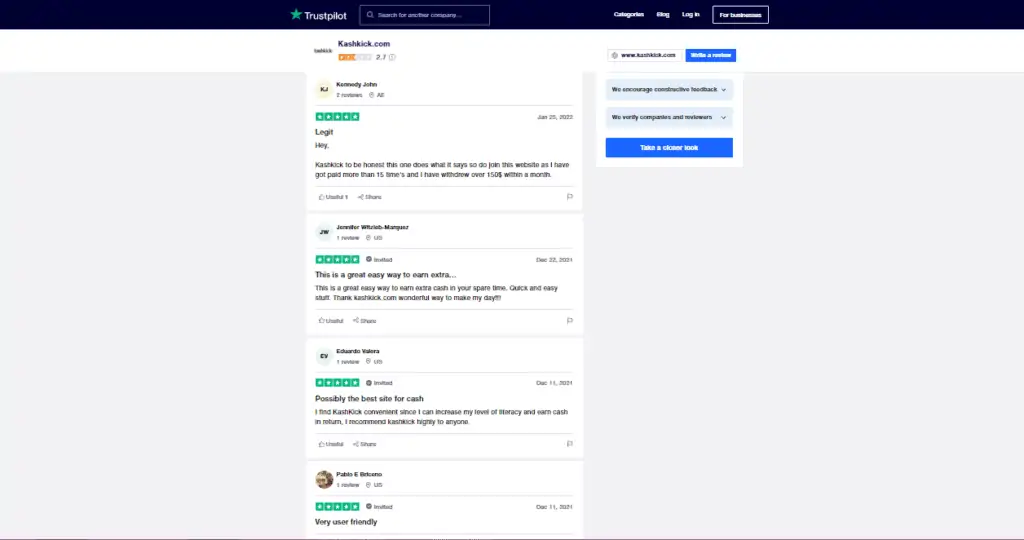 The bad reviews are as bad as they come!
There are complaints about being disqualified for surveys, not being paid for completed tasks, being declined on the basis of race, delayed payments, and getting paid less than what had been indicated.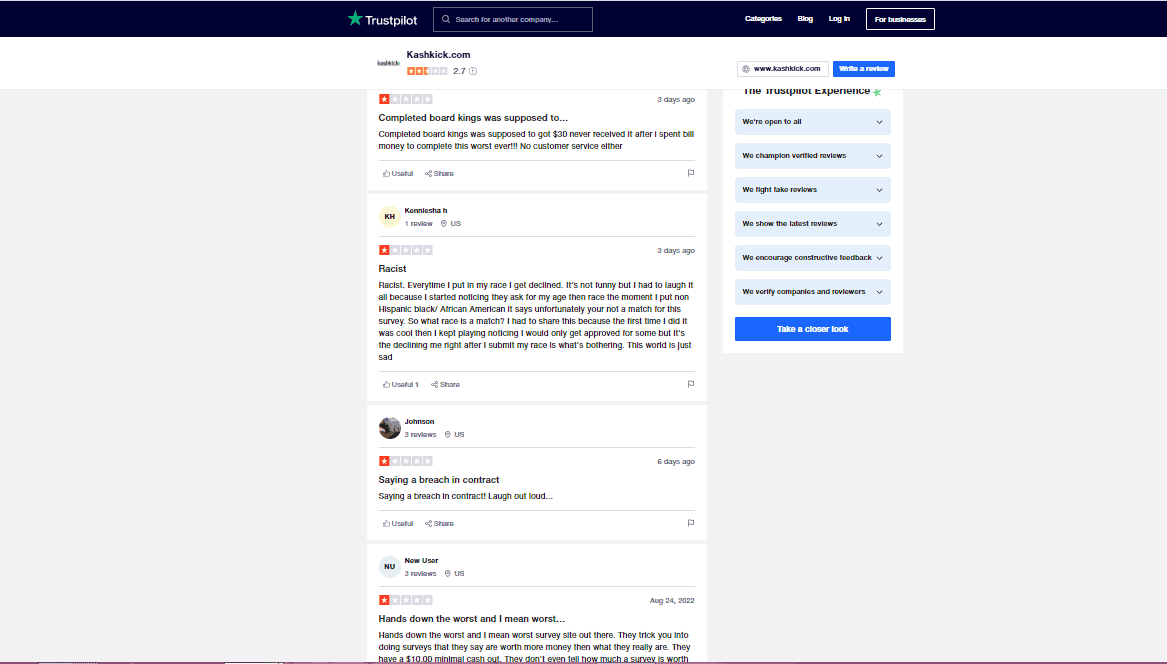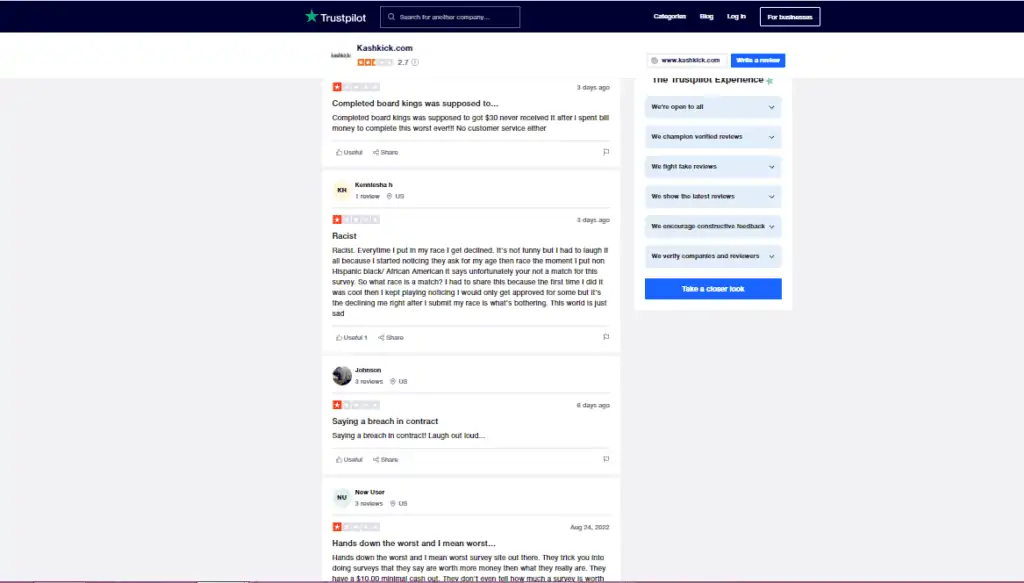 Pros & Cons of Kashkick
| PROS | CONS |
| --- | --- |
| There is a low minimum payout limit | Not everyone can use the site – only available in the US! |
| Payment via PayPal accounts is safe and trustworthy | There is no sign-up bonus |
| The website is very easy to sign up, use, and navigate | The website lacks basic information about the company |
| There are a variety of surveys and multiple ways to earn | Not the best customer support |
Kashkick Pros and Cons
There are many pros to Kashkick, but there are some cons to consider as well.
It's important to weigh the pros and cons to determine if using Kashkick to earn money is right for you.
Is Kashkick Legit or a Scam?
After reading through the information above, you may wonder, "Is Kashkick legit? Or is it a scam?"
The short answer is that Kashkick is a legit survey site and is not a scam.
Being a newer website, Kashkick comes with its fair share of challenges for the survey taker and other users who don't hesitate to call it a scam.
Still, there's a good number that confirms that Kashkick keeps their end of the bargain. Payments are also processed through PayPal which is a reputable online payment system.
Is Kashkick Safe?
Yes, Kashkick is a safe website that you can use to earn extra money. Since they pay you using PayPal money, they do not require you to provide sensitive banking information.
The app does not ask for any personal information besides filling out your profile, which is used to recommend surveys that you would be eligible to take.
They also pay your earnings in full and bi-weekly. You can cash out when your account reaches $10 or more.
Similar Apps like Kashkick
If you enjoy this Kashkick review and think this is something you would enjoy, here is a list of other reputable survey sites to try out to maximize your earnings.
1. Swagbucks
Swagbucks is one of the most popular survey sites that allows you to earn rewards, cash, gift cards, and free stuff for completing tasks such as shopping online, playing games, searching the web, and doing surveys.
You can redeem your rewards in form of gift cards to favorite outlets or cash via Paypal.
You will receive a $10 bonus that you can cash out immediately after you sign up for Swagbucks.
2. Survey Junkie
Survey Junkie is one of the highest-paying survey sites that pay users to complete online surveys.
You can cash out with PayPal after reaching the minimum amount of $10 in your account. Or you can cash out with gift cards.
Then you can continue taking surveys to earn more rewards! 
3. Inbox Dollars
Inbox Dollars is another popular survey site that allows users to earn money online.
With InboxDollars, you earn rewards by completing surveys, shopping, watching videos, and completing other simple tasks.
You will also receive a $5 signup bonus when you sign up and earn rewards in real cash.
4. MyPoints
MyPoints is another site that awards you points for taking online polls, completing surveys, and shopping online for different products.
You will receive a $10 signup bonus after you create an account. Then you can redeem your points in form of gift cards or transfers to your PayPal account.
Kashkick Reviews: FAQs
1. What is Kashkick Sign Up Bonus?
Kashkick does not have a signup bonus. However, when you complete your profile to be eligible for surveys, you get a reward bonus of $1.
2. Does KashKick have an App?
Yes! Kashkick has an app that you can download on your smartphone or tablet. This makes it easy to complete tasks while you are out and about or on the go. 
3. Does KashKick Have Customer Support?
Kashkick does not have chat support to answer questions live. The only way to contact them with questions is via email at [email protected]
Although this is not the most reliable way to get in contact with them, their customer support team does get back to you promptly and professionally. 
4. How long does it take for Kashkick to Pay You?
Kashkick processes its payment within 1-3 days. Sometimes, payments can take longer depending on measures taken for fraud protection.
5. How Much can you Make from Kashkick Online Surveys?
What you earn from Kaskkick can vary based on the activities you undertake on the platform.
The earning range is so wide that you can expect to earn as little as $5 for a whole month or as much as $100.
In the reviews, someone claimed to have withdrawn over $150 within a month.
Is Kashkick Worth it? Final Thoughts!
Overall, Kashkick will not pay your bills, make you rich, or fund your vacation.
GPT and online survey sites are fun and easy opportunities for those looking to make money in their spare time. If you have a good amount of spare time on your hands, you might want to consider a lucrative side hustle.
On the other hand, if your free time is the time spent on your smartphone or tablet in waiting rooms, queues, or in transit, I believe that making a few bucks on Kashkick is better than doing nothing.
Have you tried Kashkick or other great survey sites in the past and had a great or not-so-great experience? We would love to hear from you! Tell us all about it in the comments section.
More Reviews:
Hey there, welcome to my blog!
I'm Swati, a mom, a personal finance enthusiast, and the owner of TheBlissfulBudget.  My work has been featured in major publications including Fox 10, Credit Cards, Cheapism, How to Fire, Databox & Referral Rock.
I help busy budgeters like you save and make money by utilizing simple yet effective methods that can create wonders.
My Mantra: You are entitled to live the life you desire, and financial bliss should be simple to obtain–check out my blog for helpful tips on acquiring wealth easily.