Your MACU routing number is an important piece of information needed to send or receive money.
It acts as a distinctive identifier for your particular bank to expedite operations like direct deposits, wire transfers, and bill payments by identifying a particular financial institution.
In this article, we'll reveal your Mountain America Credit Union routing number and also give you a step-by-step guide on how to find your MACU routing number.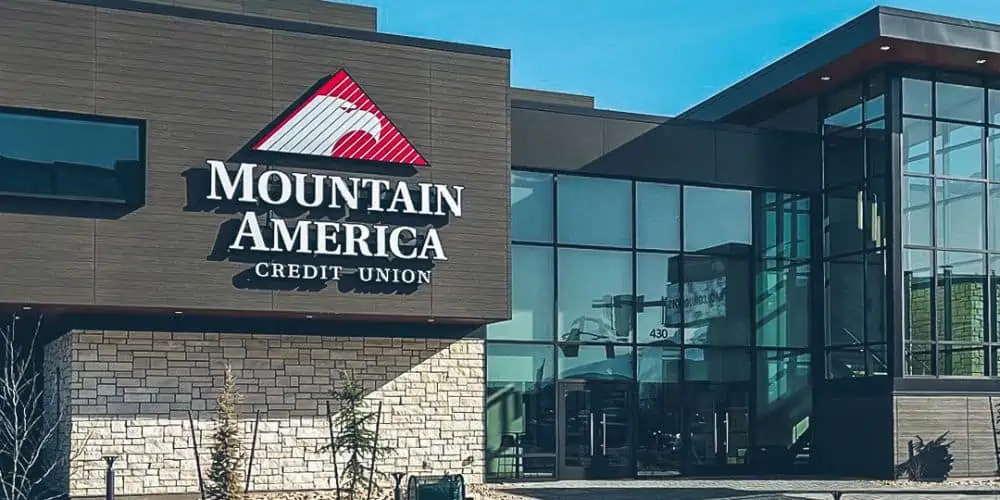 What's MACU Routing Number?
MACU routing number is 324079555. This number is also referred to as Mountain America Credit Union's ABA routing number
This routing number is used by all MACU branch locations. You'll need to know this 9-digit code in addition to your account number in order to set up a direct deposit for your checking or savings account.
MACU Routing Number for ACH Transfers?
MACU's ACH routing number is 324079555.
ACH numbers, which stand for Automatic Clearing House, are exclusive to each US bank.
When sending an ACH transfer to any Mountain America Credit Union account, you must include the ACH routing number.
Banks and transfer apps use your bank account number and the ACH number to determine which specific account payments should be deducted from and sent to.
MACU Routing Number for Wire Transfers?
The wire transfer routing number for MACU is 324079555.
You'll need the above wire routing number for domestic wire transfers to and from the MACU. For international wire transfers, a Swift code is also required.
MACU SWIFT Code: MACU Routing Number for International Wire Transfers
SWIFT codes are a special set of letters and numbers that are used to identify particular banks and financial institutions across the world.
Mountain America does not have a SWIFT Code, as they do not deal in foreign currency. The Mountain America's routing/ABA number is 324079555.
However, you will need several pieces of information for a domestic or international wire, which include:
Your 12-digit account number
Your Mountain America Credit Union Routing Number – 324079555.
Mountain America's address and phone number are as follows: 9800 S Monroe St, Sandy, UT 84070 & 1-800-748-4302.
How to Find Mountain America Credit Union Routing Number?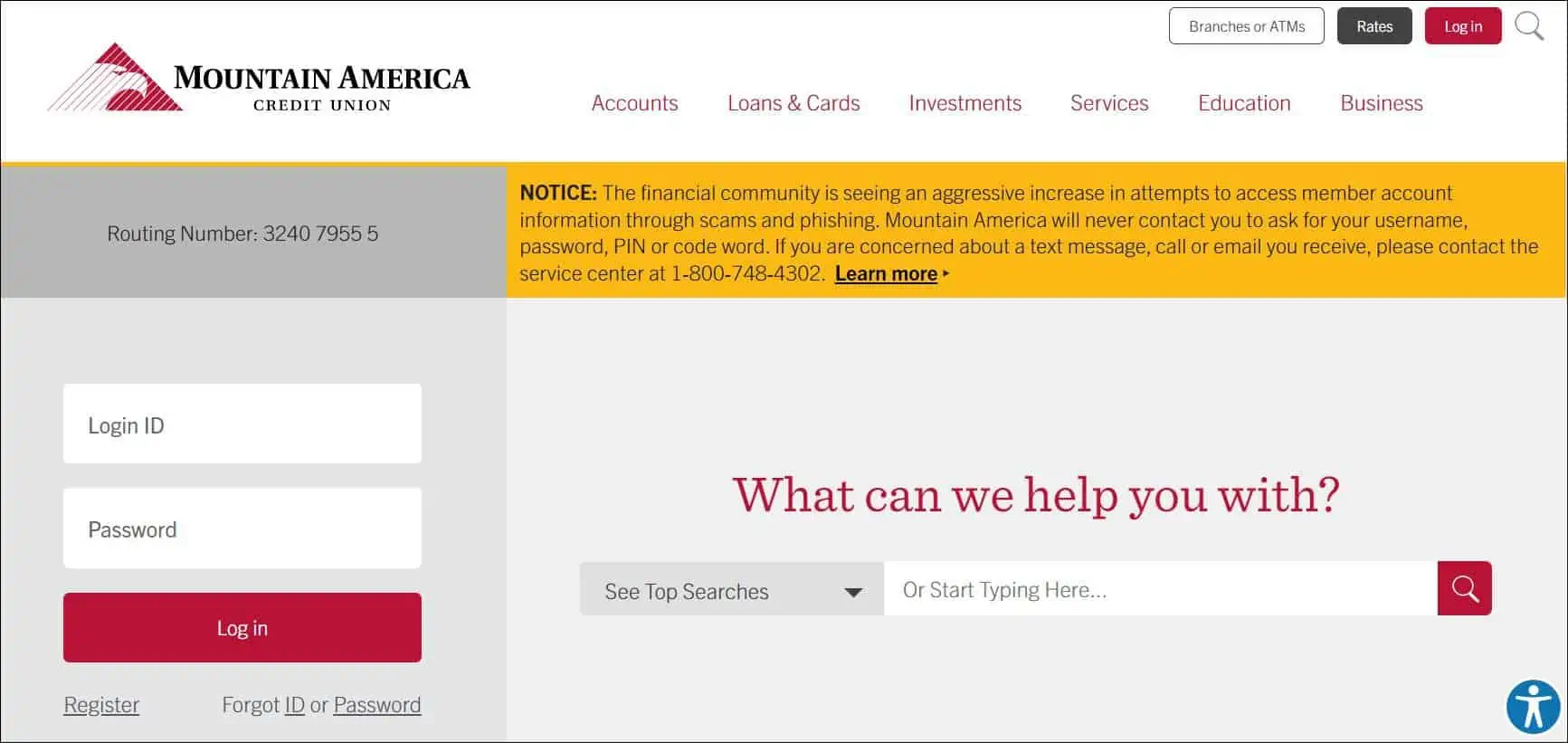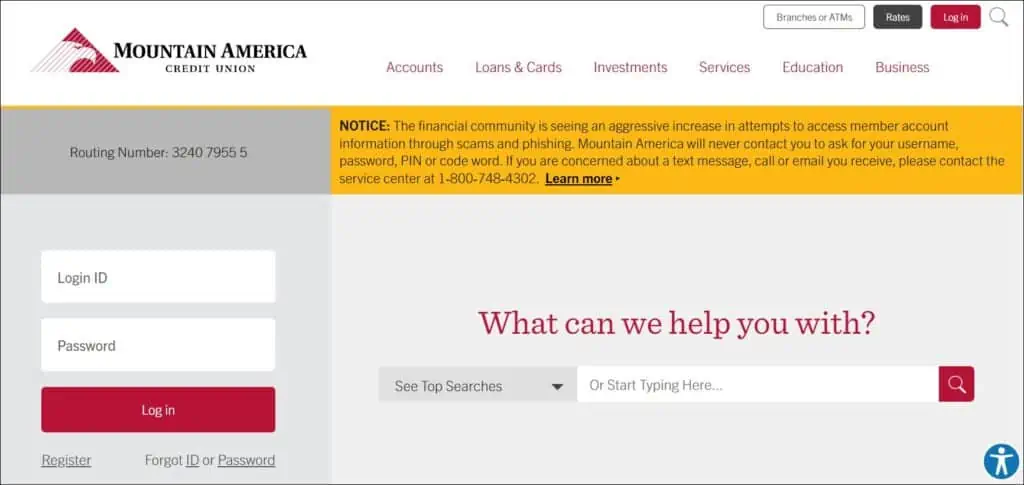 You can find your MACU routing number using any of these methods;
Check or bank statement: The nine-digit string of numbers at the bottom left-hand corner of a MACU bank-issued check is where you can find your bank routing number.
Call MACU: You can also call MACU's customer service center at 1-800-748-4302 any time to get the routing number for your account.
How to find your MACU Routing Number Online?
On this Page: The MACU routing number for wire and ACH transfers is provided on this page.
MACU Website HomePage: The Mountain America Routing number can be found in the footer of their website underneath "Service Center" next to the help navigation.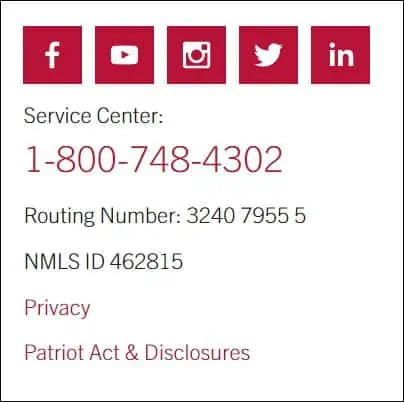 MACU Online Banking: Simply log in to your MACU online banking account, and click on the "account details" tab to unmask your routing number for a specific account.
Fedwire: On the Federal Reserve's official website, you can look up your routing number.
Where to find the MACU routing number on a Check?
Probably the simplest way to find your MACU routing number is with the MACU-issued check or bank statement.
Next to your account number, look for the first set of 9-digit strings of numbers at the bottom-left corner of the MACU check. This is MACU's routing number.
How to find the routing number on the MACU app?
Step 1: Download the MACU Banking app on the Google play store.
Step 2: Sign up or Log in to your MACU Banking app.
Step 3: Click on the Search button.
Step 4: Search for "MACU routing number"
Step 5: In the search result you can find your MACU routing number.
MACU Account Number for Direct Deposit
Mountain America direct deposit allows members to have their paychecks deposited directly into their checking accounts. Here's how to find your Mountain America account number:
Step 1: Log in to macu.com
Step 2: Select your checking account.
Step 3: Choose the share or loan, and then click the eye symbol N to reveal the account number.
Instead of physically taking your next paycheck to a branch, have your employer make direct deposits to your savings or checking account.
It is more convenient, faster, and secure than manually cashing your paychecks. There is no need to be concerned about lost or stolen checks, and your payment will be deposited into your account on the same day the check is issued, even if you are out of town, sick, or unable to visit a branch.
Direct deposit is also the most efficient method of receiving Social Security and other federal benefits. Indeed, the United States Treasury and Federal Reserve's Go Direct program requires seniors to have their Social Security checks deposited directly.
Mountain America Credit Union Routing Number: FAQs
1. How Many Digits Is a Mountain America Credit Union Account Number?
Mountain America Credit Union account number is 12 digits long.
2. Is MACU Only In Utah?
Mountain America has over 100 branch locations across six states (Utah, Nevada, Arizona, Idaho, New Mexico, and Montana). Locate the nearest location.
3. Which MACU Routing Number Should You Use?
MACU's domestic and international wire transfer routing number is 324079555.
4. Can Routing Numbers for MACU Change?
Yes, the routing number for MACU can change. New routing numbers may be generated as a result of bank mergers, making older ones useless. However, this routing number is the same for every MACU branch location.
You Might Be Interested In:
Hey there, welcome to my blog!
I'm Swati, a mom, a personal finance enthusiast, and the owner of TheBlissfulBudget.  My work has been featured in major publications including Fox 10, Credit Cards, Cheapism, How to Fire, Databox & Referral Rock.
I help busy budgeters like you save and make money by utilizing simple yet effective methods that can create wonders.
My Mantra: You are entitled to live the life you desire, and financial bliss should be simple to obtain–check out my blog for helpful tips on acquiring wealth easily.