No spend challenge is a personal project which needs a lot of determination and frugality to accomplish.
I've been there; struggling with finances and trying so much not to mess things up further. But when I found out about the exercise, it signaled my break in the financial dilemma I found myself in.
You can also get hold of your finances with the help of this challenge, only if you know the right things to do.
This article will discuss everything you need to know from no spend challenge rules to ideas to tips for completing a successful no spend challenge.
Plus, you'll gain access to some free printables, pdfs, and trackers that will help keep you motivated throughout the duration of the challenge!
What Is a No Spend Challenge?
A no spend challenge is a financial exercise, aimed at curtailing your expenditure on non-essential items within a particular period. This can be anything from coffee to new clothes to entertainment.
While a No spend challenge can last for any amount of time, a common length is 30 days!
The idea behind the phrase 'no spend' concentrates more on abstinence from the excessive expenditure. It encourages the prioritization of necessary items of immediate use.
It is a great way to save money, get out of debt, and reset your spending habits.
Benefits Of a No Spend Challenge
The No Spend Challenge gainfully impacts you in the following ways:
It helps you become more conscious of yourself and your expenses.
You can also become accountable.
It aids in reducing debts and focusing on necessities.
The best part is saving more money that would've gone down the drain from extravagance.
How to Prep for a No-Spend Challenge?
The preparation + opportunity equals luck axiom, comes into play in the no spend challenge. This is because there are a bunch of opportunities for you to get this done, but without preparation; you might end up not doing anything at all.
I have below a couple of preparatory takes that I employed, before embarking on this financial awareness. And I think you shouldn't skip them for anything in this context.
1. Determine Your Goals
Determination is the first fuel that revs you up for a no spend challenge. Doing this aspect of preparation requires you to undergo a self-evaluation test.
This involves a couple of things like ridding yourself of possible flaws like emotional shopping or gluttony. With this, I got to harden my mind for what's to come and I hope you do the same.
2. Sort Your Stuff
A good number of us do not know how much we have until we sort and discover. I added this to the prep step because it is important to set a clean slate before starting the challenge.
Sorting in this context means that, you have to go through all your belongings and identify those pieces of stuff that are probably still useful.
3. Line Up Your Lifelines
Your lifelines would be your survival strategy. You don't want to get stuck in the middle of a challenge and see it as an excuse to end it all.
Setting up support plans in case there's an emergency is a sure way of getting ready for a no spend challenge.
4. Set Time Duration
This preparatory step entails that you have to set up the duration of your challenge. The longer the duration, the more benefit you stand to gain and also the harder it gets.
Therefore, you have to estimate your endurance rate and work with that. If you do, you're assured of a full challenge session devoid of indiscipline.
5. Planning an Income Safe-house
You can do this by having an investment plan or setting up a savings account if you do not have one. All actions in this step aim at creating a safe house for your income for the time duration of your no-spending challenge.
30-Day No Spend Challenge
The most popular challenge is the no spend month challenge, which entails a spending ban for 30 days!
It necessitates an increase in any controls you've already put in place to succeed through the no spend weekend or no spend week challenges.
A 30-Day No Spend Challenge requires you do the following things:
Be intentional about the challenge.
Line up your lifelines.
Sort and take record of financial assets.
Remain resolute.
Pick the perfect month like January or mid-year.
Observe the challenge rules.
No Spend Month Rules
You want to embark on a no spend month challenge and you're wondering how best you can beat the tide and come out a success.
Well, I've got a few tips for you. I tried some of these tips and also got recommendations from my close friends.
1. Make Coffee at Home
A lot of us cannot go a day without taking a cup of coffee. This has led so many people to spend more than they even count on taking coffee in a shop. My colleague once mentioned how she recorded over $200 as expenses on taking coffee from a shop. To maintain the no spend month ethics, you can improvise by making coffee at home.
2. Eat Homemade Food
You should stick to eating only homemade food or eating from your pantry, as against eating outside. No matter how tempted you get, do not make your challenge a flop by eating outside. Although there may be exceptions, ensure not to overstep.
3. Do Not Skip Days
All days on your challenge are no spend days. Therefore, you should observe every day within the month of your challenge. Skipping a day might, in turn, disrupt your record and eventually your whole exercise. So stick to the path daily.
4. Read More Books, Stream Less
A month's subscription for online streams across all platforms is enough to buy you groceries for a week or two. So for the no spend month, you have to substitute books for streaming. This way, you stay clear of unnecessary expenses while having your entertainment needs catered by the books.
5. Resort to Free Things or Borrow
You should also look into grabbing free opportunities when you see one. Using up your free coupon is an actual way of getting this done. Also, you should make sure you try to borrow some things which might incur extra expenses if you buy them.
To avoid the personal prejudice that a lot of people have towards the idea of borrowing things, you can limit yourself to borrowing only from family members or close friends.
6. Only Use Emergency Funds When There's a Need
This is one rule that a lot of people violate during a no spend month challenge. Because there's an emergency fund shouldn't mean that you should use it beforehand. Please, make sure you discipline yourself on this.
7. Keep Records
This has always been my last rule for a no spend a month. My point is that documenting your progress during the period is a good way of ascertaining if the exercise favors you or not.
The simple way to achieve this is by making use of the no spend challenge printable calendar.
Get this no spend challenge pdf from Etsy for just $4 to help you keep track of your growth from the first day to the last.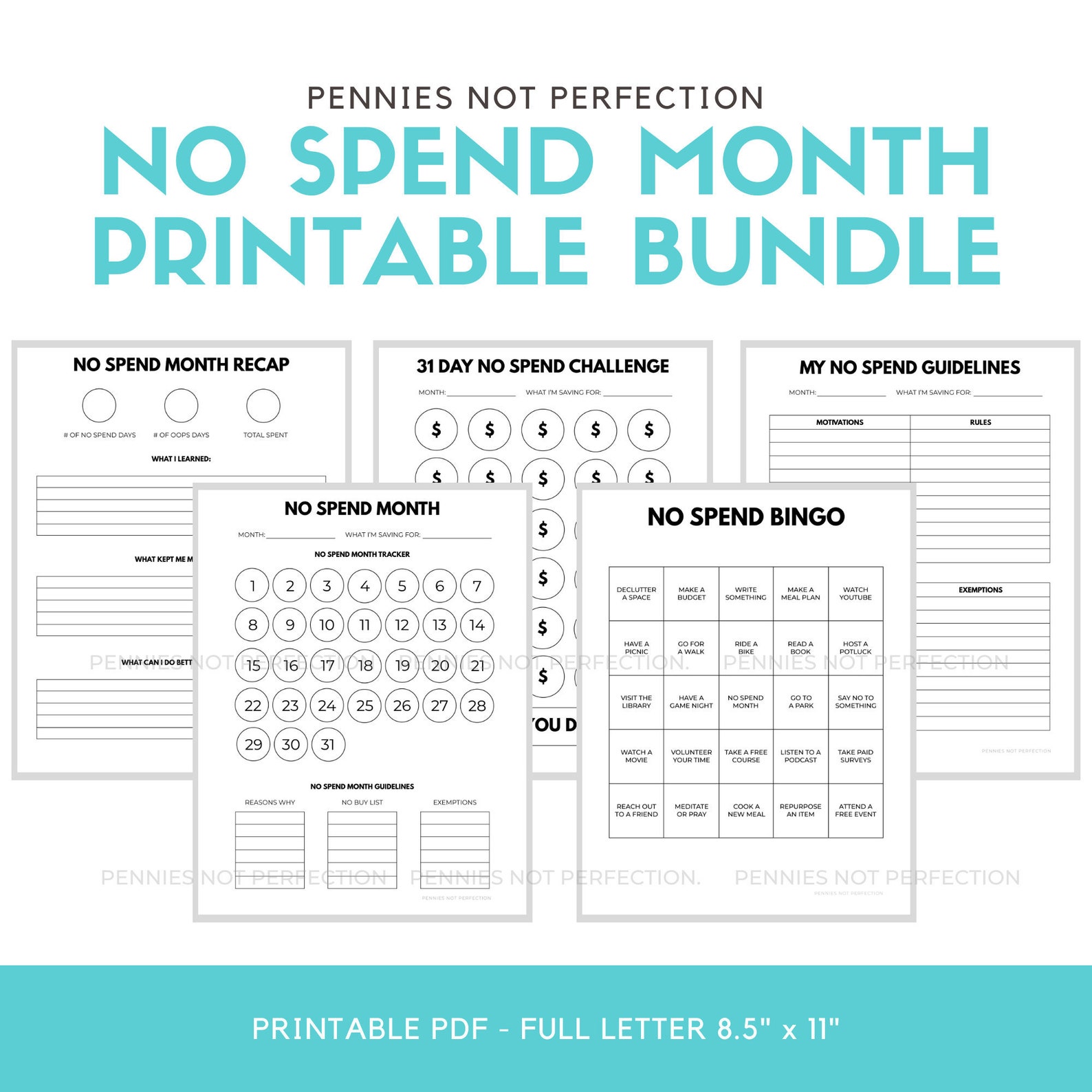 No Spend Year Challenge
This challenge has proven to be the toughest among all the types of no spend challenges. The no spend year challenge goes through the whole year. But to make sure you don't get caught off, you have to up your game with planning and follow through.
I mentioned earlier that the longer the duration, the harder it gets. So if you're going to embark on this challenge, then you should never allow your discipline to slip through.
I will also advise you to try out the early stages of a no spend challenge before thinking of a challenge for a whole year.
The table below shows a cross-section of the necessary and needless list of things for a no spend challenge year.
| Needful | Needless |
| --- | --- |
| Mortgage/rent | Emotional shopping |
| Groceries | Eat-outs |
| Utilities/toiletries | Impromptu holidays |
| Transportation | Entertainment |
| Internet | New designer clothes |
| Phone bills | Alcohol |
| Savings | New make-up kits. |
No Spend Challenge App
Do you want to go digital with your no spend challenge? Then you should get an app for your mobile phone or PC, that works just as well to help you keep track. This app aims to help you plan, keep track and remind you of your goals.
My best recommendation is the Momentum App. This app will help you keep track of all your goals in a creative style. It also helps you view your progress so far and budget for either your challenge.
It is best used for the no spend a month and no spend year challenge. Although the app has a premium version, you can use the 30 day free trial to test the waters.
The No Spend Challenge Guide
There are a lot of resources out there that can help you achieve your goal for a no spend challenge. You can ask people; friends, family members, or colleagues who can help you with tips for a no spend challenge.
However, there is a guide that gives a detailed analysis of a no spend challenge. Jen Smith, a seasonal writer who understands the role of financial intelligence to an individual wrote the book.
You'll gain knowledge about the no spend challenge and also insights on how to attract wealth. The 98 pages book is concise and self-explanatory. You can get the no spend challenge book on Amazon for a few bucks.
No Spend Challenge Ideas
You can pull through your no spend challenge if you get creative with the process. Incorporating some things into your financial exercise can help you score a high success rate. The following are ideas that can help you stay on track with the no spend challenge.
1. Use social media to keep track
We cannot only use social media for relating with people; it can also be used to our advantage in this context. You can opt to use social media to record your progress with the exercise. This way, you won't skip days, as your growth is being monitored by millions of people all over the world.
There are a lot of no spend challenge groups on Facebook, which is a popular social media platform. You can search using the Facebook search bar and join these groups.
Most of them are private, but you can join this public group here.
2. Cut down on meat
You can reduce your consumption of meat within the period of your challenge. Less meat equates less expense. With this, you are not only saving money, but also reducing your intake of fat.
3. Deep clean your house
Cleaning your house thoroughly is another idea I recommend. You stand a chance of finding valuable things like coins, which you can exchange for money in any Coinstar near you.
4. Borrow books from the library, instead of buying
This idea goes for my book lovers, who would spend an untraceable amount of dollars on purchasing books. As part of your challenge, you can improvise your book consumption by borrowing books from the library instead of having to pay for them.
5. Avoid departmental stores
Have you given a thought to what would happen if you took a walk around a departmental store, say Target? The aftermath is that you'll be prompted to make a purchase. Now the idea here is to steer clear of such stores.
6. Cancel subscriptions
This idea addresses the issue of subscription. For the duration for which you are observing your no spend challenge, you can opt-out of all unnecessary subscribed platforms. With this, I assure you of a smooth ride, void of temptation to spend on needless things.
7. Steer clear of online stores
Online stores like Amazon and Lyst can easily become blocks preventing you from reaching your goals. To avoid them, you can take off your credit card details from these sites, as their inclusion can prompt purchases.
8. Take up a side hustle for extra money
During a no spend challenge, you can add another source of income to your existing one. This will breed focus and an anxiousness to thrive in your newfound endeavor. This way, you can think of more ways to earn rather than spending.
With this, you can make your no spend challenge more of building income and cash flow. You can learn a new skill for more income, but I'll personally advise you to start a vlog on YouTube and make videos about your challenge.
With the right content and engagement, you can monetize your channel for money.
9. Document your records
I love the idea of keeping a record because it makes you more accountable than before. You can employ the use of a no spend challenge tracker to record your growth throughout the time duration of the challenge.
This tracker will help you reflect on your records so far, and give you the motivation to carry on. Get tracker on Etsy, for as low as $2.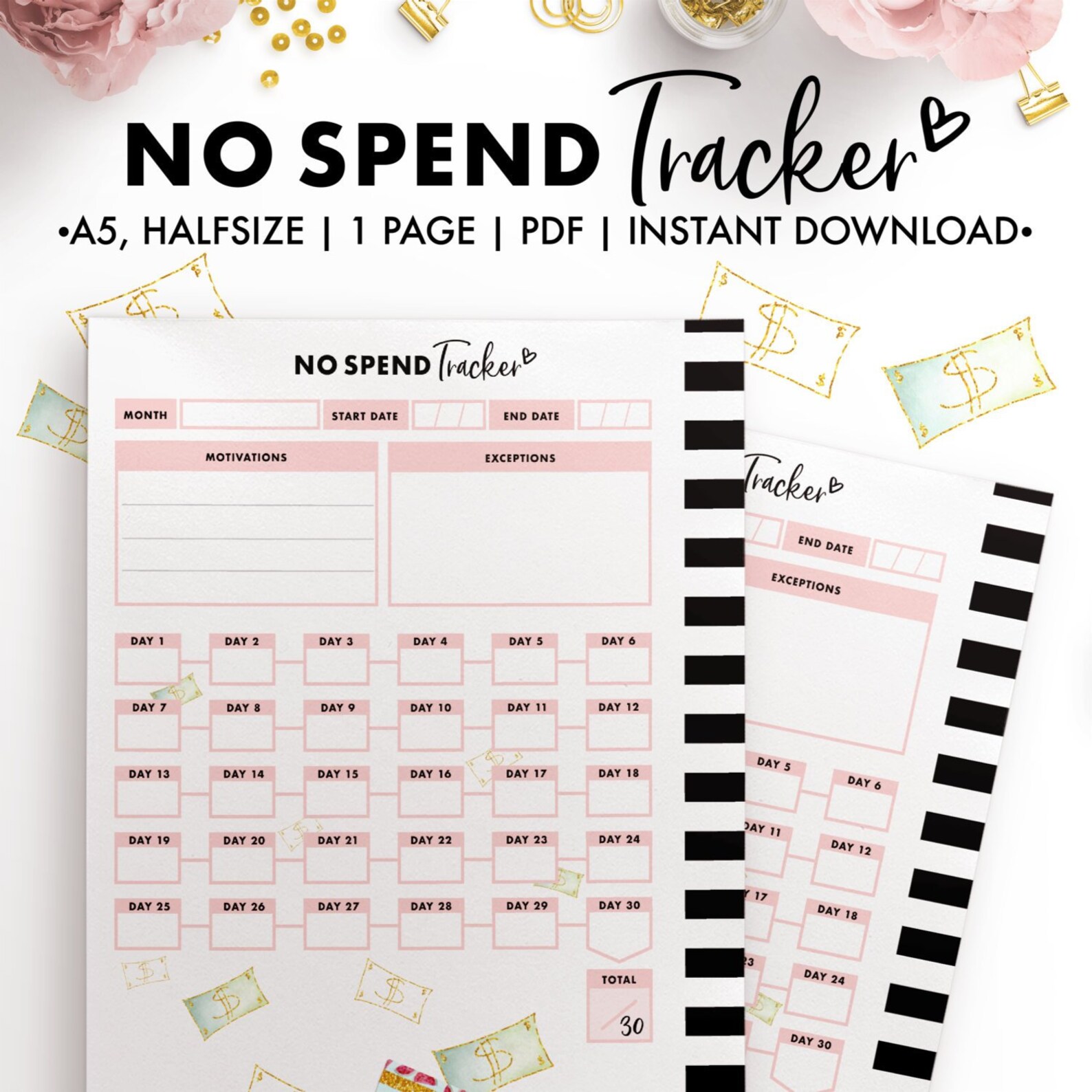 10. Inform people about your challenge
This is certainly a good idea about what you can do to make your no spend challenge successful. Making people know about your exercise will help you walk through some temptations that might come from them. It could be family, friends, or even colleagues at work. Once you inform them, they'll try to avoid attracting needless expenses to you.
11. Always Improvise
Improvisation helps you a lot as you can also get a task done without spending as much as usual. Examples of such things are streaming only on free wifi networks, taking the train or bus, or even riding a bicycle to work. You can also eat from the office cafeteria than doing so in classy restaurants.
12. Go on tours for free
Tour with travel points. It will help you cut down on expenses and save more money from there.
You can get these free/discounted tickets through a credit card welcome bonus. You can earn miles for your tours when you sign up for credit cards on airlines like Chase Sapphire Preferred® Card.
With the above Chase Credit Card, you get to earn 60,000 bonus points after you spend $4,000 on purchases in the first 3 months from account opening.
That's $750 toward travel when you redeem through Chase Ultimate Rewards®.
Similarly, you can utilize opportunities on fliers programs or better still travel with companion tickets. Delta Skymiles do a lot of flier programs, if you fly in them, then look out for these opportunities.
The Bottom Line
Doing a no spend challenge has many benefits and advantages.
A challenge that lasts a week or a month could potentially help you for the rest of your life. It can remarkably reduce overspending and help you to make healthy financial habits for the future.
Hopefully, this comprehensive guide gave you all of the information and motivation to complete this challenge successfully.
You can download the free no spend challenge printables below that will help you get started, stay motivated, and track your financial goals.
Reviews: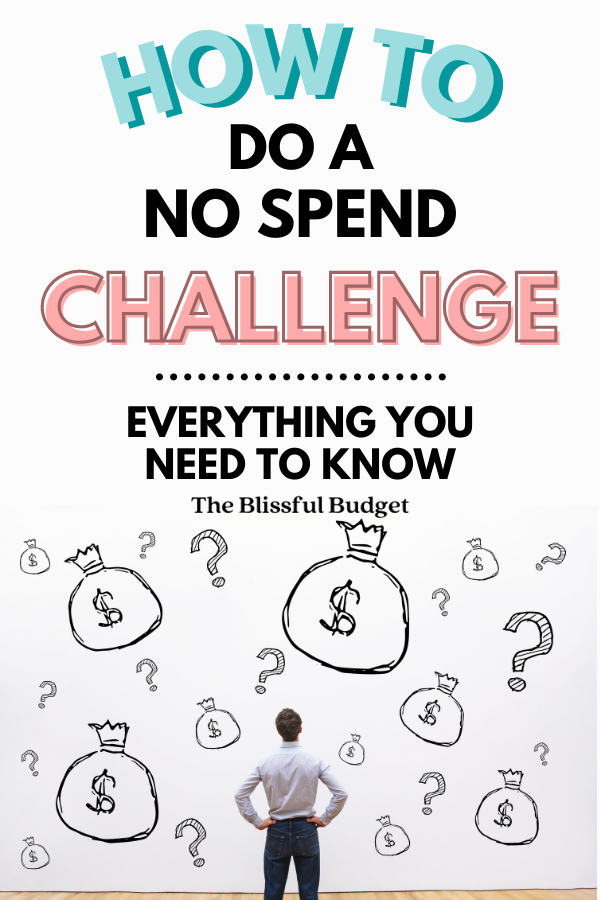 Hey there, welcome to my blog!
I'm Swati, a mom, a personal finance enthusiast, and the owner of TheBlissfulBudget.  My work has been featured in major publications including Fox 10, Credit Cards, Cheapism, How to Fire, Databox & Referral Rock.
I help busy budgeters like you save and make money by utilizing simple yet effective methods that can create wonders.
My Mantra: You are entitled to live the life you desire, and financial bliss should be simple to obtain–check out my blog for helpful tips on acquiring wealth easily.