Looking for a way to increase your cash flow this month, why not put your coins to work? That's right – those piles of change gathering dust in your cupboards and couch cushions can be exchanged for cold, hard cash. And it's easier than you might think.
90% of Coinstar machines can be found within 5 miles. So instead of making a trip to the bank, you can simply look for a 'Coinstar location near me' and exchange your coins for cash.
This article will help you locate the closest Coinstar machine to make the process even easier. Additionally, you'll also learn how to avoid Coinstar fees when you turn in your coins for cash!
So what are you waiting for? Start collecting those coins and put them to work…
Coinstar Near Me
The easiest way to find a Coinstar kiosk is by using our 'Coinstar Near Me' locator. Simply enable pop-ups and have your location turned on, and the map will reveal all of the nearby stores that have Coinstar machines.
What is a Coinstar Kiosk?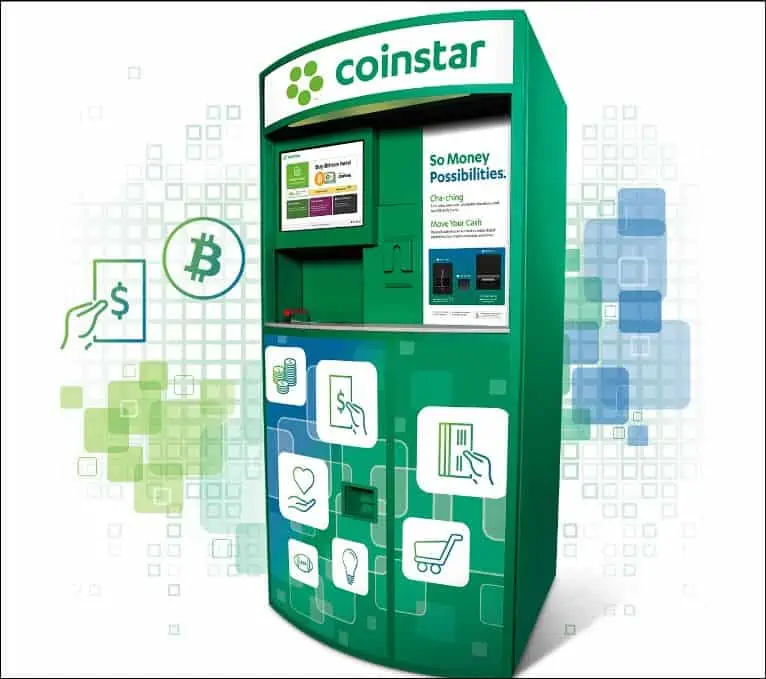 Coinstar is an American-based company that operates coin-cashing machines.
The business focuses on the conversion of loose change into paper currency, donations, and gift cards via coin counter kiosks for a fee. The company also operates gift card exchange kiosks and has more than 60,000 kiosks offering a variety of services in the US.
Coinstar kiosks are one of the best you can find in the market if you're looking for a trustworthy and accurate coin machine kiosk. Why? Because their services are available in numerous easily accessible locations such as supermarkets, grocery stores, banks, and retail outlets.
How Does Coinstar Work?
The working formula for the Coinstar kiosk is quite simple and easy to use. The simplicity is aimed at giving the elderly and the younger ones the advantage of exchanging their change without having to seek the assistance of any person.
To get on with Coinstar, you just have to empty your coins into the tray made available, and thereafter the machine sorts and counts your change. You can then receive payment via the payment portal you choose.
How to Use Coinstar?
To use Coinstar, first, you need to select one from the following conversion option:
Cash (with an 11.9% service fee which may vary per location)
eGift Card (No service fee, redeemable to around 29 famous retailers and restaurants)
Donate to charity (No service fee)
Next, place the coins on the designated tray and pour them in.
Once the machine counts the coins, it confirms the transaction to get your voucher, which you'll use to claim cash at the counter. The receipt will also contain a code to redeem an eGift Card or donation details.
How to Find a Coinstar Coin Machine Near Me?
Wondering where is my closest Coinstar machine located? Finding a Coinstar Exchange kiosk near you is not that difficult. Here are a few ways to do it:
1. Google Search
Launch your browser or an interactive Google map and enter the search query 'coinstar near me'. Afterward, you'll see a list of the nearest coin machine in your area.
But if you're using a mobile device, ensure to turn on your GPS to locate a coin machine in your area.
NOTE: If you're browsing on your computer or laptop, indicate your location when searching for a coin machine.
2. Visit Nearby Stores
Another way through which you can find a coin machine is to take out time to visit nearby stores which are likely to have the installation.
Knowing some of these stores will answer the question of what stores have Coinstar near me. However, you can exchange your coins in the following stores, as you can find a coin machine in any of them.
3. Ask for a Recommendation
Aside from visiting a store or searching on Google, you can ask around for a Coin machine near you. There are a lot of people around you which you can ask, such as your family members, friends, neighbors, or even colleagues at work.
The catch here is that there is a big chance that any of these persons will recommend a good Coin machine spot that you can use.
To get a pointer on a nearby Coin machine, you can simply ask where can I find a Coinstar near me.
4. Visit Local Supermarkets
In addition to the aforementioned ways of locating a Coin machine, you look out for a Coin machine in spots like restaurants and local supermarkets.
Vons and Neighborhood supermarkets are examples of some of the local supermarkets which house a Coinstar machine.
How to Get Coinstar Coins?
There is no laid down procedure for getting Coinstar coins. There are a vast number of coins eligible for exchange at Coinstar, while there are only a few coins that Coinstar can reject.
To get your Coinstar coins, you just have to put together a chunk of the coins in your possession and go for an exchange in a Coinstar machine nearby.
However, you can get coins off the Coinstar machine. The Coinstar machines reject some types of coins and have them duped in the reject tray below it.
If you're lucky, you can find useable coins in the disposal tray. The most valuable you can find there are pure silver coins and some commemoration coins which bring back a nostalgic feeling.
Where Is Coinstar Free?
If you wish to use the Coinstar machine for only counting your coins, it is free. Due to this, there are over 20 stores across the United States where you can use Coinstar for free. But Coinstar charges for the coins exchanged for money in its machine.
However, you can exchange your coins for free in the Walmart store. But to do this, you have to redeem the cash voucher provided by the Coinstar machine in their store.
NOTE: Make sure to check in the nearest Walmart to know their policy about this, before exchanging your coins.
How Much Does Coinstar Charge?
It costs 11.9% to use the Coinstar machine. This is the standard fee charged by Coinstar for every coin you exchange for money.
The price is subject to change based on the location of the machine and also the type of coins that you dump into the tray.
How Much Does Coinstar Take?
Coinstar takes about 11.9% of the total value of the coins which you brought. This means that for $50 worth of coins, Coinstar takes about $5.95 as its service fee. This leaves you with just $45.05 to keep.
How to Avoid the Coinstar fee?
A lot of people find the 11.9% charge stipulated by Coinstar as a deficit and shortage on their part.
This brings up the question of, how do I avoid the Coinstar fee? How do I get the full payment of my coins without having it slashed due to the service fee?
To do this, you can boycott the Coinstar processing fee of 11.9% by choosing the e-gift card payment portal instead of the cash. You can also bypass the Coinstar fee if you choose to donate the proceeds from your coins to charity.
There are about 21 retailers and spots where you can redeem your Coinstar e-gift card for the money. Amazon gift card is the most popular retailing spot where you can swipe your e-gift card for cash.
Some of the retailers include:
iTunes
Cabela's
ShowTime
Gamebox
Gap (comprising Old Navy, Athletic, and Banana Republic)
Nike
Domino's Pizza and others.
FAQs
1. Where can I change my coins for free?
If you want to make the most of your spare coins, you can convert them to an eGift Card from Coinstar for free. However, ensure that your preferred retailers and restaurants are available on the kiosks you're transacting with since each location has varying merchant options.
2. Where can I turn coins into cash?
You can turn coins into cash via Coinstar with an 11.9% service fee.
3. Why does Coinstar reject coins?
Coinstar may reject coins that are damaged and dirty or even from a machine malfunction. So make sure that your coins are free from dirt and obstruction. Aside from this, Coinstar has a couple of coins that it rejects, not because being damaged or dirty, but because they are heavy. Some of these coins include Eisenhower silver dollars, pure silver, 1943 steel pennies, and foreign coinage.
4. Can you get coins at Coinstar?
Yes, you can get coins at Coinstar. Most of the coins which you can get are rejected coins which you can see in the reject tray. However, not all coins rejected by Coinstar are bad as some of them are just dirty. So you have a better chance of finding valuable coins at Coinstar.
5. Can you buy coins from Coinstar?
No, you cannot buy coins from Coinstar. Coinstar only takes coins and rewards you with cash or an e-gift card, so you can't buy metal coins from it. But you can purchase cryptocurrency like Bitcoins from Coinstar.
6. Does Coinstar exchange still exist?
No, the Coinstar exchange is no longer in existence. Unlike before, you can no longer exchange your gift cards for money on Coinstar. The option no longer works, but you can still exchange your coins for cash on Coinstar.
7. Where can I exchange coins for free?
You can exchange coins for free in banks like the Bank of America, Wells Fargo, Citibank, Chase, and the US bank.
Some of these banks require that you are either their registered customer or you submit only rolled-up coins for cash, while others don't.
Other platforms which exchange coins for free are Credit Union like the American Eagle and QuikTrip.
8. Does CVS have a coin change machine?
Yes, CVS has a coin change machine. You can find coin counting machines at the health facility. Getting cash from any of the machines comes with a standard fee of 11.9%.
Locating a CVS center or branch is not hard because there are over a thousand locations in the United States.
9. Where is my closest Coinstar machine?
You can find your closest Coinstar machine at Walmart. The retail company has over 4,000 stores across the 60 states of the US and over 10,000 stores around the world. So the retail store is the most probable place you can find your closest Coinstar machine.
10. Is Coinstar free at Walmart?
Coinstar at Walmart is free, but it is dependent on if you accept to cash your voucher in their store. If you chose to cash your voucher in their store, then the service fee of 11.9% won't be deducted from your total money.
11. Where can I change coins for free?
You can change coins for free in places like banks and Credit Unions. To be eligible for a coin change in some of these places, you have to sort out your coins and roll them up for easy access by the people in charge.
12. How much does Coinstar charge for $10?
Coinstar charges about $1.19 for 10-dollar coin exchange. This is calculated using the standard service fee of 11.9%.
13. How much does Coinstar charge for $20?
According to the 11.9% standard fee stipulated, you will be charged around $2.38 for a $20 exchange.
14. Does CVS have a Coinstar?
Yes, CVS has a Coinstar. The healthcare establishment has machines that attend to your need of counting and exchanging coins for money. You can walk up to any of its branches to use a Coinstar.
15. Can I convert Coinstar to PayPal?
Yes, you can. The option of converting Coinstar to Paypal is currently available. This implies that you can now deposit the value of cash and coins directly to your Paypal account from the Coinstar machine. A standard fee of 9.8% is usually deducted from all coin deposits into PayPal, while you can only add up to $500 to your PayPal account monthly.
16. Does Harris Teeter have a coin machine?
Yes, Harris Teeter has a coin machine. The coin machines found in this supermarket charge an 11.9% service fee for every coin exchange.
17. Does Target have Coinstar's?
Yes, Target has Coinstar's. The retail company, which doubles as a clothing company, has Coinstar machines in most of its branches. There are over a thousand Target stores in the US, so you are in luck because your chance of seeing one is high.
18. Does Walmart have a Coinstar machine?
Yes, it does. Walmart is the second largest retail company in the US behind Amazon and it has several stores and branches. You can find Coinstar machines in Walmart.
19. Does ShopRite have a coin machine?
Yes, ShopRite has a coin machine. You can spot a coin machine in any ShopRite outlet you visit.
20. Does Food Lion have a Coinstar?
Yes, Food Lion is among the list stores which have Coinstar machines on their premise. Food Lion is a well-known grocery store and as such provides a Coinstar for its customers and others too.
21. Does Meijer have a Coinstar?
Yes, Meijer has a Coinstar. You're in luck if there are any Meijer stores near you because they have Coinstar machines for both the counting of coins and exchange for money.
Hey there, welcome to my blog!
I'm Swati, a mom, a personal finance enthusiast, and the owner of TheBlissfulBudget.  My work has been featured in major publications including Fox 10, Credit Cards, Cheapism, How to Fire, Databox & Referral Rock.
I help busy budgeters like you save and make money by utilizing simple yet effective methods that can create wonders.
My Mantra: You are entitled to live the life you desire, and financial bliss should be simple to obtain–check out my blog for helpful tips on acquiring wealth easily.