Gift cards are fast becoming the most amazing means of transaction, and Coinstar Gift Card Exchange Kiosk is making that easy.
The Yellow Coinstar Gift Card Exchange kiosks no longer exist. It has been replaced with the Green Coinstar kiosk. The new Coinstar kiosk provides the opportunity to convert loose coins to eGift cards, donations, or cash.
This article is tailored to meet all possible newbie questions you have about finding and using Coinstar kiosks for gift card exchange.
Coinstar Gift Card Exchange Kiosk Near Me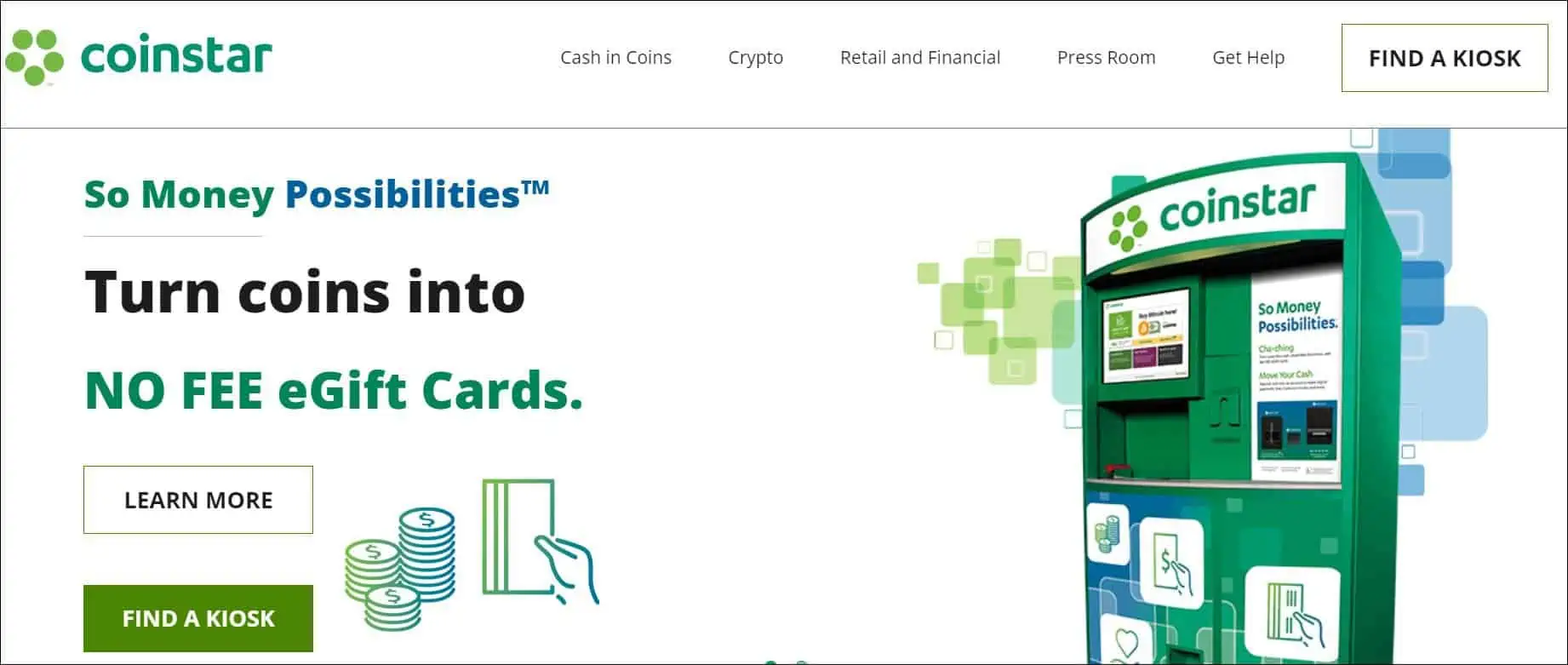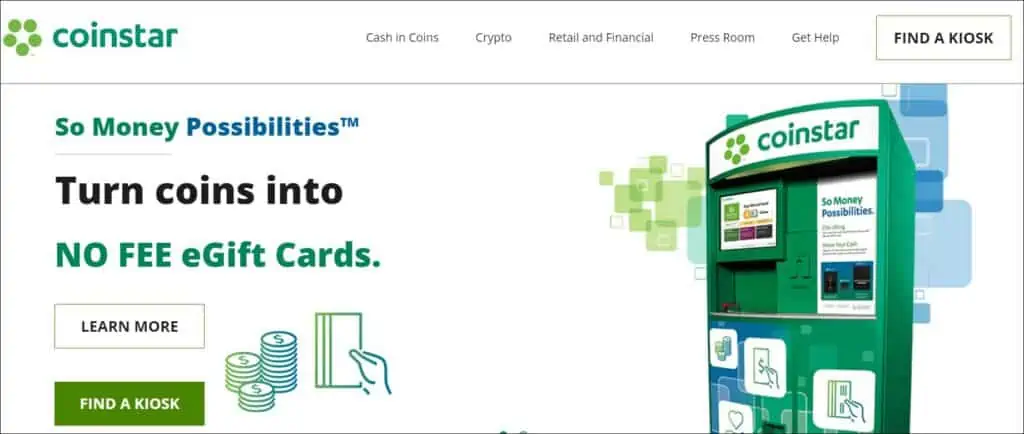 Everyone needs a gift card exchange kiosk at some point, regardless of whether they have coins to exchange. Don't forget that this is 2022, you can be gifted a gift card, which needs to be redeemed for cash eventually. That's when Coinstar kiosks come in handy.
If you are wondering, where can I find a Coinstar Gift Card Exchange Kiosk near me?, I got you covered!
Use our 'Coinstar Gift Card Exchange near me' locator to find the closest Coinstar Kiosk to your location. First, you must fill in your zip code in the box below and enable Google Map pop-ups.
But, you need to know that they are no longer known as Coinstar gift exchange kiosks, but as Coinstar Kiosks. Coinstar has 20,000 machines in four countries.
If you are in the United States, there are approximately 7,000 Coinstar kiosks spread around major grocery stores and retailers in 46 states. Alternatively, here are a few likely places you will find the Coinstar kiosk;
Banks (Chase Bank, TD Banks, etc.)
Supermarkets (ACME Markets, etc.)
Grocery (ShopRite, H Mart, etc.)
Drugstores (CVS pharmacy, etc.)
Department stores (Walmart, etc.)
How Does Coinstar Gift Card Exchange Kiosk Work?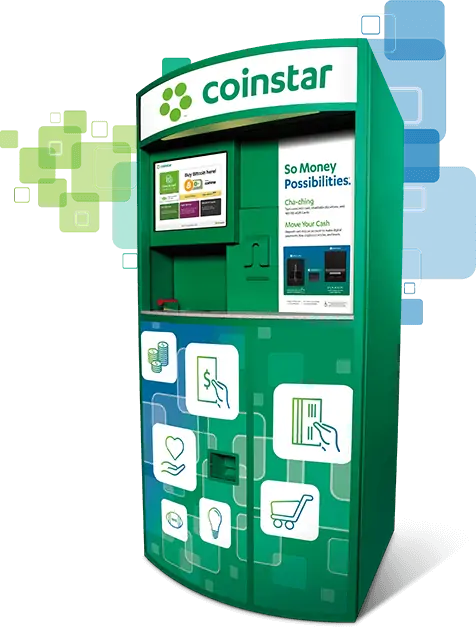 The Coinstar Gift Card Exchange Kiosk gives gift cards in exchange for cash. How does this happen you might wonder. There are four quick steps to exchanging gift cards at the Coinstar kiosk. These steps are;
Scan or swipe the gift card and accept the offer presented by Coinstar
Verify your identity
Insert your gift card
Print the voucher and proceed to redeem it at customer service
The Gift Card Exchange Kiosk also provides eGift cards. For the eGift cards, the process is not too different from the above.
Insert your coins and select the eGift card option on the screen
Pick your preferred retailer and insert your coins
Print the voucher and proceed to use your eGift card at approved retail stores
One of the significant differences between Gift cards and eGift cards is that a unique code is printed at the top of the eGift card. This unique code is what validates the electronic gift card.
Does Coinstar Do Gift Card Exchange?
Coinstar no longer purchases gift cards from individuals. Initially, Coinstar would allow you to trade your gift card for cash. This trade has stopped despite having over 150 retailers' gift cards on patronage.
On the other hand, depending on what exchange you might seek, Coinstar still provides room for a kind of exchange that allows you to deposit your coins in exchange for a gift card. Hence, it is very possible to exchange your cash (coins) for an Amazon voucher.
If your quest is to verify if Coinstar exchanges a particular gift card for another gift card, the answer is no. Due to the new policy of the Coinstar Kiosk, there are no more gift card exchange services. If Coinstar will go back to offering this service in the future? We keep our fingers crossed to see new policies in the future.
Alternatively, while Coinstar does not accept trading gift cards for cash, you can trade your gift card for money at any of these; CardCash, Gift cash, Clipkard, Raise, Gameflip, QuickcashMI, and CardSell.
What Gift Card Does Coinstar Exchange Accept?
Coinstar would accept gift cards from over a hundred and fifty (150) retailers.
These retailers included Starbucks, Amazon, Walmart, Gap, Red Robin, Apple, and Nike, among others. Unfortunately, this service no longer exists with Coinstar Kiosks anywhere in the United States. 
On the other hand, there is a new service with likely functionality – the eGift card. With the eGift card, Coinstar still retains a partnership with a large number of stores and restaurants such as Sephora and Lowe's, to mention but a few.
So, while Coinstar does not accept gift cards, it accepts coins in exchange for an eGift card. The eGift card can be used to purchase items at their partnering store, most especially on Amazon.
Does Coinstar Buy Gift Cards?
The answer right now is NO. Coinstar has stopped buying gift cards at all of its Coinstar kiosks. Therefore, the usual Coinstar Gift Card Exchange Kiosk now only offer eGift card for customers to shop in accredited stores. 
You can sell gift cards on other sites such as Facebook Marketplace or Craigslist. More importantly, you might have to tread with caution. Caution is needed as you can be easily defrauded of your fund.
After you must have sold your gift card, you can walk to any green Coinstar kiosk to exchange the cash for Coinstar eGift card. Do not forget that Coinstar eGift card is acceptable in over 150 stores in the country.
Does Coinstar Give Gift Cards?
Yes, Coinstar would give gift cards. However, since the closure of the yellow Coinstar Gift Exchange kiosks, what you get is an eGift card.
The eGift card is just as effective as the physical gift card. With the eGift card (virtual gift card) you can purchase items online and in-store.
To get the eGift card you need to locate the green Coinstar kiosk. You will then select the eGift card option from the list of options that appears on the screen. Afterward, you will insert your coins and print out a paper that bears your unique code. This is the code you will use in shopping.
How Much Does Coinstar Charge?
It costs 11.9% to use the Coinstar machine. This is the standard fee charged by Coinstar for every coin you exchange for money.
The price is subject to change based on the location of the machine and also the type of coins that you dump into the tray.
What Is The Fee For The Coinstar Gift Card Exchange?
Coinstar gift card exchange rate could be up to 85% of the value of the gift card. 
This implies that you will lose approximately 15% of the value of your gift card during the exchange. On the other hand, there are no fees or charges if you choose to change your coins to the eGift card. 
How To Avoid The Coinstar Fee?
If you are looking for a way to avoid the Coinstar fee, here is what you should do;
Instead of exchanging your coins for cash and being charged a processing fee of 11.9%, you can exchange your coins for a Coinstar eGift card. This eGift card is valuable and equally accepted by many merchants in the United States including Domino's, Hotels.com, and Southwest Airlines.
Alternatively, to avoid the Coinstar fee you might just have to avoid Coinstar. If you desire to change your coin without being charged, you can use a bank. Though not all banks offer this service, those that do will do it for free. Therefore, you need to verify which of the banks in your locality offer this service.
Check out this quick hack on how to avoid fees at the Coinstar kiosks
How Can I Cash In Change For Free?
You can cash in change for free at a bank. Coinstar only gives eGift cards for free. Also, you might need to search for banks that offer this free service because not all banks allow you to cash in change for free.
Do Coinstar Cash Vouchers Expire?
Yes, the Coinstar cash voucher does expire. Usually, Coinstar cash vouchers do not last longer than 48 hours from the time it was issued. You can find the Coinstar cash voucher expiring date on the printed voucher.
It is important that you read the content on your voucher rather than assume you know what is written on it.
A voucher could have a minimum span of 24 hours and a maximum of 48 hours. You should read your voucher slip to identify how long your voucher was valid before you keep it in your pocket. Unfortunately, there are no refunds for such ignorance.
What Is The Coinstar Policy For Cash Vouchers?
There are some guidelines governing the use of Coinstar cash vouchers. These policies are;
Only the cash amount indicated in the voucher can be spent or redeemed
The bearer is the only one with the legal right to redeem the cash voucher
When a cash voucher is stolen or misplaced, it cannot be replaced
When a cash voucher is damaged, it cannot be honored
Attempts to redeem altered or stolen vouchers are illegal
What Are The Different Ways To Get Cash For My Gift Cards?
Gift cards are becoming more acceptable, therefore, leading to different ways of getting cash from gift cards. Whether you have just received a gift card or you have an unused gift card, you can quickly get some money for it.
Here are some tips for getting cash for your gift card;
Sell your gift card to a website (Giftcard Zen)
Use an app to sell your gift card (Raise)
List your gift card on e-commerce (eBay)
Sell the gift card to a friend
Use a Coinstar exchange kiosk
How Can I Get Cash for Gift Cards Immediately?
It is no longer news that Coinstar does not offer a way to sell your gift card for instant cash. However, this is 2022, there are several new options to pick from. You don't need to leave your home to sell and make instant cash.
Online sales
Several online sites and applications can help you achieve this without stress. GC spread, CardCash, Prepaid2Cash, and Reddit gift card exchange are examples of such.
Physical sales
If you are not interested in virtual sales of your gift card, you can also sell your gift card physically. You can sell them to your friends, colleagues, and neighbors. You can also discuss your available gift cards at a group meeting (peer or community). You might get a buyer within a day or two.
Coinstar Gift Card Exchange Kiosk Near Me: FAQs
1. What is the best way to exchange gift cards for cash?
The best way to exchange gift cards for cash is online. Exchanging your gift card online, either by web or app, gives you the privilege to scrutinize different options before settling for one. However, the common problem with online exchange is fraud.
So, while you are venturing into the use of online exchange sites for your gift card be sure you are convinced you are dealing with the best option.
2. Can I sell my gift card for cash at pawn shops?
Yes, you can sell your gift card at a pawn shop. All you need to do is to locate a pawn shop or a pawnbroker to get this done. Pawnbrokers also pay instantly for gift card purchases.
3. Can you exchange a gift card for cash at Walmart?
Walmart does not offer the exchange of gift cards for cash. Similarly, you cannot get a refund or reimbursement for unused or leftover gift card balances. But is this legal?
As far as Walmart staff are concerned, the company's policy states that there is no refund. However, some states in the US oppose this policy. For instance, California has a law that enforces reimbursement for leftover gift card balances.
4. How do I redeem my Coinstar gift card on iTunes?
iTunes is one of those partners of Coinstar, therefore redeeming Coinstar gift cards is possible and easy. To redeem the gift card on iTunes, you must;
Have an iTunes account
Open iTunes store
Scroll to the bottom to locate the word 'Redeem'
Click Redeem
Enter the eGift card code on your voucher
Head on to shop on iTunes shop
iTunes does not offer refunds for unused cards, and also does not permit the exchange of gift cards. This implies that iTunes gift cards are used strictly on iTunes.
Hey there, welcome to my blog!
I'm Swati, a mom, a personal finance enthusiast, and the owner of TheBlissfulBudget.  My work has been featured in major publications including Fox 10, Credit Cards, Cheapism, How to Fire, Databox & Referral Rock.
I help busy budgeters like you save and make money by utilizing simple yet effective methods that can create wonders.
My Mantra: You are entitled to live the life you desire, and financial bliss should be simple to obtain–check out my blog for helpful tips on acquiring wealth easily.