Are you tired of wasting time searching for your Tri City Routing Number every time you need to complete a transaction? Look no further!
Having easy access to your bank's routing number is crucial for ordering checks, setting up direct deposits, and making online payments seamlessly.
Unlike Wells Fargo Bank and its likes, Tri-City uses a single routing number for all its services, hence there's no scope for any confusion.
In this article, I'll be showing you how best to find your Tri City National Bank routing number and where to look.
Don't miss out—keep reading to simplify your banking experience!
What is Tri City Routing Number?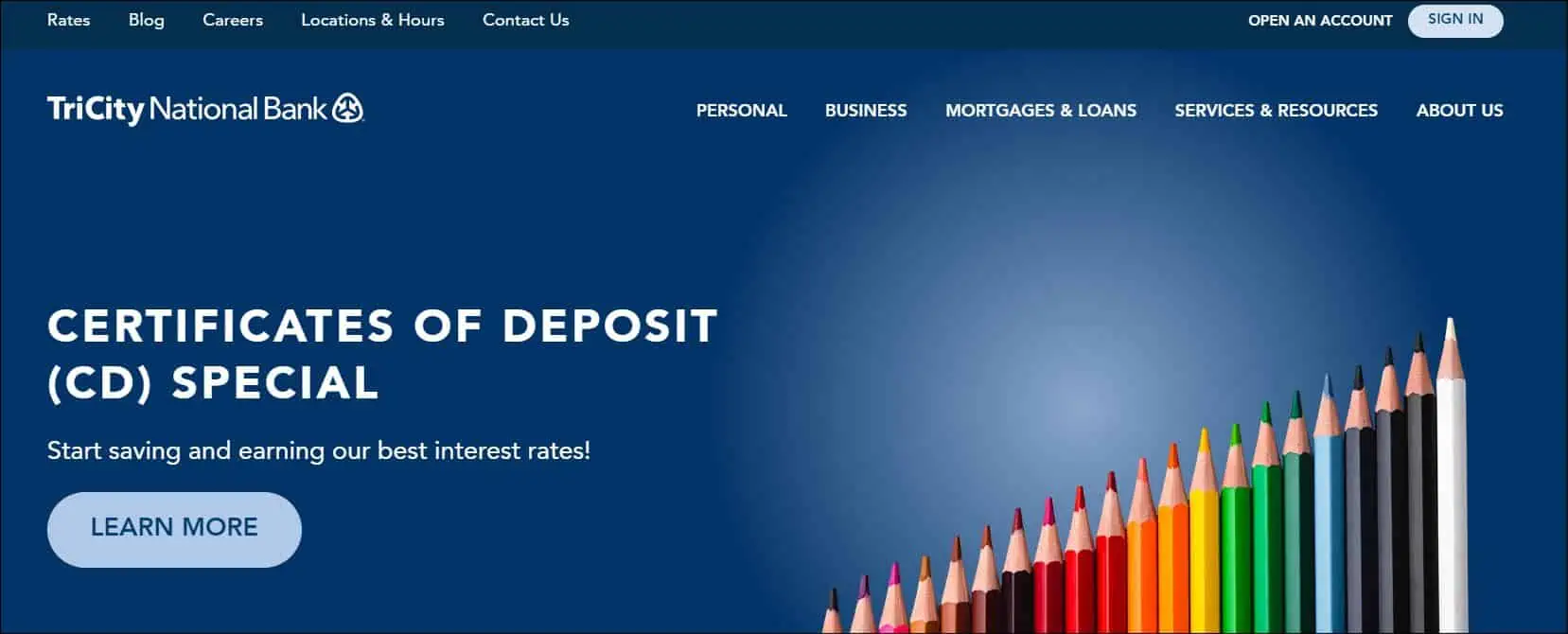 Your Tri City Bank routing number is 075001199.
This nine-digit routing number, also known as the American Bankers Association Routing Transit Number (ABA RTN), serves as a digital address for bank transfers within the US.
All customers of the Tri City Bank require this number to perform crucial financial transactions like setting up a direct deposit and paying bills.
It is most commonly found on the bottom-left corner of your check issued by Tri City Bank.
Tri City Bank Routing Number For ACH Transfers
075001199 is the Tri City Bank routing number for all domestic and international ACH transfers.
This nine-digit number is used by every branch of the Tri City Bank and it determines how payments should be received and sent.
The routing number is required to complete Automated Clearing House (ACH) transfers between separate bank accounts, submit taxes to collect your tax refund or debit a tax payment, or perform other financial transactions.
Tri City Bank Routing Number For Domestic Wire Transfers
When it comes to domestic transfers within the United States, you can use the routing number 075001199.
However, there is certain information you will need to pull through the process. They include:
Name of the receiver as it reads on the address of your account with the recipient's bank (including state and city)
Bank routing number
Account number in a bank.
Meanwhile, the Tri City routing number is also a prerequisite if you're making international wire transfers.
Tri City Bank SWIFT CODE for International Wire Transfers
Tri City Bank does not have a SWIFT CODE.
This is because small banks and credit unions in the United States, including Tri City Bank, do not possess Swift Codes, IBANs, or other international routing codes. As a result, it is not possible to receive direct foreign payments into your account at these institutions.
However, there is a solution to circumvent this obstacle. You can leverage the services of an intermediary bank that has access to the SWIFT network.
To initiate this process, you will require the ABA routing number of your Tri City Bank, which is 075001199. This routing number is essential for executing the necessary steps involved in utilizing an intermediary bank for international transactions.
What Is A Routing Number?
The routing number, also referred to as the ABA routing number (short for the American Bankers Association), is a nine-digit code utilized by banks to identify specific financial institutions in the United States.
Routing numbers come into play in various situations, with some common examples being ordering additional checks, making consumer bill payments, setting up direct deposits (such as for paychecks), or fulfilling tax obligations.
In each of these instances, having the correct routing number is crucial for the smooth and accurate processing of transactions.
How To Find My Tri City Bank Routing Number?
There are several methods available to help you locate your Tri City Bank Routing Number. The following are some useful hints on where and how to find this essential number:
1. How To Find Your Tri City Routing Number Online?
There are two convenient methods to view your Tri City routing number online: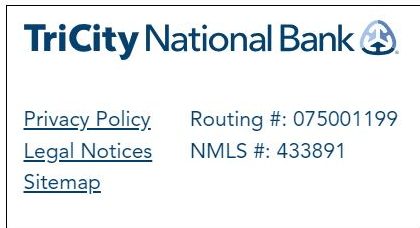 On the website: Visit Tri City Bank's official website and scroll down to the footer area. You will find your routing number displayed on the left-hand.
Through online banking: Sign in to your online banking website and follow these steps:

Select the appropriate account, and once you access the account, you will be able to see your routing number displayed there.
In the top box, alongside your routing number, you will find other details including your account nickname and the last four digits of your account number.
2. Where To Find The Tri city Bank Routing Number On A Check?
Alternatively, you can easily find your Tri City routing number on your check. Simply look for the nine-digit number printed in the lower-left corner of the paper.
It is typically located adjacent to symbols such as ":" or "|". This nine-digit code represents your Tri City routing number.
Additionally, at the bottom of your checks, you will notice a second set of numbers (next to your RN). These numbers, usually consisting of 10 to 12 digits, represent your unique Tri City National Bank account number.
By identifying these numbers, you can ensure accurate and efficient processing of your banking transactions.
3. How to find the routing number on the Tri City Bank app?
You can as well find your routing number on the Tri City National Bank App. To access your Tri City Bank routing number through the bank's mobile app, follow these simple steps:
Download and install the bank app from either the Play Store (for Android) or the App Store (for iOS).
Launch the app and navigate to the Tri City National Bank Login page.
Enter your login details to securely log in to your account.
Once logged in, locate and select the "Account Details" option.
On the next page or in a dropdown menu, you will find a preview of your account number along with your routing number.
By following these steps and using the Tri City Bank mobile app, you can conveniently access your routing number, ensuring a smooth banking experience right from the palm of your hand.
Tri City National Bank Customer Service Number
The Tri City National Bank phone number to reach out to customer support is 414-TRI-CITY (414-874-2489).
Use this number to voice any complaints or seek clarifications regarding your account or any other banking-related matters.
The customer service hotline is available 24/7 from Monday to Friday, ensuring that assistance is accessible whenever you need it.
You Might Be Interested In These:
Hey there, welcome to my blog!
I'm Swati, a mom, a personal finance enthusiast, and the owner of TheBlissfulBudget.  My work has been featured in major publications including Fox 10, Credit Cards, Cheapism, How to Fire, Databox & Referral Rock.
I help busy budgeters like you save and make money by utilizing simple yet effective methods that can create wonders.
My Mantra: You are entitled to live the life you desire, and financial bliss should be simple to obtain–check out my blog for helpful tips on acquiring wealth easily.