Citibank, which is a part of Citigroup, is one of the largest banks and financial service providers in the United States. The bank has 2,649 locations worldwide, including 723 in the United States.
With more than 700 locations around the country, it might be hard to find the correct routing numbers for Citibank. But don't worry, we've got you covered.
In this article, we'll try to eliminate these confusions by compiling a list of Citibank routing numbers by state. You'll also be able to locate your Citibank routing number and account number after reading this smart guide!
Let's get started…
Routing Numbers for Citibank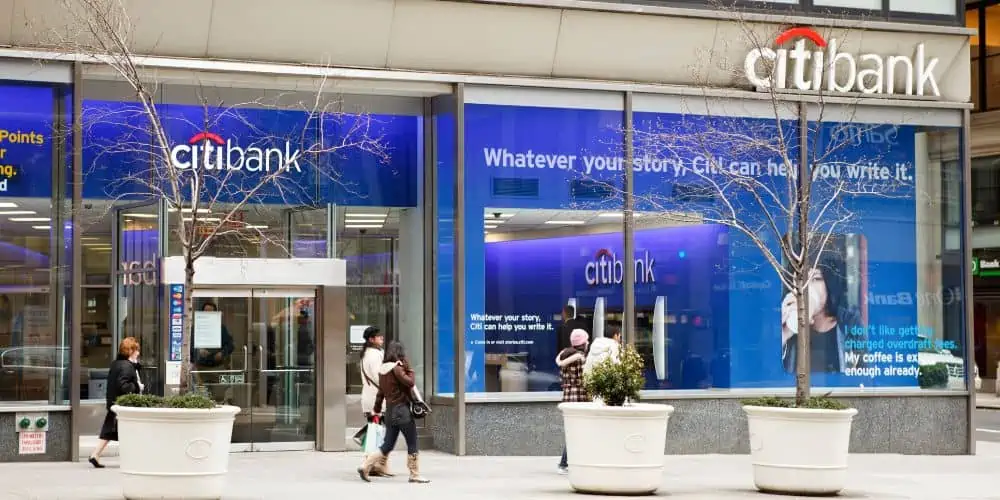 Here are the routing numbers for Citibank checking and savings accounts, listed by state. The following routing numbers are valid for Direct Deposits, e-transfers, and incoming wire transfers.
Region/State
Routing Number
Northern California — including San Francisco, Northern California, Central California and Northern Nevada
321171184
Southern California — including Los Angeles, Southern California
(including San Diego) and Nevada (except the four Legacy Citibank FCs and Northern Nevada)
322271724
Connecticut
221172610
Delaware
021272655
Florida
266086554
Illinois
271070801
Maryland
052002166
Massachusetts
221172610
Nevada (Las Vegas Branches)
122401710,
322271724 (domestic and international incoming wires)
Nevada (Excluding Las Vegas)
322271724
New Jersey
021272655
New York and New York Metro
021000089
New York
021001486 (Legacy EAB Commercial/Consumer)
Pennsylvania
021272655
South Dakota
021000089
Texas
113193532
Texas
AmWest – 311972652
Burkburnett – 111901962
Texas Bryan – 113102329
Security National
ABA: 111915686
ABA: 111909867
Virginia and Washington, D.C.
254070116
Routing Numbers for Citibank [List by State]
Your routing numbers for Citibank are linked to the branch where you opened your account.
Even if you handle your banking at some other Citibank location, the bank where you created your Citibank account is important.
If your location isn't listed or you're not sure where you opened your account, keep reading to find out how to get your Citibank routing number in other ways.
Citibank Domestic Wire Transfers
Use your associated bank's routing number if the wire transfer is being made within the US (from the above list of state routing numbers).
However, different routing numbers are required for some inbound domestic wire transfers. Please make sure you have the right one by checking it twice.
To send a domestic wire, you'll also need the following information:
The person's name to whom you are wiring money (the "beneficiary")
The title and address of the beneficiary's bank
Their bank's ABA number is; if you don't have it, don't worry; Citibank offers a searchable list of ABA numbers.
Account number for the beneficiary
The routing numbers listed in the state routing numbers table are all you need to send a domestic wire transfer. Additionally, a SWIFT code is necessary if you're making an overseas wire transfer.
Citibank Swift Code For International Wire Transfer
As previously stated, a Swift code is required to transfer funds from abroad to or out of your Citibank account. These are the overseas equivalents of US routing numbers.
The SWIFT code for Citibank is CITIUS33.
Cross-border monetary transfers are subject to different regulations. You need to be aware of the following information if you're sending an international wire transfer:
The full name of the beneficiary
The beneficiary's bank's name and address
Account number of the beneficiary.
The SWIFT or BIC code
The CHIPS UID also referred to as the Clearing House Interbank Payments System Universal Identifier,
Which Citibank Routing Number Should I Use?
The routing number to use depends on the transaction type and the region where you opened your account.
For transactions within the United States, use the ABA routing number or RTN printed on your checks or deposit slips. If you're making an international wire transfer, use the SWIFT code printed on your bank statements.
The routing numbers for New York City can also be found in the table below.
| Transaction | Type of routing number | Citibank code |
| --- | --- | --- |
| Payments and Direct Deposits | ACH routing number | 21000089 |
| Domestic Wire Transfers | Domestic wire transfer number | 21000089 |
| International Wire Transfers | SWIFT code | CITIUS33 |
How Do I Find My Citibank Routing Number?
How do you find the routing numbers for Citibank if you want to make a quick transaction or a wire transfer? There are various methods for obtaining Citibank routing numbers.
Here are some of them:
1. Online
You can check online for your Citibank account and routing number, which is one of the simplest methods. To do this, go through the following steps:
Open your browser and navigate to the Citibank website.
You'll be asked to sign in to your Citibank account. Log into your banking account using the required information.
Your banking account should include all relevant account information, like your account number. Navigate to the 'Account Details' section or page of your account.
Look for your account number; it should be clearly displayed. Images of prior checks will be available in your account information. Additionally, you can look up previous checks that have been processed and get the routing number.
To find the routing number for your region or state, you can also just go to the Citigroup website. Usually, a list of the routing numbers for each state or region can be found on the website. Note: Based on the transaction type, you can choose one of the two routing numbers that may be available in some locations, such as California.
2. Checkbook
You can find your Citibank routing number by taking a closer look at your Citibank-issued check. Your routing number will be the first set of nine digits that appears on the left side of your check.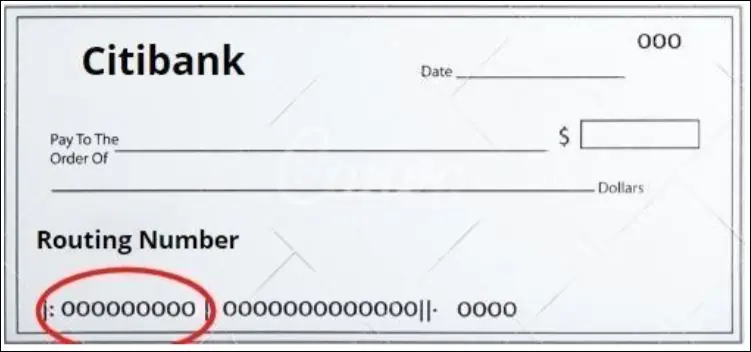 The bottom of your checks will be printed with three sets of numbers: your routing number is the initial set of digits [9 in number].
Your account number is the second set of numbers [7-18 digits] to the right of the routing number.
While the third set is the check number.
3. Get in touch with customer service.
However, if you don't have a check on hand, you may always call Citibank at 1-800-374-9700 to get the routing number for your account. And, for customer service in Spanish contact 1-800-360-2484
If you are unsure of what routing number to use, you must contact Citibank because entering the correct routing number could mean the difference between your cash going into the correct or incorrect account.
Citibank Routing Numbers for Canada
Here's a list of all the routing numbers used for Citibank Canada bank accounts.
Unlike the Citibank US RTN, the Citibank Canada routing number is an 8-digit code. While the first five digits indicate the "Transit Number" to identify your branch, the next three indicate the "Institution number" to identify your bank!
Routing Number
Province
Address
026010080
BC
#300-2991 Lougheed highway
026010050
BC
4200 #3 Road Unit 120
026010020
BC
612 Main Street
026011102
ON
5900 Hurontario St
026011242
ON
5900 Hurontario St
026010092
ON
3300 Midland
Avenue Unit 33
026011002
ON
123 Front St W – Ste 1900, 1 Toronto St – 10th Flr
026011182
ON
One Toronto Street Suite 1200
026000082
ON
123 Front St W, Ste 1900
026000102
ON
123 Front St W
026010072
ON
123 Front St W, c/o 123 Front St W
026030002
ON
123 Front St W
026010012
ON
463 Dundas Street W
032820002
ON
123 Front St W – Suite 1100
032820012
ON
123 Front St W – Suite 1100
Citibank Routing Numbers: FAQs
1. Are all Citibank routing numbers the same?
Citibank routing numbers aren't all the same. Your routing number is usually different depending on where you were when you created your account. If you want to receive ACH transfers or set up automatic bill payments, you may need a different routing number for each.
2. How many digits is Citibank's routing number?
Routing numbers for Citibank are 9 digits long.
3. What bank's routing number is 021000089?
The New York Citibank branch's routing number is 021000089.
4. Whose routing number is 044000804?
044000804 is UBM Bank's Missouri Branch's routing number.
5. How do you find your ABA number with Citibank?
An ABA number and a routing number are the same. As mentioned earlier, you can find your ABA number through different methods listed in this article.
6. What bank's routing number is 321171184?
Citibank's Northern California branch routing number is 321171184.
7. Which bank's routing number is 254070116?
Virginia and Washington, DC both use the Citibank routing number 254070116.
Similar Posts:
Hey there, welcome to my blog!
I'm Swati, a mom, a personal finance enthusiast, and the owner of TheBlissfulBudget.  My work has been featured in major publications including Fox 10, Credit Cards, Cheapism, How to Fire, Databox & Referral Rock.
I help busy budgeters like you save and make money by utilizing simple yet effective methods that can create wonders.
My Mantra: You are entitled to live the life you desire, and financial bliss should be simple to obtain–check out my blog for helpful tips on acquiring wealth easily.