Looking to make a transaction and want to know the routing number for BMO Harris bank? We've got you covered!
In this article, we'll talk about how to find your BMO Harris routing number for wire transfers, ACH transfers, and other types of money transfers to ensure your money always arrives safely.
So, without any further ado, let's get started!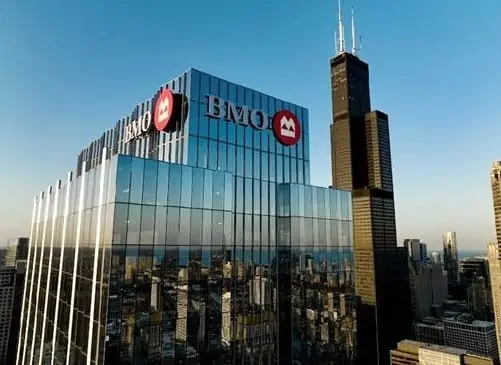 BMO Harris Routing Number
The routing number for BMO Harris Bank is 071025661.
Some banks, particularly bigger ones like Wells Fargo, Bank of America, and Citibank, use multiple routing numbers for different states. BMO Harris, on the other hand, has a single routing number that serves all its locations.
Yes, the routing number for BMO Harris bank is the same for all the transactions and all the states except for International SWIFT Transfers.
NOTE: It will remain the same irrespective of whether you created your account or where you moved to.
BMO Harris Routing Numbers for Wire Transfers
| Type of Wire Transfer | BMO Harris Routing Number |
| --- | --- |
| Domestic Wire Transfer | 071025661 |
| International Wire Transfer to BMO Harris account in the USA | 071025661 |
| International Wire Transfers (outside the US) | HATRUS44XXX |
BMO Harris SWIFT code for International Wire Transfers
The SWIFT Code of BMO Harris for international transfers is HATRUS44XXX.
| | |
| --- | --- |
| Swift code (8 characters) | HATRUS44 |
| Branch name | BMO HARRIS BANK N.A. |
| Branch address | 111 WEST MONROE STREET |
| Branch code | XXX |
| Bank name | BMO HARRIS BANK N.A. |
| City | CHICAGO |
| Country | United States |
Here's a breakdown of the BMO Harris Swift code:
| | | |
| --- | --- | --- |
| HATR | Bank code | 4 letters represent the bank. Usually, it looks to be the name of that bank shortened. |
| US | Country code | 2 letters identify the country where the bank is located. |
| 44 | Location code | 2 alphanumeric or numeric characters. It details the location of the bank's headquarters. |
| XXX | Branch code | 3 digits that identify a certain branch. The bank's headquarters are represented by 'XXX'. |
Additional details are frequently needed when sending or accepting an overseas wire transfer. This is some of the most usual information you should have for an international wire transfer.
The full name of the recipient
The bank's name, address, and country, as well as the recipient's
The recipient's bank's routing number
The recipient's account number
SWIFT, IBAN, or the bank's National Identification Number.
Reasons for the transfer of funds
BMO Harris Routing Number for ACH Transfers
To initiate an ACH transfer to any BMO Harris account, the ACH routing number must be included.
The Routing Number to carry out an ACH Transfer to any BMO Harris Account is 071025661.
It's important to know that you can only use this routing number to send ACH transfers within the United States.
What Is a Routing Number?
A routing number, also known as a routing transit number, is a unique nine-digit code used to identify the financial institution involved in the transaction as well as the place where your account was first opened.
When making an online or telephone payment, you will often be asked for your checking account routing number.
There are various parts that make up the nine digits of your routing number:
The first four digits are the "Federal Reserve routing number"; the next four are the "American Bankers Association (ABA) routing number", and the final digit is the "check digit."
Through a unique algorithm, a "check digit" is employed to confirm the routing number. This can help to guarantee both its validity and accuracy.
What are Routing Numbers Used for?
You may be wondering what a routing number is related to you and why it's significant, but a routing number is utilized for a variety of day-to-day financial activities like:
Direct deposit of your paycheck to your BMO Harris account,
Automatic payments (like your car loan or mortgage) from your BMO Harris account,
Paying in a check,
Bill Payments,
Wire transfers or ACH payments to someone in the US, etc.
In short, routing number is a critical part of the banking process and if you want to ensure that your money is going where it needs to go (and coming from where it needs to come), you need to have the right routing number for your bank.
How to Find your BMO Harris Routing Number?
Are you wondering where to find routing number for BMO Harris Bank? Your routing number may be found using one of the following methods:
Using your BMO Harris bank-issued checks or account statements
Your BMO Harris bank's online banking portal or mobile app
Using the Federal Reserve Bank's routing number lookup service
You can also call BMO Harris's customer service line to find out your routing number.
Amongst all, the easiest way to find the routing number for BMO Harris bank is to check your checkbook. Look for the 9-digit number in the bottom left-hand corner of a check to locate your routing number.
1. Finding your BMO Harris Routing Number on Your Check
You may find your routing number on the bottom left of all your BMO Harris Bank-issued Checks.
The routing number, your unique account number, and the check number are generally the three sets of numbers on a check. The routing number is typically the same for all BMO Harris customers.
Here is an image of a BMO Harris check with a routing number.

2. How to Find Routing Number from BMO Harris app?
What if you don't have a checkbook on hand?
You could use your BMO online banking service or app instead to search for one. Here is how you can do it:
Open your BMO online banking portal or application
Log in to your account
At the top of the homepage of the website, select the "My Accounts" tab.
Choose the account you need your routing number for from the list on the left side of the page.
In the blue box at the top of the screen, you can see your routing number, branch number, and institution number.
You can also get a PDF of a voided check containing your routing number and bank details by clicking on the "void check" link.
3. Contact BMO Harris to Find your Routing Number
If anything in this doesn't work out, call BMO Harris customer service and ask them for your routing number to find out your routing number.
Keep your account number and bank information handy when you call, because they will know your account number and may ask you a few questions to verify you are their customer first.
If you're calling from within the United States, you can use the number 1-888-340-2265 to get general information on banking services.
Dial 1-847-238-2265 for calls from outside the United States.
The BMO Harris Bank is open from 7 a.m. to 10 p.m. CT Monday through Friday and from 8 a.m. to 8 p.m. CT on Saturdays and Sundays.
For accessible banking, BMO Harris takes calls through (TRS). Customers can call 711 to connect.
4. Search Fedwire to Find your Routing Number
The Federal Reserve's official website can help you look up your routing number quickly and easily.
What is the Routing Number for BMO Canada?
There is a list of routing numbers for BMO Canada, unlike BMO Harris, as BMO Canada is widespread in Canada.
Here's a list of all the routing numbers used for BMO Canada bank accounts.
| Routing number | Transit number (MICR) | Branch | Address | City | State |
| --- | --- | --- | --- | --- | --- |
| 126829 | 26829-001 | 101 Crowfoot Way NW | 101 Crowfoot Way NW | Calgary | AB |
| 105229 | 05229-001 | Centre 50 | 9821-50th Street | Edmonton | AB |
| 108070 | 08070-001 | Willowbrook | #9-6233 200th Street | Langley | BC |
| 127390 | 27390-001 | 6088 No. 3 Road | 6088 No. 3 Road | Richmond | BC |
| 126027 | 26027-001 | Inkster Blvd at Main St | 1468 Main St. | Winnipeg | MB |
| 102333 | 02333-001 | 6980 Mumford Rd. | 6980 Mumford Rd. | Halifax | NS |
| 130532 | 30532-001 | Cambridge Main | 44 Main Street | Cambridge | ON |
| 129162 | 29162-001 | 42 Bath Rd. | 42 Bath Rd. | Kingston | ON |
| 130532 | 30532-001 | 101 Crowfoot Way NW | 101 Crowfoot Way NW | Calgary | AB |
| 138582 | 38582-001 | BMO Financial Group Centre | 6605 Hurontario St., Unit 100 | Mississauga | ON |
| 139142 | 39142-001 | Support Services | 234 Simcoe Street | Toronto | ON |
| 102541 | 02541-001 | 2140 | Boul. Lapiniere | Brossard | QC |
| 121211 | 21211-001 | 7275 rue Sherbrooke Est. | 7275 rue Sherbrooke Est. | Montreal | QC |
BMO Harris Routing Numbers: FAQs
1. Are all BMO Harris Routing Numbers the same?
In contrast to other larger banks, the routing number is one and the same for all BMO Harris Bank accounts. Regardless of where you first created your account, your routing number will remain the same.
2. Which Routing Number to Use for the Tax returns?
You should use the same BMO Harris routing numbers for tax returns as you do for direct deposit and electronic payments.
3. Where can I find my routing number without a check BMO?
You can find your routing number by logging into your BMO Harris online banking, calling customer service, or looking up your routing number on Fedwire's official website.
4. What is the difference between BMO and BMO Harris?
Bank of Montreal, a Canadian international investment bank and banking corporation more
commonly known as "BMO," controls BMO Harris Bank through its private equity firm, BMO
Financial Corporation.
5. What bank has routing number 071025661?
The routing number for all BMO Harris transactions is 071025661.
6. How many digits is BMO routing number?
The BMO Canada routing number is an 8-digit code. The first five digits are the "Branch Number", while the next three are the "Institution number". On the other hand, the BMO Harris routing number is a 9-digit code.
7. Does BMO Harris do wire transfers?
Yes, it does. The routing number for BMO Harris for the domestic and international wire transfers to a BMO Harris account in the USA is 71025661
Similar Posts:
Hey there, welcome to my blog!
I'm Swati, a mom, a personal finance enthusiast, and the owner of TheBlissfulBudget.  My work has been featured in major publications including Fox 10, Credit Cards, Cheapism, How to Fire, Databox & Referral Rock.
I help busy budgeters like you save and make money by utilizing simple yet effective methods that can create wonders.
My Mantra: You are entitled to live the life you desire, and financial bliss should be simple to obtain–check out my blog for helpful tips on acquiring wealth easily.