Are you in search of your Zions Bank routing number? In this post, we'll not only disclose Zions Bank's routing number but also show you how to find your Zion bank routing and account number.
Zions Bank is a regional bank headquartered in Salt Lake City, Utah. The bank operates in 10 Western and Southwestern states – Arizona, California, Colorado, Idaho, Nevada, New Mexico, Oregon, Texas, Utah, and Washington. It has over 500 branches and 1,500 ATMs.
Zions bank operates with only one routing number.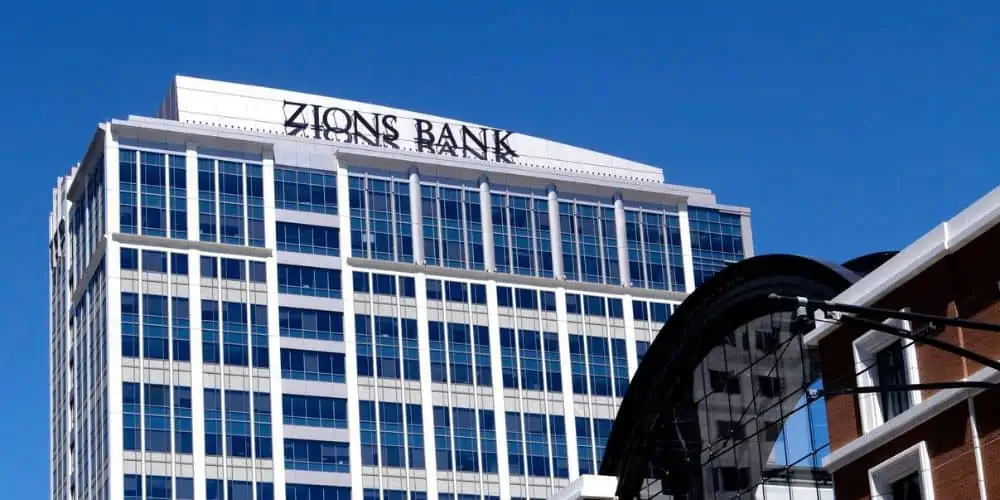 What Is the Routing Number for Zions Bank?
Zions Bank routing number is 124000054.
You can use this number to confirm your account as a customer of Zions Bank and also perform some finance-related activities.
Some of these activities include performing transfers such as ACH and wire transfers. Others include setting up direct deposit accounts and also receiving tax refunds.
Zions Bank Routing Number for ACH Transfers
Zions Bank routing number for ACH Transfers is 124000054
Since Zions Bank Routing Numbers are the same across all of its branches, 124000054 remains their routing for ACH Transfer.
ACH Transfers stands for Automated House Clearing and some of the transactions you can do via this network include recurring bill payments, government and retirement benefits, and also payroll.
Zions Bank Routing Numbers for Wire Transfers
The Zions bank routing number of wire transfers remains 124000054.
You'll need this routing number to perform domestic wire transfers to and from Zions Bank in the United States.
Zions Bank Swift Code: Routing Number for Zions Bank International Transfers?
The Swift code for International transfers via Zions Bank is ZFNBUS55.
This number is a requirement for you to receive any funds through international transfer. Unlike various misinformed information, this is not Zions Bank IBAN.
SWIFT code stands for "Society for Worldwide Interbank Financial Telecommunication" and is an 8-digit code that is used by banks for recognizing each other.
While you can use your Zions Bank routing number for international wire transfers, you need the number-letter SWIFT code as well.
How to Find Zions Bank Routing Number?
Locating routing numbers is quite easy and simple. The following ways show you how to find your Zions Bank routing number.
1. How to Find Zions Bank Routing Number on a Check?
Finding the routing number on your checkbook is one of the easiest ways of getting your Zions Bank routing number.
The checkbook provides information on your Zions Bank routing and account number. You can find your 9-digit routing number in the bottom left corner of your Zions Bank-issued check.
Moreover, if you're asking where is my account number on my checkbook for Zions Bank? Just know it is located just beside your routing number on the check.
2. How to Find Your Zions Bank Routing Number Online?
Finding your Zions Bank routing number online seems to be the best way since almost everybody has access to a Smartphone. You can get this number without having to log into your account or create a new one.
All you have to do is to launch a browser on your mobile and visit the Zions Bank website.
Once you're in, scroll down to the last sections of the landing page and you'll see your routing number. It is just below the customer care line and is also visible.


How to Find Zions Bank Account Number?
The Zions Bank account number is the number that is issued to you upon completion of registration. This set of numbers is unique to each customer and is used to identify anyone who is a customer of Zions bank.
You can find your Zions Bank account number in several ways;
Checkbook: You can find it at the bottom center of the check, just beside the routing number.
Bank statement: You can also locate your Zions bank account number if you look at your bank statement.
Zions mobile banking: You have to log into your Zions Bank mobile app to locate this.
Zions online banking: You also have to log into your bank account to see your account number.
What Is a Routing Number?
In the United States, a routing number or ABA number is a 9-digit number that banks use for recognizing each other.
Aside from that, a routing number is also used for performing crucial financial transactions like sending and receiving funds, setting up a direct deposit, and also paying bills.
What Is Zions Bank Routing Number Used For?
The Zions Bank routing number is used for performing financial activities like setting up direct deposits, running both local and international transfers, and even applying for tax refunds.
If you're a customer of Zions Bank, its routing number is also used to identify that it is your bank.
Zions Bank Customer Service Contact
Considering any complaints or further clarification, you can reach Zions Bank via its Customer Care phone number: 888-307-3411.
The Automated assistant Customer care is available for 24hrs, Monday to Friday from 7 a.m. to 8 p.m. M.T.
However, their email channel is also open to receiving messages from customers and investors alike.
Zions Bank Routing Number: FAQs
1. Is Zions Bank FDIC Insured?
Yes, Zions Bank is an FDIC-Insured Bank. It has a certificate number of 2270.
2. What Bank's Routing Number is 124000054?
The routing number 124000054 belongs to Zions Bank. It is the 9-digit ABA number used by customers of the bank when performing any financial transactions.
3. Does Zions Bank Have Zelle?
Yes, Zelle is available at Zions Bank. This means that you can now pay people from your Zions Bank account, without using cash. Zelle is available on both the online and mobile banking platforms of the institution.
4. Who Owns Zions Bank?
Zions bank is owned by a private financial services company known as Early Warning. The financial institution operates as a subsidiary of the bigger firm which is owned by banks like the bank of America and other financial institutions.
5. Which Zions Bank Routing Number Should You Use?
You should use 124000054, which is the only routing number used by Zions Bank. This 9-digit number is the same all over the branches of Zions Bank across the U.S.
6. Can Zions Bank Routing Numbers Be Changed?
Yes, the routing number for Zions Bank can change. While it remains only one number in its main city Salt Lake, Utah; They can change it in branches outside the metropolis.
7. Is Zions Bank a Mormon Company?
Yes, the Zions Bank is originally a Mormon company. Although it was purchased from a religious organization, most of its board members are Mormons, including a majority of staff.
8. Is Zions Bank a National Bank?
Yes, Zions Bank now operates as a national bank. This became effective in 2018 after it merged with its subsidiary ZB N.A., and was renamed Zions Bancorporation.
You Might be Interested In:
Hey there, welcome to my blog!
I'm Swati, a mom, a personal finance enthusiast, and the owner of TheBlissfulBudget.  My work has been featured in major publications including Fox 10, Credit Cards, Cheapism, How to Fire, Databox & Referral Rock.
I help busy budgeters like you save and make money by utilizing simple yet effective methods that can create wonders.
My Mantra: You are entitled to live the life you desire, and financial bliss should be simple to obtain–check out my blog for helpful tips on acquiring wealth easily.