Finding the Navy Federal routing number can be daunting, especially if you don't know where to look.
Fortunately, there are a few easy ways to find your Navy Federal routing number.
In this article, we'll show you how to find your Navy Federal account number and routing number to be able to process your transactions smoothly.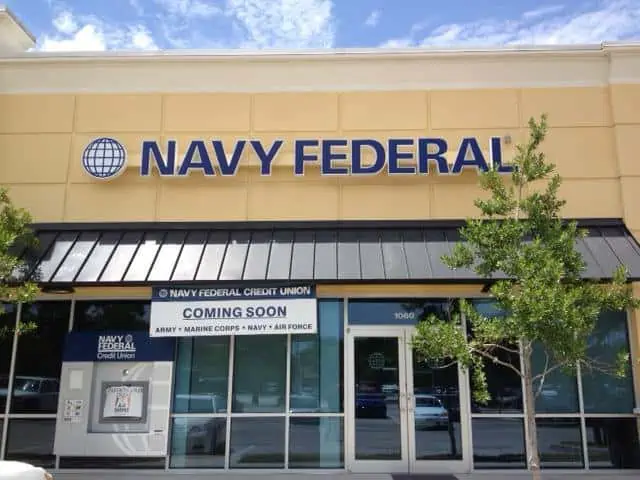 Navy Federal Routing Number
The Navy Federal Credit Union routing number is 256074974.
Also known as the routing transit numbers, this is the only routing number used by NFCU across all their branches, unlike other banks whose routing numbers differ from state to state. A typical example is the First National Bank, which has over 300 routing numbers across all its branches.
Navy Federal Routing Number for ACH Transfers
The Navy Federal Routing Number for ACH Transfers is 256074974.
Since the routing number of Navy Fed is a uniform nine-digit routing number, it has NO different number for ACH transfers.
Navy Federal Routing Numbers for Wire Transfers
Navy Federal's routing number for domestic and international wire transfers is 256074974.
You'll need the wire routing number if you're sending a domestic wire transfer.
| Wire Transfer Type | Navy Federal Routing Number |
| --- | --- |
| Domestic Wire Transfer | 256074974 |
| International Transfers to Navy Fed accounts in the US | 256074974 |
| Swift Code for Intermediary bank | Provided by sender's bank |
What Is a Routing Number?
The routing number also known as the transit number or ABA RTN, is a unique nine-digit number that is used in the US, to identify a particular financial institution. You can easily locate your routing number by taking a close look at your check.
This set of numbers was formulated by ABA (American Bankers Association). It aims at making sure that you do not experience any form of friction processing your electronic transfer or funds, including paper checks.
Each financial institution in the US has its unique transit number, and the number which each possess depends on its capacity. For banks, your routing number will be determined by the state in which you first opened your account.
What Is a Navy Federal Routing Number Used For?
The Navy Federal Routing Number is an electronic address used by the Navy Federal Credit Union, for successfully processing your transactions.
The routing number used by Navy Federal Credit Union is unique to the financial institution, just like other banks or credit unions do. It is what identifies NFCU as the financial institution to which you are subscribed.
How Do I Find My Navy Federal Routing Number?
Wondering where to find my routing number for Navy Federal. This section will direct you on how to find Navy Federal account and routing number.
You can explore the following methods to find your NFCU routing number.
1) How To Find Your Routing Number on Navy Federal App?
You can find your NFCU routing number using the Navy Federal App.
For this, you need to download the Navy Federal bank app and sign in to your account.
Next up, click on bank accounts and move further to the tab bearing more details. Click on it and you will see the routing number.
2) How To Find Your Navy Federal Routing Number Online?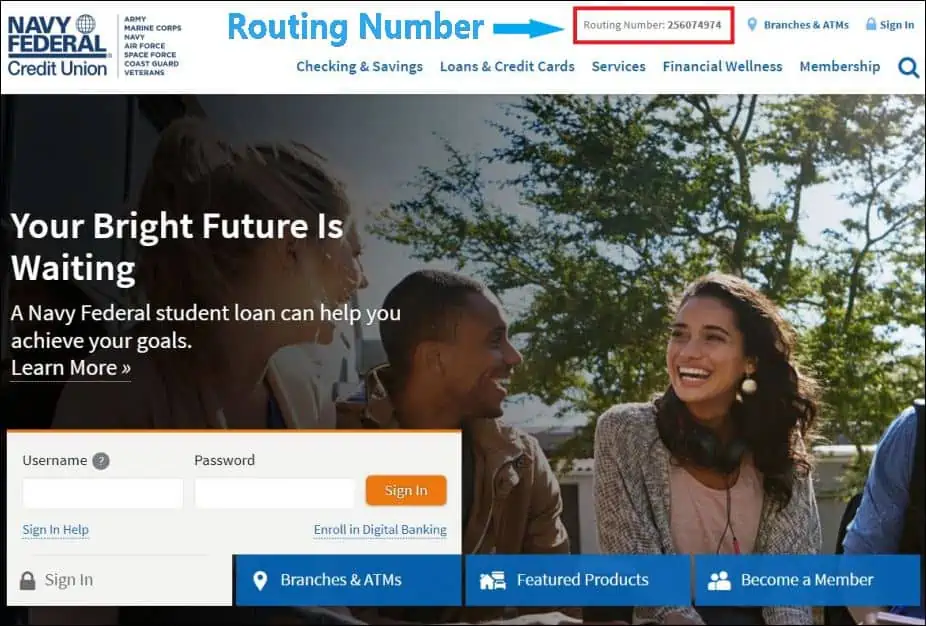 You can quickly find the Navy Federal routing number on the top right corner and above the footer section of their website – NavyFederal.org
Alternatively, you can log in to your Navy Federal Bank online account. Upon doing this, you will be greeted with a fresh page showing your monthly transaction statements and other banking details like your routing number and account number.
3) Using a Check or Bank Statement
Locating your routing numbers in a check is pretty simple. You can find the nine-digit routing number at the bottom left corner of your Navy Federal Bank issued check.
Typically, the routing number will be printed on the bottom of the check, along with your account number and check number.
4) Look up On Fedwire
You can find your routing number on Fedwire by looking up the number in Federal Reserve Directory. To do this, you can visit their website here, either on your smartphone or PC.
FAQs
1. Are All Navy Federal Routing Numbers the Same?
Yes, all Navy Federal Routing numbers are the same. NFCU maintains one transit number across all branches because it is a small financial institution.
2. Which Navy Federal Routing Number Should You Use?
The Navy Federal Routing Number that you should use is 256074974. This is the only routing number unique to NFCU.
3. What Is a Navy Federal Access Number?
An NFCU Access number is a unique number given to anyone who joins Navy Federal. It indicates you're a member of the Union in a branch or via phone.
4. Is a Fedwire Code the Same Thing as a Routing Number?
Yes, Fedwire is the same as a routing number. The only distinction is that the term Fedwire is mostly used in electronic transfers while routing number or ABA is common in checks.
Similar Posts:
Hey there, welcome to my blog!
I'm Swati, a mom, a personal finance enthusiast, and the owner of TheBlissfulBudget.  My work has been featured in major publications including Fox 10, Credit Cards, Cheapism, How to Fire, Databox & Referral Rock.
I help busy budgeters like you save and make money by utilizing simple yet effective methods that can create wonders.
My Mantra: You are entitled to live the life you desire, and financial bliss should be simple to obtain–check out my blog for helpful tips on acquiring wealth easily.