Nothing is more embarrassing than trying to pay with your debit card, and the store declines it due to an inadequate balance.
Knowing how to check bank balance is essential for avoiding a similar situation in the future and knowing how much money you have in your account will keep you from having your online transactions denied, checks bouncing, or overdrawing your account.
You should know how to check your bank balance with a registered mobile number as this is the fastest way.
Most people get confused between "current balance" and "available balance." The total amount of money in your account is your current balance.
After the bank has deducted any pending transactions, your available balance is the amount of money you have available.
11 Ways On How To Check Your Bank Account Balance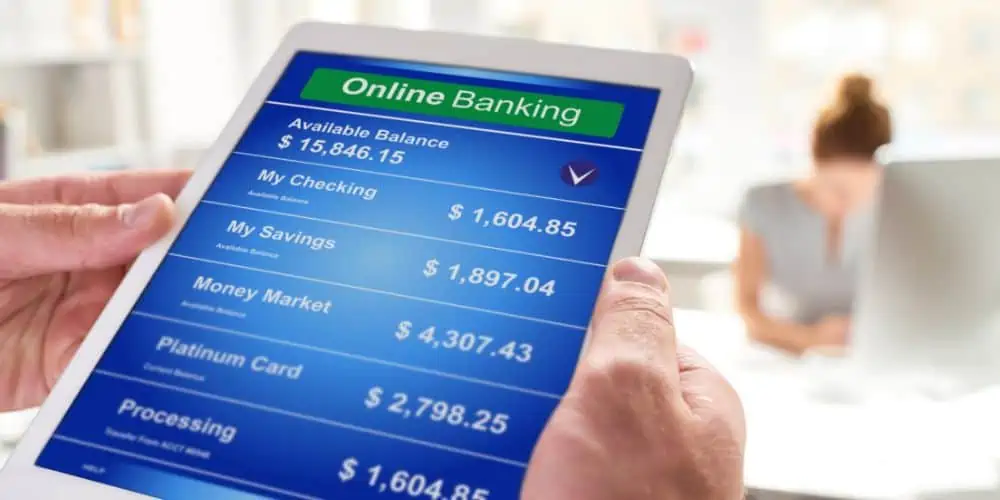 There are several ways to check your account balance, so there's no excuse for not knowing how much money you have.
Knowing your account balance will help you avoid spending money on things you don't have the funds to pay for.
We have highlighted eleven different ways you can check your bank balance.
1. How to Check Bank Balance with Account Number Online?
You can check your bank balance through online banking, which is available at most, if not all, banks. You must log in to their official website using your phone, tablet, laptop, or desktop computer.
Here's how to accomplish it quickly and easily:
Go to your bank's official website: Every major and minor bank now has a website that provides online banking services. Open your online browser and type the name of your bank and the name of your country.
Log in: You'll find a link to "online banking" on your bank's website homepage. Simply look for a "login" button if you can't find it.
Register for an account: You must already have a bank account to register for online banking. Next, click the "sign up" or "enroll" button. Basic bank information such as your name, bank account number, billing address, and email address will be necessary.
Choose your primary account: It becomes your primary account if you only have one account with that bank. If you have more than one, you'll have to choose one as your primary online bank account for the service. You can add or remove your other bank accounts after signing up.
Activate your account: You can activate your online bank account services in various ways, depending on your bank.
Visiting the bank in person – Remember your username, password, and email address when you first signed up.
You can contact a representative in their customer care department using your phone.
Make use of your ATM.
Activate via the internet
Check your balance: You will go to the website and click the "Login" option once your online banking services are active.
2. How to Check Your Bank Balance On the Phone?
Banks and financial institutions have enabled their customers to do certain financial transactions using mobile devices. Checking your bank balance is one of the transactions you can make.
However, there are a few things to keep in mind before using your phone to check your bank balance:
The bank should have previously registered mobile number you're using.
A smartphone makes things more manageable with a strong internet connection because you can utilize different banking apps like BHIM UPI.
The mobile number must be active to receive or send SMS or phone calls.
Your bank should enable Internet banking for you.
You should link your bank account to your debit card or ATM.
You can use your phone to access phone banking or receive text alerts (if your bank offers it), which does not require a smartphone because you can send/receive SMS.
However, a smartphone enables mobile banking, which includes additional features such as the ability to download apps.
Also Read: How to Cash Checks at Walmart?
3. How to Check Bank Balance In QuickBooks?
You should double-check that the account for the balance you want to verify has also been linked to QuickBooks. Quickbook accounting software automatically uploads your account data at the end of each day once you have connected your bank account.
The system also sets an opening balance for you. The bank balance at the last download is the opening balance. However, sometimes it will not show or indicate a zero balance. If this is the case, you'll need to adjust the bank balance manually.
To manually adjust your bank balance, follow the steps below:
Go to the Banking option in the left pane after logging into your online Quickbooks account.
You should select banking from the drop-down menu under bank rules.
On the banking page, click Update.
4. How to Check Bank Balance with a Card Number?
Some banks allow you to check your account balance by entering your card number. However, you can only do so if you have linked the mobile number to your cardholder account.
Because your debit card is also linked to your checking account, banks allow it. Your debit card balance will be the same as your checking account balance.
You can send a text message to your bank using the last five digits of your card number, i.e., 875565. Some banks insist on sending the text with a specific instruction, such as "BAL".
You may need to activate text messaging using your online bank account first. Although most banks do not charge for balance inquiries sent through text, your mobile service provider might.
5. How to Check Bank Balance with a Debit Card/ATM?
Your debit card and your ATM card mean the same thing. You'll need to go to a nearby ATM to check your balance if you're using your debit card. Once you're in the ATM lobby, double-check that the machine belongs to your bank or is part of the ATM network your bank utilizes.
The processes for checking your bank balance with your debit card are below.
Take out your debit (ATM) card and swipe it.
Put your four-digit pin in the box below.
Choose the "Balance enquiry option" from the drop-down menu.
After you've checked your balance, you can close the transaction.
If you use your debit card for simple operations like checking your bank balances, you should know that certain banks will charge you. Restricting your debit card transactions for withdrawals and other transactions is easier and more cost-effective.
If you have one, you can walk to a facility that accepts VISA prepaid debit cards. Request that the cashier check your account balance for you. Most people will gladly help.
6. How to Check Bank Balance with an Account Number and USSD code?
There might be some occasions when you need to check your bank balance but do not have access to the internet. In this scenario, you can use a USSD (Unstructured Supplementary Service Data). The USSD code is not associated with any single mobile network provider or bank.
When you want to use this service, follow the steps below.
Dial #99 from your phone, whether it's a smartphone or not. Choose the option that says "Check Balance" from the list.
Enter your bank's first three letters. You may have to use your UPI pin if you've enrolled for one.
Your bank balance is now visible.
Because the USSD connects all banks and Telkom providers, you can use it to access additional services such as generating or changing your mobile pin.
Other bank USSD servicesinclude:
Getting a copy of your account's mini statement.
Knowing your MMID and send money with it (Mobile money identifier).
7. How To Check Bank Balance From A Teller
If you use a physical branch, you can choose to visit there and talk with a teller in person. It is, after all, the most basic method.
Before a teller can reveal any information regarding your account, you must have your identity documents. The procedure for getting your bank balance from a teller is as follows;
Look online (or use your phone's map app) to find the nearest bank branch. To get to the nearest branch, you can either drive or walk.
If there isn't a queue at the bank, proceed to the teller window and request a balance check.
The teller will ask for identification. Your debit card will assist you with the account number, but you must also provide your photo ID card.
After confirming that you are the correct person, the teller will write down the account bank balance or print you a receipt.
Make sure you keep your receipt safe or burn it because it contains information about your account.
8. How To Check Bank Balance Using Mobile or UPI App
You can also check your bank balance using UPI or other banking apps. Because each bank has its app, you can use the UPI instead of installing multiple banking apps.
Here's how to use the UPI app to check your bank balance.
To begin the registration procedure, download the app.
Enter your mobile phone number to receive an OTP (one-time password).
Log in to the app with the OTP and enter your bank account information.
Usually, the UPI detects the account number associated with your cell phone number.
At this point, the UPI displays the final four digits of your account number.
The UPI produces a new ID when you confirm.
You can acquire a passcode with the new ID and following verification.
You'll be able to check your bank balance and make other transactions now.
9. How To Check Bank Balance Via Passbook
Certain banks will issue you with a passbook once you open an account. You can see the list of all your debit and credit transactions. You can also check the balance of your account by checking the passbook.
If you update your passbook regularly, you will have all the information concerning your various transactions, such as rent. To this end, consider visiting your bank regularly to update the passbook.
10. How To Check Balance Using Missed Call Services
Some banks have set up systems to send balance update notifications when a customer makes a missed call using their registered mobile number.
However, you must give the following information to receive the missed called balance update notifications:
In your bank, register for SMS services.
Your account should be linked to the mobile number you'll be using to used to make the missed call.
The phone number that you use for this service must be active.
11. How To Check Bank Balance By Setting Up Alerts
Checking your bank balance regularly can be tedious. Why not have your bank notify you whenever something occurs? When your account falls below a specific balance or when you or someone else makes a withdrawal.
When a transaction occurs in your account, you can set up alerts so that your bank sends you a text or email. You can choose the types of alerts you receive.
You should ensure that you have turned your message alerts automatically. This messaging service notice will go a long way towards telling you that your account has had a financial transaction. It will be evident whether there is a case of fraud or not.
Also Read: How to Cash a Check at Walmart?
Conclusion
Don't get caught off guard if you don't keep track of your finances. To begin, learn how to check your bank account balance. Fortunately, we've highlighted a variety of simple ways to accomplish this.
Hey there, welcome to my blog!
I'm Swati, a mom, a personal finance enthusiast, and the owner of TheBlissfulBudget.  My work has been featured in major publications including Fox 10, Credit Cards, Cheapism, How to Fire, Databox & Referral Rock.
I help busy budgeters like you save and make money by utilizing simple yet effective methods that can create wonders.
My Mantra: You are entitled to live the life you desire, and financial bliss should be simple to obtain–check out my blog for helpful tips on acquiring wealth easily.