Having good-looking toenails is a big flex for so many people, especially women. To complement a good outfit with an open-toed shoe, you need to have a good pedicure to achieve a better effect.
While this is not a problem for some people, others who are either on a budget or are just conscious of their expenses find it pertinent to know the cost.
A pedicure is a cosmetic treatment specifically meant for the feet. It's usually done in a local nail salon and costs between $35 – $60 to get a lasting pedicure for a good appearance.
This article answers your question of 'how much does a pedicure cost', with details and analysis that will help you make the best decisions.
How Much Does a Pedicure Cost?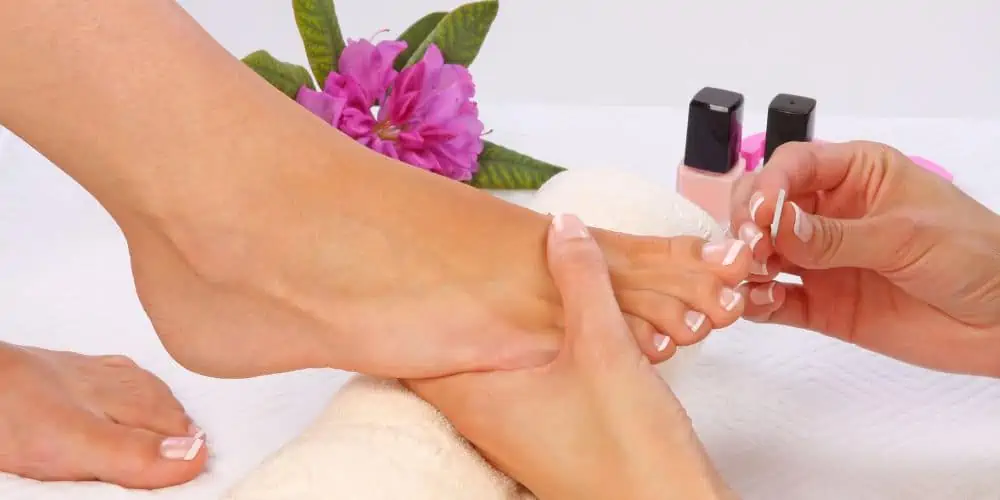 The cost of getting a pedicure ranges from as low as $15 to as high as $100. According to Statista, the average cost of a basic pedicure in nail salons is priced at $35.46. Even at this average cost, the price of getting a pedicure fluctuates.
The expenses are influenced by several factors such as the techniques to be used on your feet, the standard of the salon, how much care your feet need, state policies, and standard tips for the techs.
Your locality is a major determinant of how much it would cost to get a pedicure. If you live in a small town, chances are, your pedicure fees would be considerably lower than it is in the bigger cities.
Nonetheless, even within small towns, some salons are rated top scale and their charges would be higher than average salons.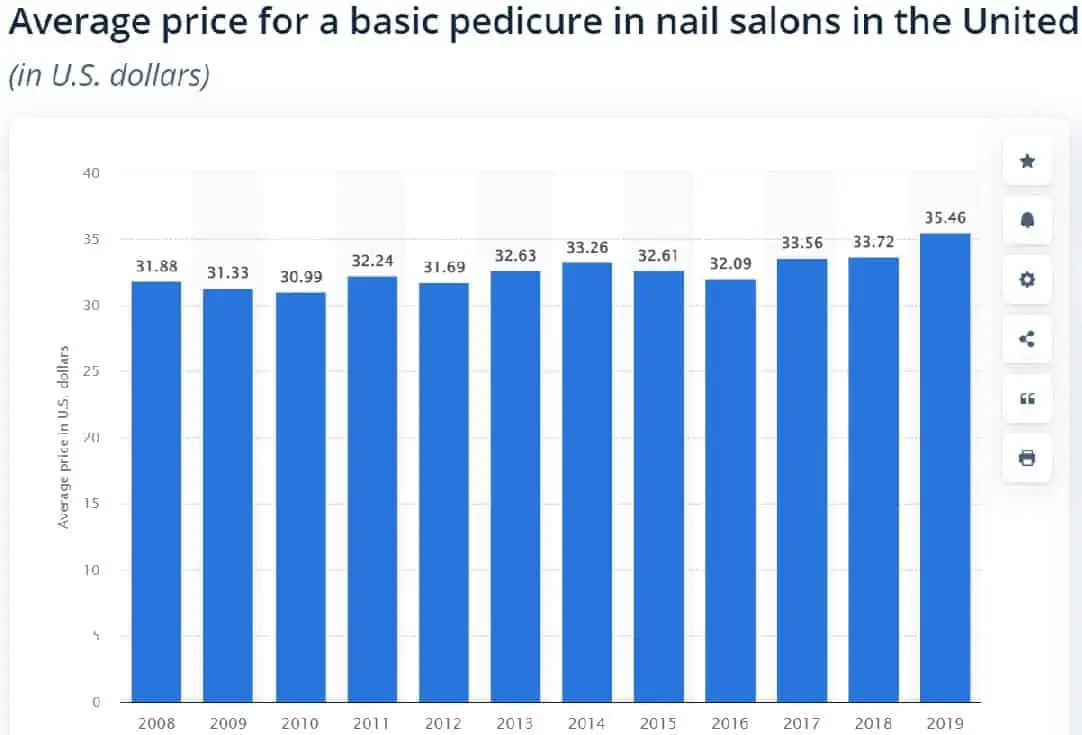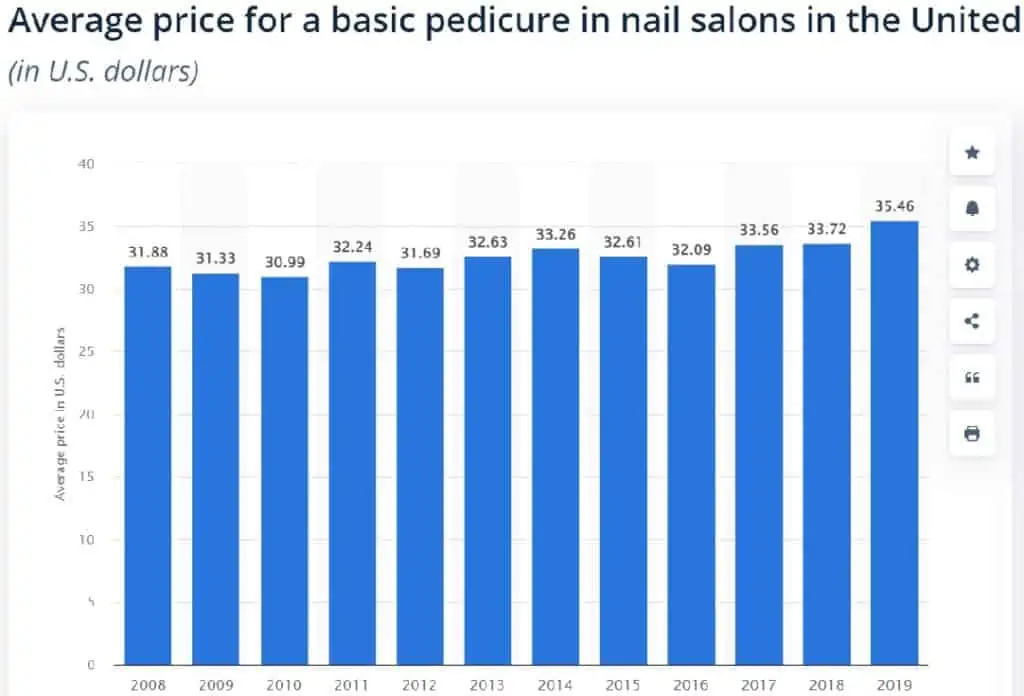 Cost of Pedicure In Top Cities of the US
So, how much do you pay for a pedicure in your city? Here, we'll be listing the current average prices of pedicure services in top cities of the US.
| State | Average Price |
| --- | --- |
| New York City | $15-$30 |
| California | $25-$70 |
| Texas | $40-$60 |
| San Francisco | $35-$50 |
| Denver | $40-$100 |
| Chicago | $25-$60 |
| Boston | $30-$50 |
| New Orleans | $30-$55 |
| Portland | $30-$70 |
| Los Angeles | $30-$100 |
| Pittsburgh | $25-$70 |
| Philadelphia | $15-$200 |
| Miami | $25-$50 |
| Houston | $30-$60 |
| Dallas | $30-$60 |
| Las Vegas | $35 and above |
| Detroit | $15 and above |
| Phoenix | $35 and above |
| Atlanta | $25-40 |
What Are The Types Of Pedicures?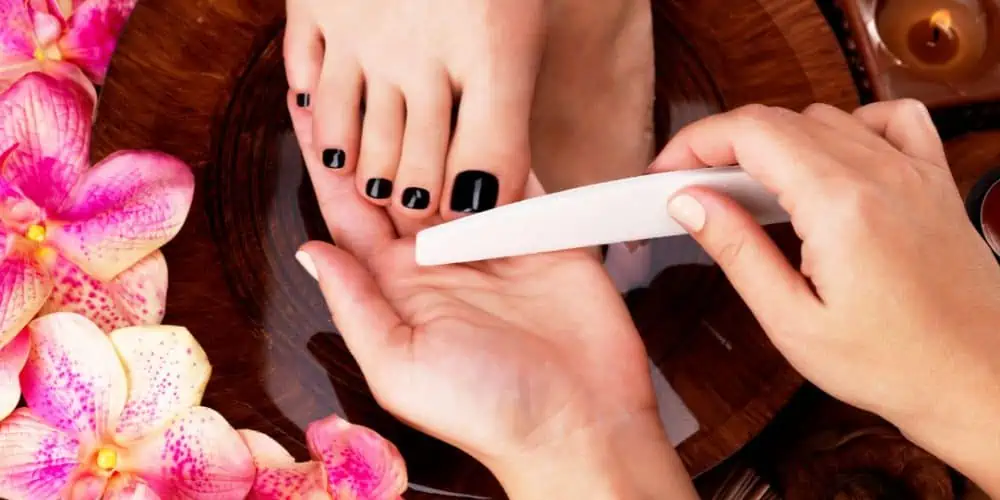 There are numerous types of pedicure services available for you to pick from. We've compiled a list of 6 of the most popular styles of pedicure. We'll break down what they entail for you so you can pick which best suits your preference. All information on the types of a pedicure is sourced from Wikiwand.
1. Basic/Mini Pedicure
This package is for those who are lacking time or funds to get a full pedicure package. Here, you only get nail trimming and polishing. All the exfoliation, massages, and hydration are excluded. It's relatively the cheapest pedicure package available. With $10 and 30 minutes, you'll get this package and be well on your way.
2. Spa Pedicure
A spa pedicure contains extra options that could even extend to other parts of your body. All services that are skipped in the basic pedicure are included here. And, as expected, it requires more time and more expenses.
3. Gel Pedicure
Gel pedicure is for those looking to broaden their natural nails with several layers of nail polish. They are particularly known for their hard texture, so they are a perfect choice for those who engage in rigorous activities regularly.
4. French Pedicure
A French pedicure is a simple style of applying nail polish. The French style requires you to only apply nail polish to the edge of your toenails.
An alternative fashion would be to apply a classy dark shade of nail polish, then apply brighter colors to the tip of the nails. Better yet, you could use rhinestones or glitter polish on the edge instead of a lighter shade.
5. Waterless Pedicure
Waterless pedicure, as the name implies, is a service that entails moistening your feet completely with a foot spray before wrapping them up. Here, the use of water is completely excluded and other means of moisturizing the feet are utilized.
A spray would help treat any fungal or bacterial infection that could be lingering around your feet. Water cannot achieve this.
6. Paraffin Pedicure
Paraffin can be described as feet waxing. It is perfect for rough skin and especially during the winter because it helps to loosen up and smoothen the skin.
Price List for the Types of Pedicures
The table below contains a summarised list of different pedicure services and their average prices.
| Type of Pedicure | Average Price |
| --- | --- |
| Basic manicure | $35 |
| French pedicure | $45 |
| Gel pedicure | $80 |
| Paraffin pedicure | $15 |
| Waterless pedicure | $25 |
| Spa Pedicure | $60 |
Comparison Chart for Type of Pedicure and Cost
How Much Does a Pedicure Cost for a Man?
According to CostHelper, getting a pedicure treatment as a man costs between $15 – $35. This price is vaguely low compared to the cost charged to women because men's pedicures require less styling and beautification than women.
As against the wide-held belief, Pedis are not restricted to female folks only. Unfortunately, not many men get a pedicure as there are still gender stereotypes. But, men who are concerned about their outlook and appearance prefer getting pedicures to doing it themselves.
How Much Does a Pedicure Cost for a Woman?
The result of a pedicure would be worth every penny of the price. The cost of a woman's pedicure is priced $25 – $45. The price comes up a bit more than men's.
Because pedicure for a woman is more delicate and there is a need to pay more attention to details. For a woman trying to maintain her feet and overall outlook, a pedicure is a worthy investment. It keeps the skin around your feet looking fresh, young, and devoid of wrinkles.
How Much Does a Mani-Pedi Cost?
Since a mani-pedi is a combination of two different services, you should expect the price to go up. For this, the cost of getting a mani-pedi average is around $80 – $100.
A mani-pedi is a whole package. Unless there are enough nail techs to attend to your hands and feet at once, you should expect to spend double the usual time at the salon. Most stores will offer a discount on their prices if you're getting both services at a go.
How Much Does a Gel Pedicure Cost?
Gel manicures are undeniably the most popular manicure services on the menu, which is why they cost around $45 – $75 to get.
A gel pedicure is not among the DIY nail services, so it would be best if you let the pros do their job. You would have to pay everything the nail tech charges you. This fee can amount to $80, though it all depends on the standard of the salon.
There are several perks of a gel pedicure, its longevity is among its major perks. It's known to last about 1-2 weeks longer than the manicure, although this partly depends on your daily routines.
How Much Does a Shellac Pedicure Cost?
A Shellac pedicure will only cost you an average of $65. Shellac pedicures are great for your toes. They are long-lasting, remain good as good news even weeks after you get them, and are less likely to chip off or get damaged while you go about an hour day to day activity as other pedis do.
What Is Included in a Full Pedicure?
A full pedicure entails a lot of things and it includes.
Soaking for 10-15 minutes.
Exfoliation, Filing & Moisturising: This involves scrubbing, exfoliation, and the application of a moisturizer to the feet to make them feel soft and smooth.
Foot Massage: Although this is optional, some nail salons and spas add a foot massage to the process.
Toenails Cleaning: This step entails the removal of old nail products such as nail polish from the nail plate and dead cuticle skin.
Fixing of Cuticles: Pushing back and aligning the cuticles is another procedure in a pedicure. It helps to put your nails in a good-looking position.
Applications of nail products like polish if desired by the customer. This is virtually the last process and it is done after the final filing, cutting, and shaping of the toenails.
What Should You Not Do Before A Pedicure?
You can prep your feet at home before heading out to the saloon. However, there is a list of dos and don'ts you should adhere to. For now, we'll focus on the don't. Here are a few of them:
Do not attempt to round your nails.
Do not try to cut your ingrown toenails
Do not wear covered shoes to the salon.
Do not remove the dead skin around your nails with a foot razor.
Resist the urge to use sharp tools on your nails.
Avoid using one tool for your fingers and toes
Do not repaint your nails.
Refrain from shaving your legs at least one week before your pedicure.
Do not cut your cuticles.
If there's an infection on your nail, do not try to cover them up.
How Much Should You Tip For A Pedicure In 2022?
It's 2022 and we're all conforming to social etiquette now. This etiquette demands us to tip nail techs 15-20% of the charges that go to the salon owners. Nail techs make most of their earnings from tips, so if you have extra cash, do well to tip them benevolently.
How Much is a Pedicure: FAQs
1. How Long Does a Pedicure Take?
It takes around 30 – 90 mins to get a pedicure done. This time frame encompasses the various types of pedicure treatments. However, you will notice an increment in time taken, depending on the speed of the technician and the complexity of the treatment.
2. How Much Is a Basic Pedicure Usually?
The usual price range for the basic pedicure treatment is $30 to $50. While this stands as the usual, it can change based on the location where you get it done and your pedicure taste.
3. How Much Do You Tip for a $25 Pedicure?
Giving a tip of 15% or 20% off of your bill is fair and I believe it is standard. Therefore, you can tip  anywhere from $3 – $5 for a $25 pedicure treatment.
4. How Much Is the Cheapest Pedicure?
The cheapest pedicure you can get costs about $25. This is relatively the price of a basic pedicure in a budget shop. The price also goes well if you're not getting any extras after the normal service.
5. How Often Should You Get a Pedicure?
Getting a pedicure once a month is the average recommendation of how often you should get a pedicure. However, just pedicures get bad in the first two weeks. You can take them up to a week and a few days with proper maintenance before getting a fresh one. The frequency of getting a pedicure is also dependent on the type of pedicure you subscribe for.
6. What is the Average Time for a Pedicure?
On average, you should expect around 45 – 60 minutes for a pedicure. Going by the different types of pedicure, this time sits just right in-between.
7. Is $5 a Good Tip for a Pedicure?
Yes, $5 is a decent tip for a pedicure. This is because it is equivalent to the standard tipping percentage of 20%. Whereas, the percentage for pedicure tipping ranges from 15% to 20%. 
8. How Much Do You Tip for a $50 Pedicure?
At most, you can tip $10 for a $50 pedicure. It is equivalent to the 20% factors, which is the maximum range of tipping for a pedicure.
9. Should I Remove Polish before a Pedicure?
No, you should not because it's unnecessary. If you want to get a new polish, it will be the technician's work to do so. Removing your old polish by yourself does not interfere with the pedicure process. And even if it does, you're paying the technician to do that so don't bother.
10. How Long after Pedicure Can I Wear Socks?
The time to wait for a pedicure to set before wearing socks is between 8 – 10 hours. While this time is too long for you to wait in a salon, especially if you're a working class woman. So you can cut down the time to 60 – 80 minutes by applying a polish on your toe nails.
What Is the Price of Pedicure? Final Thoughts
Before heading out to patronize a salon for the first time, it would be best if you call to inquire about their charges. Ask for a quotation if you can. If possible, inquire from anyone who has patronized them previously.
Hey there, welcome to my blog!
I'm Swati, a mom, a personal finance enthusiast, and the owner of TheBlissfulBudget.  My work has been featured in major publications including Fox 10, Credit Cards, Cheapism, How to Fire, Databox & Referral Rock.
I help busy budgeters like you save and make money by utilizing simple yet effective methods that can create wonders.
My Mantra: You are entitled to live the life you desire, and financial bliss should be simple to obtain–check out my blog for helpful tips on acquiring wealth easily.