This article will answer all of your questions regarding dry ice; where to buy dry ice, its properties, how much it costs, and how to handle, store and transport dry ice. This will help you make informed decisions and shop more intelligently!
But, what exactly is dry ice? Ans, who sells dry ice?
Dry ice is a solid form of carbon dioxide (CO2), which is used to keep things cold and can also be used to create a cool effect in special effects, besides being heavily used in industries and research.
So let's get down to business, and find out where exactly can you buy this substance.
Where to Buy Dry Ice? [Best Places to Find Dry Ice]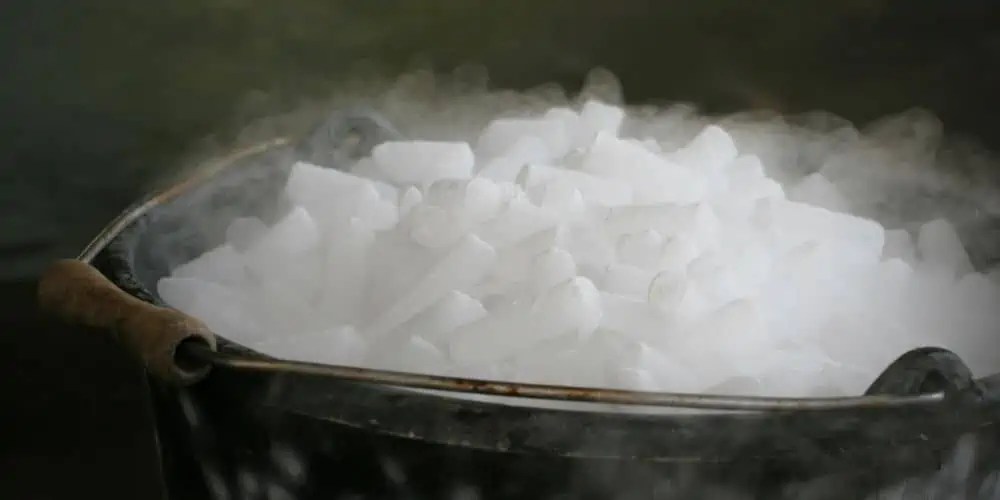 You can buy dry ice at your local grocery store or from dealers ranging from, gasoline service stations, hardware, and dry ice producing companies.
Listed below are some of the best places to buy dry ice:
A. Grocery Stores
If you are looking for dry ice in your locality, you should check local grocery stores. It's hard to find dry ice in average supermarkets or small shops. But, it is available in larger grocery stores across the states.
There are five reliable places to buy your dry ice blocks:
1. Walmart
Dry ice is available in your local Walmart Store.
Dry ice is available in the same self-service Penguin Ice freezers as the regular ice. My advice is you should call your local Walmart to see if they have any in stock, as they do run out occasionally, and not all locations stock it.
Pricing of Dry Ice at Walmart
But how much does dry ice cost at Walmart compared to other grocery stores? Prices for dry ice at Walmart typically range from $1.00 to $1.50 per pound. Dry ice can be purchased for as little as $1 per pound at Walmart and as much as $3 per pound at some specialty retailers like Meijer.
2. Publix
Currently, dry ice can be purchased from some Publix stores, notably around the Halloween season. In addition, you can use Publix's store locator to identify a location that carries dry ice.
Pricing of Dry Ice at Publix
Prices for dry ice at Publix range from $1.50 to $2.00 per pound, and the sole brand they stock is Penguin Brand Dry Ice.
Since dry ice is utilized in fog machines and other equipment commonly used for Halloween, it may be found at most Publix stores at that time of year. However, when it's not Halloween, you're likely to see dry ice in Publix stores near mountains, lakes, beaches, and theme parks since many people use dry ice to keep food cool.
Also, you can utilize dry ice for concerts and other entertainment activities, thus spring and summer are when practically all Publix stores provide dry ice.
But where Is Dry Ice In Publix Stores?
Dry ice might be stashed in various sections of Publix supermarkets. However, you can usually find a Penguin Brand Dry Ice freezer just inside the front doors. It's possible that some larger Publix stores have a large cooler stocked with dry ice next to the frozen food section.
3. Acme Market
Acme Dry Ice is among the reliable grocery stores to buy dry ice. Acme market caters to both corporations and individuals. Additionally, Acme can help you open a business checking account.
If you want to know to what extent the dry ice will suffice your needs, Acme Dry Ice provides the necessary details by phone or in person, depending on the nature of your inquiry.
You can also inquire about the availability of delivery services. There is a fleet of trucks at your disposal for making deliveries to any local business.
4. Safeway
Dry ice can be found for sale at most Safeway stores. To find a Safeway near you, utilize a Safeway store finder that provides the store's contact details and other key information. You can also stop by the Customer Service counter at any Safeway.
Pricing of Dry Ice at Safeway Stores
Safeway offers affordable dry ice prices, which are within reach of even the tightest budget. Most Safeway locations sell dry ice for between $1 and $3 per pound. 
Specific store prices are not listed online; customers are advised to call before making any purchases.
Due to the dangers associated with transporting dry ice, the store does not offer it for sale through third-party delivery services. Some Safeway locations may be willing to deliver dry ice to you if you place your order in advance.
For instance, if you can place your purchase the day before, the shop will be able to get the ice ready for shipping.
5. Costco
Currently, you can purchase dry ice from various Costco stores. To know whether a local Costco stocks dry ice, you can contact customer service. 
You can also check with the store via Costco's store locator. You may also visit a local Costco and inquire in person about the availability of dry ice.
What is the price of dry ice in Costco?
Dry ice may be purchased at most Costco Stores for around $1.50 to $2.75 per pound. However, if you're buying in bulk (over 200 pounds), you may get dry ice for as little as $0.50 per pound.
Currently, Costco does not provide online purchases of dry ice. In fact, most online stores won't sell dry ice to customers outside of their physical locations. This is because stores will have to spend a lot of money keeping the dry ice frozen throughout the delivery period.
6. WinCo Foods
Winco has warehouses in ten different states, with headquarters in Boise, Idaho. When you're shopping on the West Coast, you can't fail to notice Winco's selection and prices. But to what extent, though, do they stock dry ice?
How much is dry ice at WinCo Foods outlets?
Dry ice may be conveniently purchased at any Winco store for $1.98 per pound and is available all year-round. The price at every given Winco store is the same regardless of which store you visit.
Dry ice is stocked securely at Winco's back storage area. This is because dry ice is potentially harmful to clients.
7. Kroger
There are over 3,000 Kroger stores, so there is likely to be one within your locality. You may be wondering if your local Kroger store stocks dry ice and, if so, how much it will cost you. Dry ice may be purchased at nearly all Kroger shops.
When shopping at Kroger, where can one locate dry ice?
It is typically stocked near the registers or blocks of ordinary ice towards the front of the store. Dry ice is most likely to be found close to the store's entrance. You need to be at least 18 years old and ask a cashier for permission to buy dry ice at some Kroger stores.
Because dry ice sublimates or turns to a gaseous state, delivery is not always guaranteed. Dry ice is not always available, but Kroger stores will typically order and stock extra dry ice during busy holiday periods like Halloween.
Pricing of Dry Ice at Kroger
Just how much does dry ice cost at Kroger? And how much does dry ice cost at Kroger versus other grocery stores like Walmart or Publix? The price of dry ice at Kroger is typically between $0.99 and $1.50 per pound.
It can be purchased in both 1-pound and 15-pound bags. Prices vary somewhat depending on the time of year and location. Kroger's dry ice prices are lower than those of most other supermarkets.
8. Ralphs
Some Ralph's retail stores sell dry ice but some do not. Dry ice is sold by weight, so figuring out how much you'll need is essential. While specifics will vary by area, a ballpark estimate of costs and other details are as follow:
Pricing of Dry Ice at Ralphs
Dry ice may be purchased from several different Ralph's stores for between $1.69 and $3.99 per pound. For instance, at Ralphs in Torrence, California, you can buy dry ice for $3.99 per pound.
Bulk purchases of dry ice may be eligible for price reductions at some stores. Delivered dry ice may cost more than that, depending on the retailer.
How do I find dry ice at Ralphs? And where would it be?
Most grocery stores have a large freezer along the front wall where they keep their ice. These freezers are usually locked, so you'll need to ask a staff member to unlock them for you. You can also ask the cashier for help at checkout.
9. Vons
You may be wondering if a local Vons provides dry ice. Some Von's outlets only stock it throughout the summer and fall, and others don't stock it at all, so call ahead to inquire about availability and pricing.
You might have trouble finding dry ice in your neighborhood Vons because of the rising demand for its medical applications, the onset of warmer weather, and other causes.
What is the price of dry ice at Vons?
Dry ice may be purchased for around $1.99 per pound at many Vons locations. Since Vons stores are distributed throughout California and a small portion of Nevada, prices may vary depending on location.
The prices are consistent between stores even if they aren't listed online. For instance, the Las Vegas, Nevada Vons store is selling it for $1.99 per pound.
In Von's outlets, dry ice is typically located in the front of the store, close to the ice machines and maybe near the customer service desk. If you are having problems finding the dry ice, be sure to ask an employee on the floor or find the customer care desk.
B. Ice Producing Companies
Some ice-producing companies make dry ice for both industrial and domestic use. It is likely that you have ice-producing companies in your locality that you may not know about.
It's definitely safer to get the dry ice delivered, as you don't have to touch the substance.
10. Dry Ice Delivered
The company delivers dry ice anywhere in the USA. To choose the quantity you need and see what delivery options are available, check the Dry Ice Delivered website.
As a precaution, the company provides extra dry ice in every shipment to make up for any potential losses.
11. Dry Ice Corp
Dry Ice Corp commits to offering an affordable rate and a safe delivery service.  The company guarantees a continuous delivery of important dry ice products to customers in the Northeast, from Maine to Virginia.
For all dry ice needs, the company relies on some of the largest industrial gas suppliers in the world, and in the Northeast.
You can also order from other specialized companies. The only downside is that you will have to order in large quantities. Such companies include:
12. Airgas
Airgas supplies commercial dry ice from the industry standard. Whether your company relies on precise timing for deliveries or groundbreaking research, Airgas Dry Ice can help.
The company boasts to be the best dry ice distributor in the country for commercial use. In the production process, Airgas uses quality control measures such as metal detection and goes above and beyond industry norms to minimize the possibility of foreign materials.
The company has adopted the first-in, first-out box rotation to reduce sublimation. Deliveries of dry ice always come in a sanitary, trackable container. Shipments are done in stainless steel-lined containers in accordance with regulations governing food safety.
13. Continental Carbonic
Continental Carbonic is now one of the United States' leading dry ice producers. The premier dry ice maker, supplying institutions such as hospitals, universities, and food processing plants with food-grade dry ice.
Customers can walk into any of Continental Carbonic's stores in both the United States and Canada, and buy dry ice right off the shelf. To guarantee on-time deliveries, the company has warehouses in many locations.
The company provides dry ice in a variety of forms, including blocks, sliced blocks, and pellets, and has more than forty retail sites across the US. Different products are available, as are many more forms of dry ice in a number of packing configurations.
C. Dry Ice Distributors Available on the Internet
Some businesses offer dry ice exclusively through the Internet. Dry ice can be purchased from well-known retailers like Amazon. However, before making a purchase, it is important to read some customer evaluations and ratings.
This section will inform you about available online dealers. This will allow you to read the specs and shop for the best quality, price, and terms, and click to order in real-time.
14. Amazon
Amazon is a widely recognized as an extensive online store stocking almost endless products. Several stores sell dry ice and supplies on Amazon. Shipping costs and item prices might vary widely between vendors.
15. Ice Factory Online
Ice Factory Online offers dry ice available in various forms (blocks, cubes, slices, and pallets) per request. Costs vary from $1.75 for a 7-pound bag to $45 for a 50-pound block of cubed ice.
16. Emergency Ice
If you are a bar or restaurant owner in Dallas/Ft, and you are looking for a dependable online source for dry ice, look no further. Emergency Ice offers a dry ice delivery service in the Dallas-Fort Worth area and throughout Central Texas.
Depending on your requirements, you can purchase blocks and pellets in a variety of different quantities.
D. Gasoline Service Stations
Dry ice may be purchased at various local petrol stations. Such petrol stations include, and are not limited to, the following:
17. Sheetz
Dry ice is available for purchase at Sheetz. Their convenience stores can be found in a number of states including Maryland, North Carolina, Pennsylvania, Virginia, West Virginia, and Ohio.
18. QuikTrip
QuikTrip manages a network of more than 800 convenience stores and gas stations throughout the Midwest, South, and Southeast. These include states like Kansas, Arizona, Oklahoma, Missouri, Texas, Nebraska, Illinois, Iowa, and Georgia.
19. Weigel's
Weigel's, which is a gas station as well, is a network of convenience stores in East Tennessee where you may buy dry ice. Over the course of East Tennessee, they have over 69 locations open to the public.
20. Maverik
If you live in the west of the United States, you can find dry ice in any Maverik convenience shop. There are almost 300 of their stores spread over the states of Arizona, Nevada, Nebraska, and New Mexico.
21. 7-Eleven
Dry ice can be purchased from local 7-Elevens. Over 71,000 7-Eleven convenience stores and gas stations can be found in 17 countries across the world.
Over the course of their existence, they have opened over 10,000 stores across the country, many of which are open around the clock for your convenience.
22. Wawa
If you live on the East Coast of the United States, you can get dry ice at your local Wawa. Nearly 900 petrol stations and convenience stores may be found in the states of Delaware, Pennsylvania, New Jersey, Washington, Maryland, Virginia, and Florida.
E. Hardware Stores that Sell Dry Ice
According to data compiled by First Research, the United States is home to more than 21,000 hardware stores. You can find dry ice in these hardware stores:
23. Baker's Ace Hardware
Baker's Ace Hardware sells dry ice for both domestic and commercial use. Ace Hardware is an excellent place to acquire dry ice because they have over 2,000 stores in all 50 states.
24. Some UPS and FedEx Locations
Both companies are popular and reliable US shipping solutions. Dry ice is available for sale in some FedEx and UPS locations. 
G. Other Local Businesses
Interestingly enough, dry ice can be purchased in some stores near you. For instance, The Ice House is a local supplier of dry ice in Missoula.  
Where to Buy Dry Ice Near Me?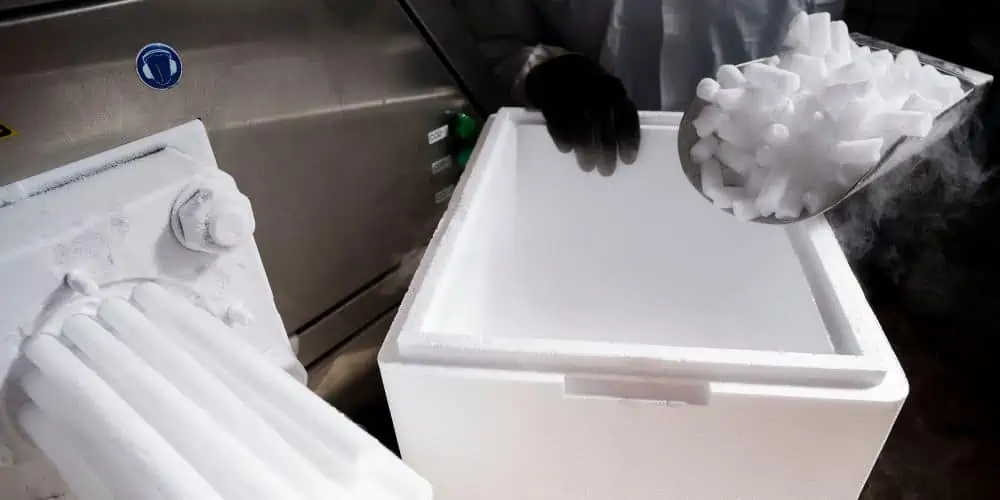 Dry ice is available near you in many different places, including brick-and-mortar stores and online vendors. From convenience stores to online retailers, dry ice can be purchased almost anywhere in your locality.
Stores like Safeway, Walmart, Kroger, etc., make it extremely convenient to buy dry ice at a retail outlet in your area.
Use our Zip Code Locator to find the nearest place to buy dry ice.
Alternatively, you can also order it online on Amazon, EmergencyIce, IceFactoryOnline, or from a variety of other online suppliers listed below.
Cost of Dry Ice in Various Stores
The average price of dry ice ranges between $1 to $4 per pound. However, you can find the best deals at Walmart, Kroger, and Safeway within your budget!
| Store | Price Per Pound |
| --- | --- |
| Walmart | $1.00 to $1.50 |
| Publix | $1.50 to $2.00 |
| Safeway | $1 and $3 |
| Costco | $1.50 to $2.75 |
| WinCo Foods | $1.98 |
| Kroger | $0.99 and $1.50 |
| Ralphs | $1.69 and $3.99 |
| Vons | $1.99 |
Dry Ice Pricing Summary at Various Stores
What are the Different Uses of Dry Ice?
| Industrial Uses | Commercial Uses | Scientific Uses |
| --- | --- | --- |
| Blast cleaning industrial equipment | Making carbonated drinks such as sparkling water and soda pops | Used in a laboratory to freeze substances |
| De-gassing to remove flammable gases from silos | Clinical application in the process of removing warts | Used in chemotherapy treatment of cancer patients |
| Used to fitting parts in mechanical assemblies | Freezing the water supply during plumbing works | Used to increase plant growth |
| Used as a cutting fluid for stamping and machining | Non-cyclic refrigeration to transit frozen food items and medicinal products | |
| | Used in preservation to displace oxygen to preserve biological materials and food grains Used in fog machines to generate artificial fog for theaters and nightclubs | |
| | Used as mosquito repellant to lure away from the houses | |
| | Used as a rodenticide to suffocate rodents on a large scale | |
Use Of Dry Ice
What are Different Forms of Dry Ice?
There are three different forms of dry ice with their own sets of advantages and disadvantages: Blocks, Pellets, and Slabs. 
Blocks are used for dry ice blasting or drying purposes.
Pellets of dry ice are ideal for small-scale applications. They are useful in the frozen food industry and transportation of blood plasma and lab specimens.
Slabs are often processed and packaged to customer specifications. They are especially popular in the food shipping business.
How Do You Buy Dry Ice?
Use the Dry Ice Calculator to find out how much dry ice you need for any occasion. To determine the amount of dry ice you'll need for different types of packaging and transit times, you can use these charts as a guideline.
In a typical insulated container, dry ice will sublimate at a rate of 1% per hour.
When you purchase dry ice, it will begin subliming almost immediately, so make sure to wrap it in a plastic bag when you need it. And, always remember to handle dry ice with caution as it can cause burns.
How to Protect Dry Ice?
Getting dry ice home safely requires a few extra precautions:
First, you need to get a good, durable container first, especially if you're buying it from a supermarket. The container needs to be sturdy and leak-proof.
Second, don't use steel or tin for your storage containers. Corrugated cardboard would be a good option. Containers made of wood or plastic are acceptable alternatives.
How to Transport Dry Ice?
Dry ice is composed entirely of carbon dioxide, and thus, large doses can be very dangerous. Therefore, you should exercise caution when moving it. 
A strong container is required for transporting the block of dry ice.
Ensure the dry ice container doesn't move about in your automobile while driving.
Dry ice should never be transported in an enclosed vehicle for an extended period of time. Reduce the time it takes to travel to less than 15 minutes.
If you must transport it for an extended period of time, turn off the air conditioning and roll down the windows.
How to Handle or Work with Dry Ice?
Without exaggeration, dry ice is really cold. It can quickly cause skin burn if touched with bare hands. Accordingly, you'll need to observe some precautions if you want to handle it safely.
Dry ice must be kept in a container at all times. Do not store it where children or pets can easily access it. Never touch dry ice or its container without first donning protective gloves.
When handling a dry ice block, make sure you keep it away from your face. Ingesting a lot of carbon dioxide all at once is harmful.
If you have to break a block of dry ice, wear protective eyewear. Even a small splinter might gravely injure your eyes.
How to Store Dry Ice?
A good seal can significantly reduce the rate of sublimation. However, the risk of an explosion increases if it is stored in an airtight container. Dry ice can be stored safely in a cardboard box or plastic container with a secure top.
To reduce the amount of air within the container, crumple up some paper and place it inside. It slows down the sublimation of dry ice.
If you want to avoid the risk of asphyxiation, keep the dry ice in a cool, well-ventilated area. 
Dry ice cannot be stored in an airtight freezer. Instead, it is stored in a huge insulated container.
1. What Is the Cheapest Place to Buy Dry Ice?
One of the best places to find affordable dry ice is Kroger. Kroger sells dry ice for around $0.99 per pound. Walmart and Safeway are a few other options, that sell dry ice for as low as $1
Hey there, welcome to my blog!
I'm Swati, a mom, a personal finance enthusiast, and the owner of TheBlissfulBudget.  My work has been featured in major publications including Fox 10, Credit Cards, Cheapism, How to Fire, Databox & Referral Rock.
I help busy budgeters like you save and make money by utilizing simple yet effective methods that can create wonders.
My Mantra: You are entitled to live the life you desire, and financial bliss should be simple to obtain–check out my blog for helpful tips on acquiring wealth easily.