*This post contains affiliate links which means that if you make a purchase via one of the links, I will receive a small commission, at no additional cost to you. Thank you for reading and supporting my blog! Please see my disclaimer page for more information*
Side hustlin' is what we do best here at The Blissful Budget, and one of my favorite side hustles is reselling/flipping items for a profit on eBay.
Running an eBay business from our home has allowed my husband and I to pay off our debt and start saving/investing our profits. We have actually built the store up to make us an extra $1,500-$2,000 per month by only working on it about 5-10 hours per week.
Starting an eBay store is fairly quick and only takes a few minutes to get started. And once you have your account set up, you can start posting items right away. Once you make a sale, all you need to do box up your sold item, weigh it, print out a label and send it to the seller via USPS.
We made a lot of mistakes when we first started because we didn't know which items were hot sellers and which ones were complete duds. This post is going to include the best items that sell fast on eBay and are most likely already in your home.
I also recommend looking up similar items that are already listed to get an idea of how to price your item.
Note: We have also tried selling on Poshmark, Craigslist, and Mercari, but we have had the most success with eBay.
Alright, let's get started!
Related posts:
10 Side Hustles to Earn $1,000+ Per Month in Side Income
12 Amazing Ways to Make Money From Home
How to Save Money Fast on a Low Income
Frugal Living: 10 Things I Don't Buy to Save Money
1. Shoes
Shoes have been our #1 top seller and are extremely popular on eBay. They don't even need to be designer or name-brand!
If you have a ton of shoes around your house that you don't use anymore, selling them might be a great option. I would recommend cleaning them up a little bit so that they look good enough to buy in your listing photos.
Shoes sell fairly well on Poshmark as well if you prefer to not use eBay.
2. Clothes
Clothes are another top seller on eBay. And let's be honest, most of us have too many clothes in our closets anyways!
Again, these don't have to be name brand clothes, they can be generic as well (as long as they are in good condition).
And if you end up trying to flip items later on down the road, thrift stores usually have extremely cheap clothes that you can buy and resell for a much larger price!
3. Mugs
Mugs sell VERY quickly on eBay. Everyone loves cute, unique mugs!
And I don't know about you, but I always have WAY too many mugs laying around my house.
I have found that the more unique/decorated the mug is, the quicker it sells. But if you have a full set of plain mugs, those sell quickly too. I would recommend posting any mugs you don't use anymore to make some extra money!
[convertkit form=1475776]
4. Books
Some books sell much better than others, however, they usually sell fairly quickly once you list them.
I used to have a small library of books in my home and once I switched over to reading on my Kindle, I never even opened my paper books.
We sold most of the books that we listed within a few weeks!
You could sell old recipe books, fiction and non-fiction books, and even kid's books!
5. Stuffed Animals and Kid's Toys
Stuffed animals and kid's toys are something my husband and I always look for when we source at thrift stores and garage sales to resell.
But if you have kids with way too much stuff, you could do a toy and stuffed animal de-clutter and sell them on eBay!
I think most people end up throwing them away or donating them, but you can make a lot of money on eBay with certain types of toys and stuffed animals.
Note: Unlike the clothes and shoes, the more iconic ones (like Disney, Star Wars, book characters, etc.) sell for a lot more money than generic ones.
6. Collector Items
If you have a collection that you are ready to part ways with (or even to just get rid of some) selling them on eBay is a great option.
My husband and I have bought entire collections from people to resell and we have made a ton of money by selling individual salt and pepper shakers, bells, Christmas ornaments, and fancy dish sets.
I wouldn't recommend selling them as a full collection though. I would list them individually, as you can make more money this way.
7. Electronics  
Electronics are one of the most popular things to sell on eBay.
You could sell old phones, t.v. modems, remote controls, video games and consoles, headphones, watches, and much more.
These are usually high-priced items as well, which means you can make a lot of money selling electronics.
8. Sporting Items
Sporting items are another hit on eBay. If you have sporting equipment that you don't use anymore, you can sell it and make a huge profit!
Fun fact, when my husband and I first started, we found a name-brand baseball bat at the thrift store for $8 and ended up selling it a month later for $150!
Sporting items that sell well include baseball/softball equipment (bats, helmets, gloves), hockey equipment, basketballs, tennis rackets, golf equipment, and much more!
As you can see, there are items to sell that can make you money fast.
I would love to hear from you! Have you sold anything online before? Are you thinking about creating a small eBay business?
Let me know in a comment below!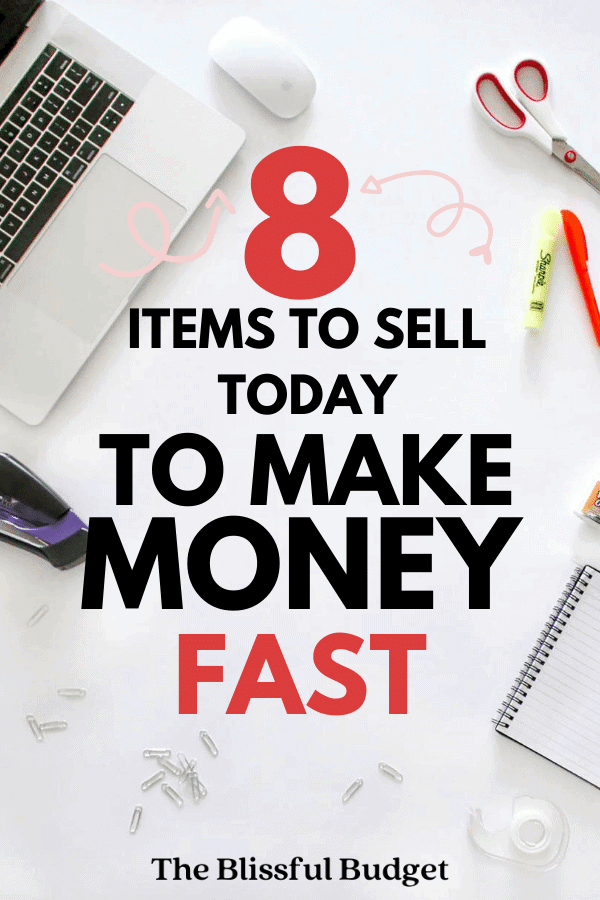 Hey there! My name is Tegan and I am the author and creator of The Blissful Budget.
My goal with this blog is to help you save more money, earn more money, and start to live the life you want by obtaining financial freedom.